Just before Thanksgiving is when I start getting my shopping list in order for Christmas. I asked Andrew on the way home from school one day what he wanted Santa to bring him. He pondered thoughtfully for a few minutes and decided he didn't know. I was a little surprised by this but asked him to think about it.
A few days later it was clear to me that he was indeed thinking about it. "Mommy," he started, "I think I know what I want Santa to bring me. An easel like for painting."
I reminded him that we have an easel (a very used condition $3 yard sale find).
"No mommy, a REAL one."
So I told him I thought that was a good choice and later that night started doing my research. I ended up getting him a Melissa and Doug brand one on Black Friday at Kohls which, after coupons, came to $22! Score! But I foolishly thought his mind wouldn't change. Not a week before Christmas he jumps in the car after school and excitedly informs me that they wrote letters to Santa in class. I got that nervous feeling in the pit of my stomach. "Yeah, what did you ask Santa for?" (please say an easel, please say an easel)
"I told him I want a Sandbox"
Crud.
Teachers, can we please do letters to Santa before Thanksgiving? That was my first thought. My second thought was I hate freakin' sandboxes and I'm not getting one for him regardless. Ugg!
I debated for days on what to do. I finally told him that even though Santa brings gifts, he has to clear it with Mommy and Daddy first and that I told Santa no sandbox. He was disappointed but seemed relatively okay with it. I decided that in life we don't always get what we want. Besides I had a nice easel waiting for him.
Cut to Christmas morning when all thoughts of the Sandbox were completely out of his mind. He was THRILLED with his new easel and so am I. A couple days after Christmas, once things had settled down a bit, Daddy put it together for him and Picasso got started. Out of the context of his classroom in which he always paints "Rollercoasters" (ie: a bunch of paint scribble) he actually impressed me with his painting and as I was snapping away pictures it occurred to me what a perfect metaphor the whole situation is for life, especially in the new year.
We spent the last year with a lot of hopes and prayers, the same way we will start this new year. And as this year draws to a close in a few hours we can reflect and see that we didn't always get everything we had hoped for but we do get SOME of the things that we hope for and I don't just mean in the physical sense. We don't know what the new year has in store for us but we have a blank canvas just waiting to be painted and explored. We have so many new opportunities to do good things with our lives, no matter what life may bring.
So here's to the end of a project, the end of another year, and the start of another. Our canvas is blank. What will you paint?
What a year. Seriously. What a year.
This time last year I was preparing to embark on a journey with my church choir to Italy. A trip I was both thrilled and terrified to take. It ended up being one of the most amazing experiences of my life.
The year continued, full speed ahead, with a rapidly developing little girl and little boy- Andrew learning things in school I never imagined him knowing at 3 and Allison going from rolling one day to getting into a sitting position and to a crawling position and crawling the next. I watched it happen before my eyes. So lucky are the times as parents we get to see things happen for the first time. I got to see a lot of firsts.
Before Easter, I got to be in a musical that my church presented. I had a small part, not that I minded, I was happy to be a part of it. Some day I'm convinced that at least one (maybe more) of the people I got to sing with will be famous and I'll get to say I was once a part of a musical with them.
We enjoyed a wonderful trip to Disney World and then, a month later, an incredible trip to Sanibel Island. Andrew finished his first year of preschool having only missed 3 days (and only one for being sick!) Which I think has got to be some sort of record!
This year also brought a lot of frustration with the construction of our new house. Delay after delay after delay. A near knock down drag out war between us and the home owner's association over our solar panels (which by the way, we totally have the law on our side). I had planned Allison's baptism for July 14th thinking I'd have several weeks of time to get the new house ready. Instead I got 7 days that passed in a blur of aches and adrenaline. We participated in a documentary about living in a zero energy home and I decided that while I'm comfortable singing on stage or at church in front of hundreds and hundreds of people, or playing an instrument with a marching band in front of tens of thousands of people, when two guys and a camera come to my house I start blabbering like a fool. Yes, I am not interested in even 15 seconds of fame, that's for sure!
We did eventually get the house together though and we couldn't be happier. Despite all the headache it was completely worth it to realize a dream that we started talking about only a few months after we got married. To see hard work actually pay off is a tremendous thing and I know how lucky we are to experience it.
Then A lost his job. And our health insurance.
There were 3 months where we had 2 mortgages, zero income and zero insurance as well as the most credit card debt we had ever had in our lives. Not our brightest hour. Thank the Lord that A's aptitude and intelligence landed him not one but 3 more jobs pretty quickly and thank the Lord that our bills are mostly paid off once again. I have always felt like I was sensitive to those who were unemployed but once you live it and you see how fast things can go from incredible to awful, you just never lose that. If we hadn't had savings we would have been moving into a parent's house, simple as that. We are lucky. I can see how it happens so quickly to some and I wish there was more I could do to fix it.
Off to the races come August– back to work after 14 months off, birthday, birthday party, and another birthday and birthday party all within 8 days of each other. Followed by the first day of school and with it the major stress that comes from major transitions. I had a rough class that left me wondering why on earth I decided to leave my kids each day. By early December I started feeling like things were getting better under control in the classroom.
The last half of the year has been a blur. I am in awe of families that have two working parents and school aged children. I simply cannot comprehend how things get done. I guess my time will come sooner rather than later, to figure out just how it all works. We started looking at schools for Andrew for next year and it's overwhelming to think about juggling everything. It's also overwhelming to think that my first baby is starting Kindergarten.
I feel like the year started off so well and on paper it is ending well too despite the difficulties of the summer but the thing is, I feel like so much has changed. My church, especially the choir, has turned upsidedown and I can hardly believe that we lost so much so quickly. My time has been chopped and divided and squeezed as well, especially compared to where the year started. The world has changed not in small subtle ways but in big, drastic, far-reaching ways. The election brought out the worst in a lot of people. The debates of social issues have left me breathlessly angry more than once. I have questioned so many things and I have solidified my ideas on many others. I have tried to remain a good friend to others despite our different views but it is challenging. Challenging but hopefully worth it in the long run.
I guess the bottom line is that you never know what the year will bring. People wish you happiness in the new year as though the whole year will hold one emotion but really it's such a day at a time thing. We don't know what the new year will bring, we just hope for more moments of happiness than anything less.
I've done this for many years now, in fact this is the 8th anniversary of Something-Insightful (I go way back to the day when not everyone in the world was a blogger) but this feels the most private to me, the most like a diary entry or a recap for my own personal viewing. I've decided to share it anyway because it is what it is. I do know that this will not be my last Project 52 post. I will do one more, a bonus week 53, because it seems wrong to end on such two low notes for the year. So I'll end this week with this thought:
Life is about reflection but it's also about what lies ahead. Let's make it good.
I had it all planned out for the week by the Monday before and yes sometimes (most of the time) I do have to plan these now because the whole working full time and raising two kids has left me with quite a bit less free time for my favorite hobby. We had been invited to one of many Christmas parties of the season but this one was unusual. First, it was at the Tampa Club which is the swanky restaurant on top of the Bank of America building which is the tallest building in downtown Tampa. A has been there a few times before but I had never been. Here's the unusual part– the kids were invited, not as some sort of polite gesture but as a truly genuine invitation. In fact the owner of this particular company asked A which specific gifts our kids wanted from Santa so when "Santa" arrived at the party he would have something for every child. Wow! Okay that's a pretty sweet deal.
We realized that their Christmas outfits, while perfect for church, were not quite nice enough for such a glamorous affair. So off to Target we found then appropriate attire (on sale!) and I thought how excited I was to get some photos of them going to their first really fancy Christmas party and then write a post talking about Christmas.
Except on the day of the party something else happened.
December 14th, 2012 goes down in my mind as a day equal to 9/11 in that it will forever change the way I look at the world and most importantly, my children.
So I couldn't post. I couldn't. Parents mourning the loss of their children and my kids glammed up for a party? It didn't feel right. To be honest Christmas doesn't feel right either but that's another story.
We went anyway because not going would have been rude but I'll be honest, I'm not sure I spent one spare moment thinking about anything else besides those babies who had their whole lives ahead of them and the teachers who died protecting them.
I made a decision that night. I decided that continuing to teach, to walk through my classroom door the following Monday morning, meant that I was willing to take a bullet for my students and I had to really search myself– was I? What about my own kids, my family, my life? And then I decided that I am. I am willing to die for my kids the same way A was willing to die for his country. The way my best friend is willing to die to protect the people in our city. The way people rush into burning buildings and chase criminals and deal with infectious diseases for the good of others. I can and I will do the same.
There are no easy answers and I find myself at a loss for understanding of God's plan though I do not presume to be a zillionth of a percent as wise as He. So I do not try to understand the horrors. Instead of grieve for those parents, friends, neighbors, and the people of Newtown for strength and guidance in the days, weeks, months and years that follow.
I can only decide what I believe myself. I can only search for my own truths and my own understanding. I will not own a gun but I also will not hide. I will not send my child to school in an armored vest. I will not homeschool (unless a different situation warrants that specific attention). I will continue to live my life in the best way I can. I will hold my children longer and tighter and I will look past the little things. I will shield them from the darkness in the world for as long as humanly possible. I will do my best to make sure they know joy and gladness, health and safety, contentment and love. It's all I can offer my kids. I will continue to walk through my classroom door each morning with my faith in the Lord's plan and offer my prayers for His protection over us. I will do these things because there is darkness in the world. I think we should ALL do these things because there is darkness in the world. When there is darkness there is only one simple answer:
Be the light.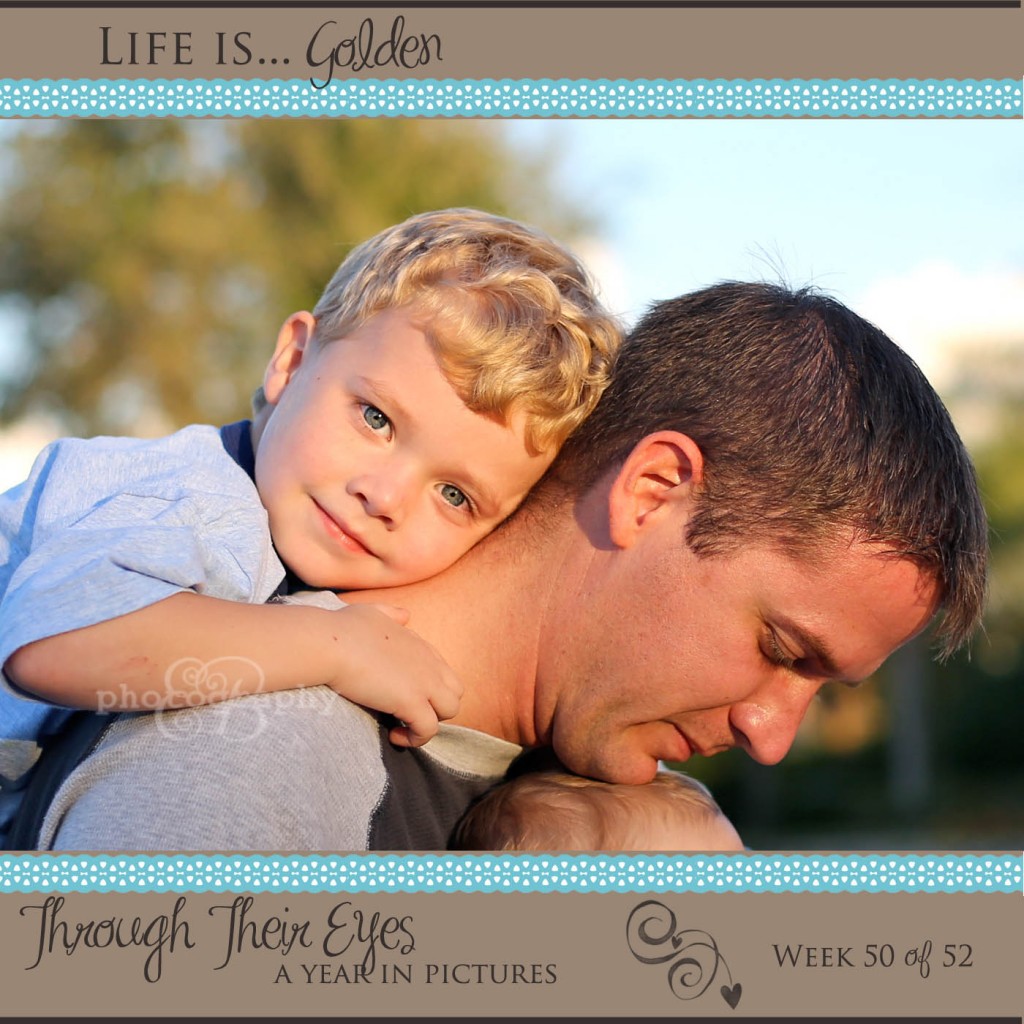 Here we are 50 weeks done out of 52. I almost can't believe I got this far! I have a post brewing in my mind for what's becoming my annual reflection on the year. I look at this and I think my photography has grown over the last year and it's certainly come a long way from where it was a few years ago. I like to follow photo blogs and one of my favorite bloggers is at Paint the Moon. The author of the blog, Annie Manning, wrote this amazing post a while back (linked above- I know it doesn't look like a link but click on Paint the Moon and one of these days I'll get around to fixing that). Anyway, the post was about finding the right light and that's where I discovered the concept of the "golden hour".
So there we were, the end of the first week of December. Florida. Wearing shorts and t-shirts while Daddy hung Christmas lights on our new house. The weather is so mild lately we find ourselves drawn to being outside almost every afternoon. Andrew was riding his bike and I was sitting in the driveway while Allison was playing. She bent down to pick up a rock and then glanced up at me and I thought, "Oh my gosh! This is it! THIS is the perfect light Annie was talking about. THIS is the golden hour!" I ran inside to get my camera, almost afraid the light would be gone by the time I got back out there, you know, 20 seconds later. But it wasn't. So I sat snapping away and loving almost every shot, which is completely unheard of for me because I usually only like one or two of a bunch.
So here's my golden boy, my pride and joy (they both are, truthfully). With his perfect smile and his sea green eyes. I look at him and see boundless opportunities. The world awaits my dear Andrew. Go and take it by storm!
Here's a few more too 🙂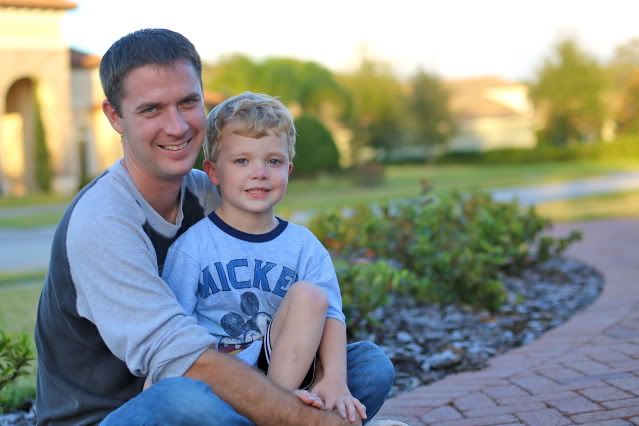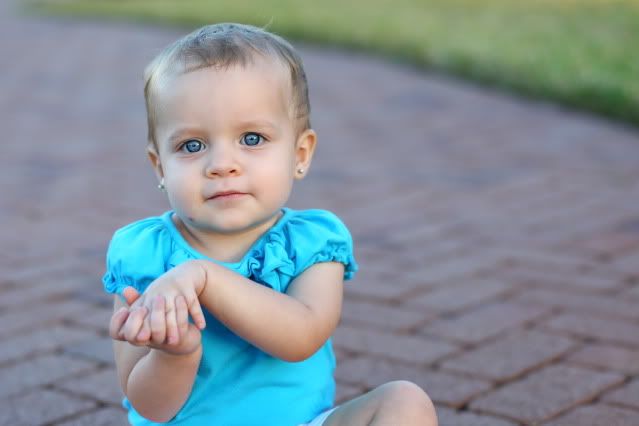 I'm bringing home a baby bumblebee… won't my Mommy be so proud of me… 🙂
What do you do when your 15 month old starts climbing a ladder that is easily 3 times as tall as she is?
You grab your camera of course!
In all seriousness, you can see how close Daddy is to her, she wasn't in any real danger, but a certain husband of mine did chuckle a bit that my first thought wasn't to get her down but to snap a picture or two.
Last week's picture…. erm, I mean, this week's delayed picture was called "Determined" which really could have gone for this picture too. Little miss was not happy when she was told she couldn't stay on the ladder or when we folded it up and put it flat on the ground so she couldn't climb it any more. She even went as far as to try to lift the very- large- incredibly- heavy- weighs- twice- as- much- as- she- does ladder and set it back up herself. A feat that was roughly equal to Andrew trying to take on the entire Gator's football team for a quick match up.
But for those brief moments she got to stand at the top she was giddy at her perspective and proud that she got there all by herself.
It might be time to consider re-enrolling my little climber in gymnastics. The ladder was the starting point. She's been climbing everything else ever since.
Lucky us!
I'd say "see you next week" but let's be reasonable… "See you in 2!"
Rather than calling this a week late, let's consider it on time and call it a day, shall we? Okay great!
Thanksgiving 2012 will very possibly go down in history as my most favorite Thanksgiving to date. That's really saying a lot I think since I've always loved Thanksgiving (great food, generally celebrated by all Americans, giving Thanks which we should all be doing everyday anyway). This Thanksgiving was the first in our new home and from the very first time we ever talked about building, we dreamed of having holiday gatherings at our house and having enough space so everyone could be comfortable. Well, I think it was everything we hoped it would be! A prepared an incredible meal, our family was there (not everyone but lots of 'em), games, lots of laughing and babies everywhere!
Last Thanksgiving, Allison and my niece Lana were too young to enjoy or let their mommies and daddies enjoy the day but this year they were right in the thick of things. Allison, with her milk protein allergy, was pretty limited in what she could consume from our butter laden meal. I offered her a plate of turkey and green beans as well as a roll. I put her in her high chair right next to the table.
And she wanted nothing to do with it.
So I tried offering her the old standby- Cheerios but she fussed and squirmed until finally I let her down to play with the other kids. Off she ran…
… straight to the kids table where Andrew had abandoned his plate of Thanksgiving goodness. She shimmied her way on to the chair, grabbed his fork, and before any of us could really do anything to stop her, she proceeded to devour his mashed and sweet potatoes.
You make your mashed potatoes plain, without butter, cream, or milk right?
Yeah, us either.
There comes a point where you know that while she shouldn't really have it, there wasn't much we could do to stop her that wouldn't involve a massive tantrum. Why should she not get a taste of what everyone else was eating? She was trying to tell us what she wanted from the confines of her high chair while listening to the rest of us talk about how great the food was. Then, when left to her own devices, she crammed more food into her mouth than I thought possible probably knowing that her time was limited. Oh did she ever enjoy it!
Oh did her poor face break out the next day. Oh my. But since this isn't a life threatening allergy I think we did the right thing. One thing I know for sure, don't stand in the way of something my Allie wants!! This is one determined little girl and for that I am very Thankful!
From our family to yours, Happy Thanksgiving!
Andrew's school did a Thanksgiving service project in which each student had to go home and find some sort of helpful chore they could do around the house to earn $0.25. The money was then brought in to school and the class collectively bought turkeys for families who had fallen on hard times. His class actually raised over $50 which is pretty amazing for 20 kids earning a quarter at a time! For the past two weeks he would get home and without prompting, ask what he could do for his quarter. He did all sorts of things– from watering the garden and other plants, folding the laundry, washing the car (we gave him more than a quarter for that one), and even making breakfast for the family. I've never seen him so anxious to help. Well the service project is now over but yesterday he wanted to know how he could keep earning money. Now, we have no intention of giving him an allowance at his age and really, when the time comes, I'm not entirely sure how I feel about giving him an allowance at all unless it's to earn money for doing things above and beyond what is expected of someone living in this house. But he asked if he could earn money. On a whim I told him, sure you can earn money to put in the basket at church. And he was ecstatic! I figure when he's older he will probably not be as keen to work for money he then gives away but for now I'm touched that he was so enthusiastic about donating his money.
Andrew was washing sweet potatoes that we ate for dinner and Allison "helped". A is in the background cooking the rest of the meal and me? I'm standing on a chair ("Mommy you shouldn't stand on chairs!") trying to capture the moment.
*Sigh* Late again. And I was doing so well. Until I got caught up in other things and forgot to take my camera out for an entire week. Yes, I didn't post last week because I literally didn't have a single photograph from the whole week. Sad.
I could probably do a "Thankful" post every day of every week of the year. I thought about doing the month of thanks posts on Facebook but got so caught up in what I would say I just decided not to. Silly, I guess. The thing is, I'm so immensely thankful for so many things and my kids and my family are #1. By now most people know the story, or at least know something of how getting pregnant isn't easy for us. I look at them and I'm still haunted by the fear that they would never exist. I am thankful for them every day.
I am thankful for my friends who make life more enjoyable. I'm grateful to be a part of your lives, through everything– the good and the bad. I'm thankful for this new home that we waited so long for. I'm especially thankful for both the opportunity and the resources to make our home zero energy. I feel like now, when we talk about being environmental conscious, we're not just paying lip service. We're actually able to do something good. I'm thankful for having employment which for a period of time this year neither of us had. I'm thankful for our health because while colds and coughs and bugs suck, we are blessed with modern medicine and adequate resources to become healthy again. I'm thankful for my faith from the journey we took to Italy at the beginning of the year, to the tests of faith we have experienced recently because I know even in those tests we are on a path created for us by God and if we accept His will and pray for guidance we will be just fine.
But, you ask, Emily you've gotten so off topic, what does this have to do with your children and life through their eyes? Well I'm glad you asked that. It's just that I felt it would be wrong to jump into this photograph without explaining all the other important things I mentioned.
You see lately one of the things that I have been most grateful for, is Andrew's school. I cannot even find the words to express how wonderful his school is and any of you local readers, I recommend it above all other schools especially in the city. I hope that endorsement, coming from an educator, speaks as highly of the program as I hope it does. In any case, his teachers are absolutely amazing. I know without a doubt that he will be so ready for school next year. His foundation is rock solid and he loves going to school every day. In fact earlier in the week when we decided his cough was too bad to send him to school he cried. Not a tantrum type of cry, but that mournful, deep, aching sadness that he would miss his teachers and his friends.
On Friday the kids performed a Thanksgiving program. Andrew's class along with another class of the 4s, sang four songs with a bit of choreography/sign language mixed in. It was adorable. Then they feasted back in the classroom. It is a massive privilege for me to see him in his classroom since I am always at work when he's in school. But it is a thrill to see how he loves the place, how he feels so at home there and how he loves his friends and how they love him in return (except the kiss good-bye from one of the girls was a bit much for this Mama!). You think about school and all the years he will hopefully spend enjoying his time in the classroom learning. There are so many who think preschool is a waste of time but I disagree. I think of all the years spent in school preschool and kindergarten are quite possibly the most important ones. Because without a good solid foundation there is no where to grow. I am thankful his foundation is rock solid and that as each day passes he comes to love learning just a little bit more. As a mom, what more could I ask for?
Well here we are. Back to back posts on two completely different topics despite the similarity in style. Life is Fleeting.
Isn't it though?
Have you ever in your life laid eyes on such a beautiful little butterfly?
Me neither 🙂
For Allison's second Halloween she dressed as essentially the same creature as her first Halloween only there is a profound difference between a 2 month old and a 14 month old. I couldn't resist the costume. The butterfly is a symbol of life and as we approach the end of the year (the, ah hem, time of year 9 months prior to both my kids' birthdays) it calls to mind how desperately they were both wanted. Our two precious children. Two lives we thank God for every single day.
And time is fleeting indeed. Fourteen months has flown by like no other time period in my whole life. I am in awe of both my children but especially right now, Allison is growing leaps and bounds. I wish I had kept better track of Andrew's vocabulary milestones by time frame. I did keep a list (for a little while) of words that he said. It was around 200 by the time he was 18-20 months and I stopped. I feel like Allison is ahead of where he was at this stage and that is truly saying something. My kids are not perfect. My kids are not the pinnacle of brilliance. But holy cow my kids have some mean language skills. I often wonder what will happen when they are both talking full out. I might never get to have a conversation with my husband ever again. Ha! I'll take it though 🙂
So here we are, Week 45 (a day early) and mere weeks left in the year. It has been truly something chronicling our year so far, a real gift in a sense. I have been forced to reflect and examine, to observe and explore, to test myself and my technical skills and essentially force personal growth. I haven't decided yet if I'll continue this project next year but in this fleeting time in our existence at least I'll know I have one year, 52 snapshots… of us.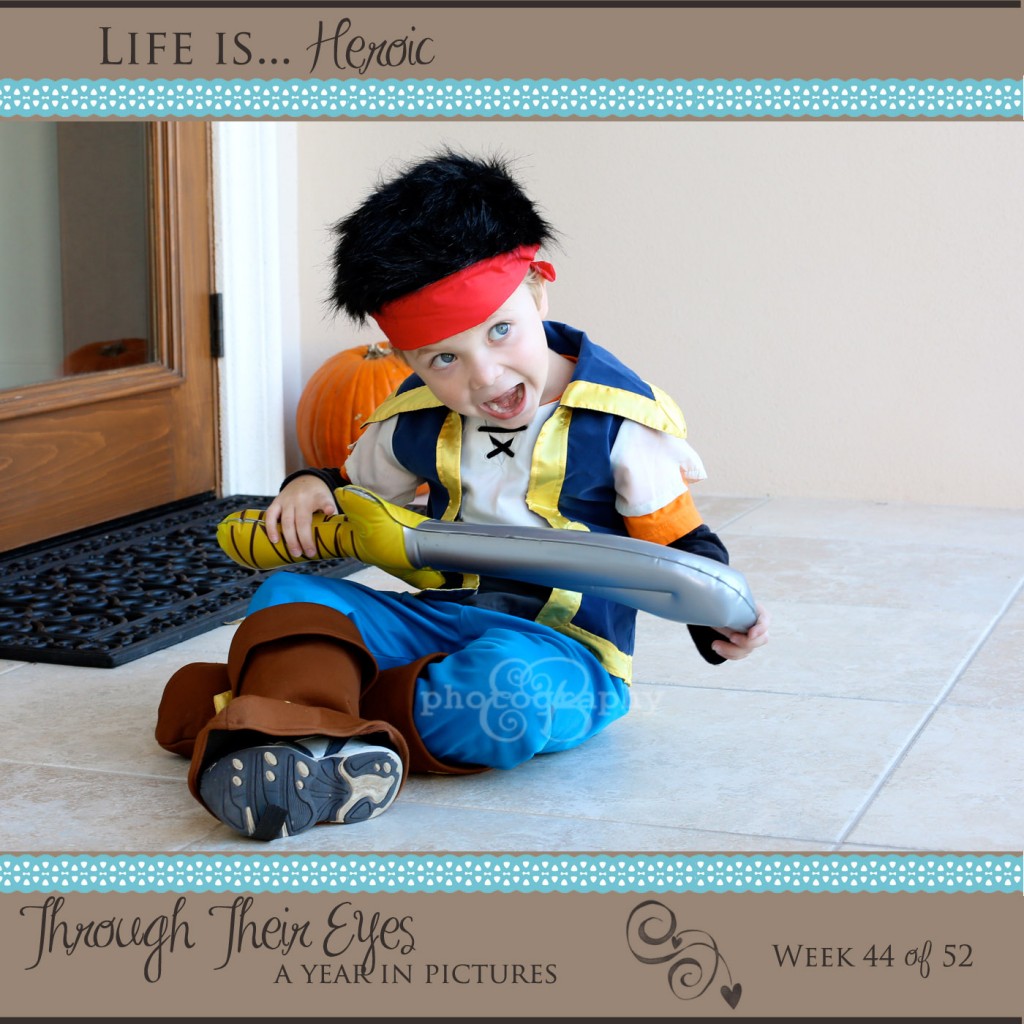 Well it took me 44 weeks to miss a week for no obvious reason like being in another country. But the week we had two weeks ago was downright horrendous and I wasn't happy with any of the pictures I took. One might suggest just posting something anyway but the problem with having a zillion photographer friends (seriously, I am facebook friends with at least 40 professional photographers– all people that I know or at least "know" no random people) is that I feel really self conscious about posting pictures that are crappy because I feel judged.
Anyway, I decided to devote week 44 and 45 to each child in their Halloween costume. Andrew dressed as Jake from Jake and the Neverland Pirates this year. This probably comes as no surprise to anyone who knows us since my son is obsessed with the show (much to my dismay). It doesn't matter because to him Jake is the pirate who always saves the day and I can't complain about having a kid who wants to imitate a positive (albeit obnoxious) character. I know we are mere years away from him wanting to be some sort of evil, gruesome zombie or something that forces me to be a mean mom and say "no".
On a bigger scale I have been thinking a lot over the last couple weeks about every day heroes. In the wake of Hurricane Sandy, there are those who let others in to their homes, provide hot meals or a place to charge a phone for those without power. There are those who give financially. There are those who offer their prayers and their words of support from afar. There are those who make subtle changes in the lives of others which in turn impacts them in profound and lasting ways. I've been thinking a lot about that over the last few weeks not just with regard to the hurricane but in my own life. We all have heroes don't we? People who change us for the better by their words and actions. They are heroes who don't even know it. It's unfortunate that it's such a cliched word. It calls to mind people in red tights and capes when really it should just mean a person who does more than is necessary or expected and who does not act out of a desire for anything in return. Maybe we do have words for this, we just call them "good people."
So I'm going off on a tangent here and this is really supposed to be about how Andrew sees the world but I guess at the end of the day I want him to know that he's a hero to me because his mere existence on this earth has taught me more about myself and my faith than anyone else ever has. So here's to my little "Jake", my little pirate, my hero Andrew.