Let's Do 52! Heroic
Posted On November 4, 2012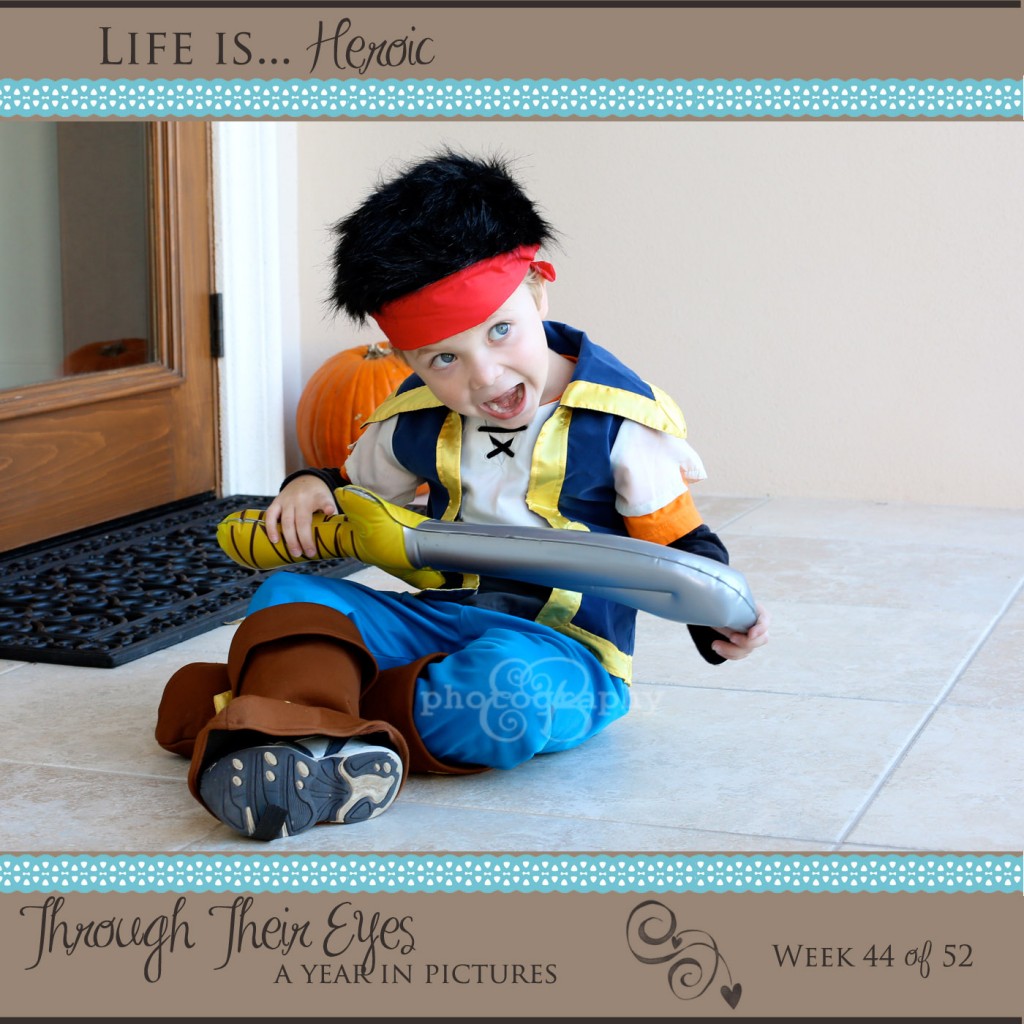 Well it took me 44 weeks to miss a week for no obvious reason like being in another country. But the week we had two weeks ago was downright horrendous and I wasn't happy with any of the pictures I took. One might suggest just posting something anyway but the problem with having a zillion photographer friends (seriously, I am facebook friends with at least 40 professional photographers– all people that I know or at least "know" no random people) is that I feel really self conscious about posting pictures that are crappy because I feel judged.
Anyway, I decided to devote week 44 and 45 to each child in their Halloween costume. Andrew dressed as Jake from Jake and the Neverland Pirates this year. This probably comes as no surprise to anyone who knows us since my son is obsessed with the show (much to my dismay). It doesn't matter because to him Jake is the pirate who always saves the day and I can't complain about having a kid who wants to imitate a positive (albeit obnoxious) character. I know we are mere years away from him wanting to be some sort of evil, gruesome zombie or something that forces me to be a mean mom and say "no".
On a bigger scale I have been thinking a lot over the last couple weeks about every day heroes. In the wake of Hurricane Sandy, there are those who let others in to their homes, provide hot meals or a place to charge a phone for those without power. There are those who give financially. There are those who offer their prayers and their words of support from afar. There are those who make subtle changes in the lives of others which in turn impacts them in profound and lasting ways. I've been thinking a lot about that over the last few weeks not just with regard to the hurricane but in my own life. We all have heroes don't we? People who change us for the better by their words and actions. They are heroes who don't even know it. It's unfortunate that it's such a cliched word. It calls to mind people in red tights and capes when really it should just mean a person who does more than is necessary or expected and who does not act out of a desire for anything in return. Maybe we do have words for this, we just call them "good people."
So I'm going off on a tangent here and this is really supposed to be about how Andrew sees the world but I guess at the end of the day I want him to know that he's a hero to me because his mere existence on this earth has taught me more about myself and my faith than anyone else ever has. So here's to my little "Jake", my little pirate, my hero Andrew.