When I was three years old, I had my very first, first day of school. I don't recall a thing about it, not even a vague recollection of an old photograph but I do know it was the first of a very long series of first days of school.
After I graduated from college in December of 2002, I spent 2 months as a substitute teacher and had yet another first day right there in the middle of February 2003. By August of that year I was working in the Kindergarten room of the daycare on the Air Force base where we were stationed. And there I experienced yet another first day. By 2004 I had my very own classroom and so began my career—the only career I've really had and with that came 8 more first days of school. I missed the one in 2008, having given birth a mere 14 hours before. I missed the one in 2011 as well—if memory serves, Allison was born on the 2nd day of school that year. And last year I didn't teach but was hugely pregnant on that first day. And this year I am none of those things, neither classroom teacher nor pregnant. And so I believe this is either the end of one era or the beginning of a new one because next week school will start and my role will be as parent and nothing else.
Not that being a parent of school children doesn't have it's own host of responsibilities. But this isn't about that.
There were a lot of things about teaching that I don't miss one bit and I'll get to that because it's worth discussing. But first I want to share what I DO miss about teaching and what comes to mind during this time of year when it feels very very strange to walk through the aisles at Target and purchase supplies for only two children and not 10 or 20 or 30.
Things I miss about Teaching
I miss the anticipation of the first day back, not the first day with kids but the first day you walk into your classroom after a summer off. It's quiet, and empty and bare. Mine always had this musty stale air smell and was usually terribly hot inside after not having conditioned air circulate through it all summer. I was lucky enough to be in the same classroom all 8 years. I left my personal items locked in a closet. Opening my door to my classroom was like greeting an old familiar friend.
I miss the sense of purpose and direction the first few weeks of school brings. I always had my goals lined up and ready and with a fresh 180 days I was always optimistic about what we could accomplish. I looked forward to putting into action all my ideas from the summer.
New stuff!! Ah, nothing feels quite like a brand new notebook, or freshly sharpened pencils, or dry erase markers fresh out of the package. There were boxes of crayons with all their tips perfectly sharp. There were new backpacks not yet frayed or dirty (or peed on by cats—one student had a cat who regularly peed on his backpack!) Everything was new and clean and ready!
Meeting the new students and seeing the old ones. I loved this part. I loved trying to figure out the dynamic that particular arrangement of children would bring to the classroom. And also, being in special ed, I started every year reading the files of the new students so I knew why they were at my school and I saw it as a great challenge. My favorite kids were the ones who didn't like school. My first goal was to change that and help them like school again (or for the first time).
You always know the day of the week and the date on the calendar. Always. As the bell ringer in my school—yes we did it by hand—I always knew what time it was too. It was several months after I left that I stopped feeling my body remind me it was time to do something at 45 minute intervals through out the day.
Learning new things. This should speak for itself right? You have to stay on top of world events, latest advances in science, pop culture news, latest trends for whatever age group you work with, and then of course academic things. It was never ending and it was wonderful.
The last thing I can think of right now (and know there are so many more little things but these are the big ones) I am having a hard time putting to words. Yes I'm mom now but I enjoyed being a teacher too. I don't want this to sound egotistical which it will even though I don't mean it that way, but being a teacher means having kids look up to you. Kids think their teachers know everything (I always assured them I didn't) and that gave me a sense of duty to them. It gave me a sense of purpose. I didn't want to let them down. I guess what I'm saying is that I liked the responsibility.
In fairness, there are things I don't miss.
There is never ever enough time. All those goals you start off with he first day of school? Well I never finished them all. I got very close a couple of times but that was only after I'd been teaching long enough to know better how to set them. I'm one of those teachers who start on the first day and keeps teaching until the second to last day (come one, no one teaches on the last day of school). There are never enough resources either. I think teachers in general excel at making do with what they have but in an ideal world there would always be more access to things that would make teaching better/more efficient/more exciting.
By the same token- it's a career that is highly politicized and not well respected by some government officials. School districts frequently have to justify why they shouldn't have to make certain cuts, which inevitably happen anyway.
Disicplining was my least favorite thing to do. I was either too strict or not strict enough and my downfall was that I didn't find that sweet spot in the middle often enough. If I ever go back to teaching this will be what I work on the most.
Patience. Teaching takes a lot of patience and sometimes, oftentimes, I used all mine up by the time I got home. My kids never saw the best of me because I'd used it all up on my students. My kids got to see grumpy, tired, snappy mommy.
Parents can be hard to deal with. I will leave it pretty much at that. No I'll say just a bit more. If anyone reading this has school-aged children but has never been a teacher I ask this of you—trust your child's teacher more. Trust that they have your child's best interest at heart. Trust that they are doing the best they can, and trust—this one is tough I know—that your child is different with them than they are with you. That last one is so hard. It's not an us vs. them situation. Parents should be on the same team as the teachers and I feel like these days it's so adversarial and it shouldn't be. Teachers put everything into their jobs and sometimes it feels that teachers are not under appreciated, they are not appreciated at all. This is by no means all parents or all students or all situations but it wears you down and it makes it hard to give your very best every single day when you know someone is just waiting for you to slip.
The expectation of perfection. I'm human. You're human. Enough said.
Few opportunities to work from home. These days more and more companies allow their employees have more flexible hours or the chance to work from home all or some of the days of the week. I'd love to teach for Virtual School but it's incredibly hard to get a job. Some people will probably point to having summers off and yes, that's wonderful, but you are still pretty locked into the school schedule and working from home isn't an option.
I'm not going to say a 7. I want there to be more good things than bad things even though really, neither list is complete. I can't imagine going back right now and being a mom of three and a wife and a teacher. I can't imagine how I would get my kids to two different schools and myself to a third and still take care of all the shopping and cooking and day-to-day living. I know people do this every single day and I think I would make it work but I also think I'd also be a zombie and not good enough for either my students or my children. But I hope someday I will find my way back into a classroom. I've had a lot of jobs over the years and I've enjoyed some and hated some but my heart is in a classroom and I think it always will be.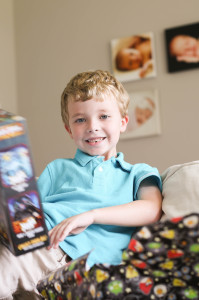 Hey look at that, we're 2/3 of the way through the year and I've made it to 14. And I'm out of lesson ideas and I'd rather just talk about whatever comes to mind in the particular moment my fingers touch the keyboard. I know no one cares but I have a choice– I can be woefully behind, or I can have accomplished my goal at least 14 times for the year. Today's particular mood leads me to the more positive of the two choices. No lesson included today. Let's play Common Core– make it up yourself!
Ah digression.
TODAY IS A SPECIAL DAY!!!!! Yes, today is Andrew's 6th Birthday!!!!! I believe that at some point I will stop cheerfully reliving all the moments of the days leading up to the births of my children but that point certainly hasn't happened yet and I still feel all the lovely nostalgia that comes from the experiencing the anniversary of a major life event. I was watching the Bucs (lose) last night on TV thinking about how 6 years ago– a Sunday– the Bucs WON their preseason game vs the Patriots. It was on TV in the hospital recovery room but I could hear the cannons firing in the stadium that you can see from the hospital. When I think of Andrew's birthday I think of (in no particular order): Preseason football, Shells– the restaurant, full moons, Cheesburgers, the Olympics, beach volleyball and tropical storms. It's an interesting collection of thoughts. All of them never fail to make me smile and think about the day we became three and the day I became Mom.
Enough of my own rambling, let me tell you about my no-longer-a-little-kid Andrew!! Andrew is about to start 1st grade, he lost his first tooth on Friday! He loves reading, science and math in school although he'd probably tell you his favorite part is talking to his friends. He also loves soccer, karate, gymnastics, swimming, bike riding, playing outside and Legos. Oh Legos! Oh and of course I can't forget- Angry Birds. Yes that's my 6 going on 30 year old in a nutshell. I would say more but I don't want to embarrass him. Now on a serious note: Andrew you are my golden boy. You are the best thing that ever happened to me and when I look at you I know that God put you in our family for a reason and His plan is perfect. We are so SO blessed to have YOU as our son! You're an amazing big brother and all around a very awesome little human being. We love you so much!
A combination of things happened last week that led me to experience some very powerful memories. I'll explain: in the summer of 2004, after 364 days living in New Jersey, we drove my old blue Honda CR-V and a packed U-Haul trailer back home to Florida. Shortly before we left, we celebrated our 1 year anniversary. Shortly before that I took my dream job back home. And in the year before that I spent most of my time being sad, lonely, and saying goodbye to my husband who was constantly TDY (not there, for you non military folks). I say this to explain why my trip was one way while his was not. I think most anyone who knew us then and has seen us these past 11 years understood that it was a testament to how strong we were together that we agreed to live apart so I could have a career too. Thankfully that time apart was temporary but we didn't know that at the time. And what I want to focus on right now is that transition in July of 2004. Moving home, back into my mother's house, with my younger brothers. Taking a new job. Buying a house that I would live in alone for the first few months. Our trip to the beach. And that's really where today's story starts because since that time 10 years ago we've gone to the beach every single year and before that time 10 years ago we went to the beach most every summer before that too. So it's amusing that every time we go, no matter where we go, my mind focuses back on that summer. I think it's because that summer more than any other transitional time, felt like a dividing line for me. I was no longer a student, nor was I just a wife (not that there's anything wrong with that), but at that time I got a new title- Teacher. And despite everything I was happy.
That summer also brought four back to back to back to back hurricanes that pummeled our state. That was a terrifying summer for that reason alone. I hope never to experience that again although I know it's ridiculous to think I never will. I started a new career then. I remember so many things like having to scrape together money to buy a few professional looking outfits, and sitting in my childhood bedroom at night rehearsing my lessons in my head until I knew what I was going to say. So much is so clear in my mind, even though it was really quite some time ago.
So what's all this about? "You're rambling," you say. And I am. But I'm trying to make a point. Because all this feels like it happened in another life. In that time we've been married 10 additional years (for a total of 11), we've had 3 living children and one angel twin. We've lived in 2 different homes. We've adopted 2 additional cats (total 3). We've collectively worked for 5 different companies. We went through one deployment and 230,000 miles worth of business trips. I took one trip to Europe and am planning another. Together we have accomplished many things in that time both as a family and as individuals.
And on the very back burner there has been a simple little goal. Nothing life altering, just something I wanted to do.
You see before I moved home that joyful July of 2004, I took a class at the local community college in New Jersey. Just to be clear here we had zero money. Our daily no frills living brought us into debt. I paid for the class using money I got for my birthday. It was a B&W film photography class and it was one of the best things I've ever done for myself. I unlocked the mystery of film photography but the instructor unlocked one more mystery for me (oh, I see Emily, you're finally getting to the point!) Yes, he described how one would photograph lightning. In those 10 years I've owned 1 SRL and 3 DSLR cameras. Every summer at the beach I bring one with me with the hopes of catching a lightning storm with just the right set up and every year it doesn't happen.
Except when this summer it did.
So this lesson is really easy– STICK WITH IT! You see how much has happened in that time? I am a different person now than I was then. I have done so many other, frankly more important, things and yet I held on to that one goal and I waited patiently and my time came. I did it! I am pleased with the outcome, indeed! There is nothing that feels quite as good as crossing a goal off your list. I listed this as a New Year's Resolution last year and this one and guess what– it's DONE!
Now a bit about the picture. For those who, like me 10 years ago, always felt that lightning photography was kind of a mystery- or who never bothered to google it, there are a few things to know. To photograph lightning you need an SLR camera where you can control the shutter speed completely. You need to set your camera to "Bulb" mode. If you've see that and didn't know what it was for, basically it lets you control the opening and closing of the shutter by hand. For this reason a tripod is essential. I of course, didn't bring my tripod this time because space was rather limited. I rested my camera on a cooler balanced on a balcony (camera never left my grip, I'm not insane). It's also really helpful to have a remote switch which I did have with me but it was so windy it would have hardly made a difference. Next, the set up- it's not that lightning storms are hard to come by, especially in Florida. We have them a few nights a week. But at home there are street lights and other ambient light that prevent total darkness and if you're going to open the shutter for 15-20 seconds at a time, thus letting in gobs of light, you really need it to be as dark as possible. In the picture above it wasn't really as dark as it should have been but I was torn between wanting to get the shot or missing it completely when the storm was overhead. I will post my other picture below– it was darker but the bolt not as impressive. Anyway the beach makes a perfect backdrop because over the water there are next to no lights and because of the sea turtles, far fewer street lights as well. So I had the location all I needed was the storm and boy did we have one! I didn't have the greatest vantage point because a building was blocking the bulk of the action but I got what I got. At one point I walked down to the actual beach– pitch black, ferocious wind gusts, and not another soul out there. I'll admit I was scared but I only turned back when it started raining (can't get the gear wet!)
The above shot was edited down 1/3 stop as it was a 20 second exposure which could have been shorter. The shot below was a 2 second exposure. Both taken at f5 100 ISO, bulb mode.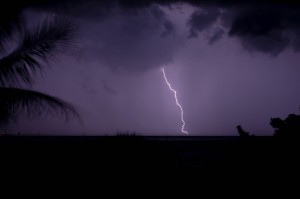 Well It's about half way through the year and I'm still doing this even though I've only done 12 so far. Oh well. I figure only a handful of people even look anyway so I shouldn't stress myself right?
Father's Day!
Yes, Daddy has seen this already. We celebrated Father's Day today instead of tomorrow (well, we will celebrate tomorrow too but celebrating Saturday afforded Daddy the chance to sleep in which we can't do on Sundays because of church). My kiddos were VERY excited to take this picture surprise and didn't even spill the beans!
But I'm having a hard time thinking of a good lesson to share so instead I'm going to say what lessons I've learned.
I've learned that it's hard to truly fully appreciate your own parents until you become a parent. This is not a knock on people who don't have children, it's just that there have been moments while I'm in my 4th hour of driving around town for the day or sitting on the hard floor of a dance studio or maneuvering around the gymnastics equipment helping a toddler do cartwheels with a baby strapped to my chest, that I've thought "yup, my parents did this for me and I took it for granted" and I think at the time it was happening in my childhood, I knew that. But what I didn't realize was that yes, my parents made sacrifices for me and yes they were often tedious and mind numbingly boring (watching me run at a track meet, eek!) or expensive or stressful or any number of emotions but as a mom I realized that even though sometimes parenting involves all those things I still love doing it and I wouldn't want it any other way and I can only guess that my mom and dad felt the same way watching me and my brothers and that was something that I didn't realize at the time. It never occurred to me that they would find beauty in the mundane aspects of shaping your children into who they will become. Kiddos, sometimes you hear parents say "Someday I hope you have kids who are just like you!" And it's not exactly said in a positive way. But instead today I'm going to say, "Kids, someday I hope you have kids and you enjoy them the way I enjoy you." Thank you for making me a mother and thank you for making your Daddy a father. This day is our day to honor him the way you all honored me a few weeks ago but really I have to give it all over you YOU, my dears and to my own parents for this moment in time and all that came before it and all that will come after it that we get to be a family.
So I'm a little behind (as if that weren't readily apparent with being on lesson 11 in the middle of May) but I couldn't pass up an opportunity to talk about school in a lesson themed photo journey.
I've also been trying to find the right words to write a post about Allison since a while back I wrote about Andrew and another time about Molly. I like to try to keep things as equal as possible around here but even though the words are in my head and in my heart I just don't know how to get them right in the black and white.
I actually wrote something out at the beginning of Allison's school year in filling out a questionnaire that I wish I could have back. It really spelled it out perfectly. How do you put to words, feelings that describe someone you love the way I love her? Where do you start? I guess you start here: Allison is the baby girl I never thought I'd have. She is the child I had the hardest time convincing God to send us. She was the baby girl I was so convinced wasn't really a girl I never even told people which gender 5 ultrasounds had told us we were having. She's a spunky little firecracker who is half rough and tumble pirate and half princess. She is my light and my miracle.
I just simply can't say anymore than that. It's all in there but it's just not coming out. You'll have to make do 😉
I wasn't sure about sending her to school this year. I did it anyway for three main reasons- one, it was a lot easier to get her into the program last year while Andrew was still at the school than it would have been this year to get her in to the 3s program. It was nearly filled completely before admissions became open to the public. We got the class we wanted for next year and she got a whole extra year there by doing it. The second reason is that having a late August birthday puts her nearly a year behind some of her future classmates. I figure now that she's gotten an extra year of school most kids don't have, she will be on a more level playing field. Finally, I can't express how much I love this preschool!! Incredible people run an incredible school!! I wish I could go to school there!
What I didn't expect (but should have) was that she would grow up so much both physically and emotionally in just a few relatively short months. It wasn't even in an academic sense although she learned a lot in that area too– colors, shapes, songs, you name it. It always just blew me away to pick her up each day and hear her talking like a "big girl" instead of the baby girl I sent to school that first day. I love who she is becoming as she grows and develops her personality and I love that she loves school.
So my dears, here's Lesson 11- Love Learning!
I told you Andrew that the best thing in life is learning and filling your brain with knowledge. I told you your brain always has room to learn more things. Knowledge to your brain is like chocolate chip cookies to your belly. Yum! School might be out (or almost out) but I promise we're not done. There's so much more out there to discover. Adventure awaits!
Finally I wish to add one last note– see that little purple blanket in the bottom two pictures? That's lovingly called "School Ba-ba" because we made it out of scrap fabric to go to school with her the first few weeks. Well it has become a daily thing. On the last day of school she had left it on a chair and as we were about to leave her friend rushed up to us with Ba-ba in her hand to make sure Allison didn't forget it. It kinda was it's own entity within the classroom. At this point I think it will go to college with her. Maybe I'll be wrong.
Until next time!
I posted this yesterday on Facebook but I just love it so much I felt like I wanted to write about it a little bit. I think this lesson will be "Be True To Yourself".
I know that lesson is yet another despised cliche but it gets the point across. I also want to add this– as you grow you will encounter times in your life where you want to let yourself be boxed in to a certain cliche: you're a jock, a prep, a whatever. But there is more to life than neat little boxes. I'm not saying it's easy to break out and be yourself without the title, especially as you enter middle and high school but allow yourself to be more than just one stereotype because right now I already know you are so much more than that.
I look at this picture and I see my three precious children and I feel that I've known each of you even before you were born. Andrew I had a sense that you would be both rough and tumble and gentle hearted. I knew you would be kind and inquisitive. I knew you would be strong- both body and mind (I knew you were strong when you kicked me so much in the womb!) See, you're not one thing you're ALL those things! In this picture I see a loving boy who adores his little sisters, who shows patience and eagerness to help them grow and learn. I see someone who is both gentle and fiercely protective. I am so proud of who you are, Andrew. I am forever in awe of the gift that you are to our family.
Allison I see you and think about how you are the one who got everyone involved in the picture taking because you were not satisfied to let Molly steal all the thunder. You were patient as you waited for me to snap a few quick 7 month shots and were then thrilled for your chance to be in the pictures. I didn't have to ask everyone to smile, you started tickling because you love nothing more than when everyone is laughing. I love your giggles, they are the most beautiful music. When I was pregnant with you, Allison, anytime the Katy Perry song "Firework" came on the radio you started kicking. I think you were trying to tell me something. I knew you were going to be a free spirit and you are indeed! I love your expressive little big voice, the way you use your whole body to tell a story, your smile and your sense of adventure. I love that you love your siblings with every ounce of your being. They are so lucky to have you as their sister.
Finally, Miss Molly, I don't know you as well yet and I worried during my pregnancy that you might be a sad little girl but my prayers were answered and you are not. In fact you are probably the happiest baby I've ever personally met! You share smiles willingly and I get this sense that you are laid back and calm which I appreciate because I'm not sure how much more action this house can take! You will make your own niche in our family though I think perhaps you will do it more quietly than your siblings. You are observant yet curious. You are sweet and loving. You are so many things and I can't wait to watch you grow. You've only been here 7 months but it only took me 7 seconds to know you were exactly who our family needed.
You see? You are amazing as individuals and you are amazing together. In the years to come you will grow and become teenagers and you will be focused on school and friendships and jobs and college and you may forget all the things that you are. You will grow, yes. You will change some too. You will undoubtedly add many times over to the list of things I love about each of you. But at the root of your essence you are these things. They are a part of you always. I'm putting this out there for all the world to read and know so that some day, when you didn't even realize you needed to hear it, you will be able to see this.
Love, Mommy
Ah Easter!! My most favorite holiday of the year. Truly, Christmas never could live up to the way Easter makes me feel. When I was younger I used to associate this time of year with music more than anything. I used to sing at church and for a few years I played flute and then trumpet in a small ensemble to accompany the choir. I remember one Easter, Mass was held outside in a tent while the church was being renovated and I don't know why that one stands out in my mind but maybe it was because of the heat under the tent or playing for a couple Masses in a row that made me think a little harder about what I was doing. I could have been home chowing down on jelly beans but that wasn't what made Easter special. So I was at church instead.
It was different this year. We have a new church home and I'm not singing in the choir (yet- I hope to at some point) and while the Mass was beautiful, I realized it feels different when you are simply sitting and listening rather than playing a part in it. I think next year I will have to change that. In the meantime my lesson to my kids is to understand the importance of Easter for our family and in our faith life. A couple weeks ago a few things happened. The first was the realization that Andrew's bike was too small for him- I mean really too small. And getting banged up in a way that no longer seemed safe with pedals falling off and that sort of thing. But a few years ago I decided my kids would not get gifts for random reasons. I buy books when needed, clothes when needed and anything required for school but a trip to Target doesn't warrant a new toy nor does a good report card for that matter so my kids get Christmas and Birthday for gifts. But we wanted to get him a new bike. Do we give it to him on a random Tuesday or do we give it to him on Easter completely blowing away the scale of traditional Easter basket type gifts. In the end we decided to give it to him today but not before spending a whole lot of time talking about the real reasons we celebrate and how they have nothing whatsoever to do with new toys.
So you're like "why didn't you put a picture of Andrew with his new bike then?" And well, I guess it's because that's not the lesson. In fact it's the anti-lesson in this case. So instead I give you Miss Molly, my special little bunny. I posted this picture to Facebook as well with the caption that when I look at her I feel like I've known her for a very long time. It's both odd and comforting. My sweet little bunny loved her first Easter and for her and for my family I am ever thankful.
Finally I wanted to update my resolutions a bit. I went on a reading spree last month and completed 10 books in one month and 3 days. I read 7 post apocalyptic novels in a row and decided I needed a break from the depressing topics (either that or to build myself a bunker! HAHA!) So now I'm reading a historical fiction novel called Orphan Train. So far in 2014 I've completed 13 new books and re-read 4 books for a total of 17. I'm almost done with #18 so I'm well on my way. I find myself needing to cut back now and then since I read after the kids go to sleep and sometimes that means I stay up waaaay too late! I also ran my first 5K in mid March. My time was… pathetic. BUT I did run the whole time and I finished and I know next time I could go faster. Ironically, it was a small community race so I came in 3rd (and last) in my age group so they mailed me a bronze medal. Andrew and Allison thought this was the greatest achievement of all time which was a little disappointing since I've got my two diplomas hanging over my desk which they've never noticed but a fake bronze medal and I'm apparently the coolest person on the planet *eye roll*. I took a little bit of a break from the running but I will get back to it because I think I'd like to try a longer distance race eventually.
People have asked me what makes Andrew's IB school different from regular schools. I can't say that I know the answer to that entirely because I don't have any other (recent) public school experience to compare it to. But I do know that in addition to the regular stuff, they do IB themes and right now the focus is "Where we are in Place & Time". The students are working on personal histories and Andrew had to select pictures from important events in his life to write about. As I was helping him select pictures it made me start thinking and then on the way to pick him up from school today my mind was wandering and I started imagining life from beginning to end laid out like a road map. Then I thought metaphorically about what certain events are like in that context. Like, sometimes you are lost and wandering off the map, sometimes you are steady on paved road. There are times it feels like you are being dragged off the back of a runaway horse or trudging through quick sand and times when you're floating above it all in a hot air balloon on a sunny day.
And since it's a rather long drive I had time to ponder where I am in all of this. I've been actually thinking about that a lot lately though not quite in the same context. I think I'm on a bridge right now. I'm not sure how long the bridge is but I know it's taking me from one major life event to another. Sometimes the sea is calm and other times stormy, blowing over the side rails but I feel like the bridge is strong and sturdy. I just have to figure out where it's taking me. Will I know when I have arrived? Will there be another bridge ahead or something altogether new?
It's interesting how that works, isn't it? I like where I am right now but I know I'm not just staying here. I know I'm always progressing forward, following the map, sometimes straying but hoping to avoid too many potholes.
I appreciate that my child's kindergarten work makes me think this way. I can only hope to keep up in the future!
Try new things.
Even if they scare you.
No, not if they scare me. It's still a bad idea to walk on the roof of the playset. That will give me a heart attack. But trying new foods, new activities, new places– all those things are good even when you're afraid of them.
Molly's face tells the story. The bottom right picture shows her expression as we gathered around to watch her first bite of food. My kids have all made the most amusing faces for their first solid foods but Molly always wears a particularly expressive look and this time it said "What on earth are you doing now?" So she tasted her sweet potatoes– I guess you could now call that our family tradition first food. And she LOOOOOOOOOOVED them! She not only wanted to keep eating but she grabbed A's hand and brought the spoon to her mouth as if to say "hurry up Daddy I want more!" In fact just 3 days in to the solid food thing she's already finishing the container and wanting more and this makes me very happy since she's not even on the growth chart anymore and spits up her milk so often that it's a wonder she's gaining weight at all. This just might save us all (and yes, no nasty emails, I know she still needs breastmilk and no I'm not replacing it yadda yadda yadda).
So back to you kiddos… let this be a lesson for ya! Trying new things is a good thing. I can tell you that until I run out of breath but if your baby sister can handle it, I'm sure you older ones can too! Now go eat some squash or something!
In other news, I have stepped outside my comfort box a few times recently. I've taken on the SAHM thing as more than just being home to raise the kids. I figure, I have time now to try new things so I might as well try them (I don't want nasty emails about this either. I have time and I consider this job "easier" because I used to be a teacher and if you went from 10-12 kids down to 3 you'd think it was pretty easy too). Seize the day and all that good stuff. So I did C25K (Couch to 5K is a program for people who are way out of shape and gradually prepares you to be able to run a 5K) and not only did it help me lose almost all the rest of the baby weight but I am in better shape than I have been in close to 4 years and I'm very happy about that. But I don't really like running. I ran track in high school and probably thought about quitting more than a few (million) times during the season. I am slow. Very very slow. But yesterday I ran my first 5K and I didn't die, didn't come in last place, and ran 99% of the time without stopping. In fact the only time I stopped was because I dropped my phone and I'm pretty sure any logical person would stop to get their phone back. I'm happy with myself not just for completing it but more so because I did something that made me uncomfortable to try. I did it for me but I also did it for my kids so they would see that trying new things isn't just for kids, it's for adults too. Sometimes leading by example is the hardest thing you can do as a parent and other times it's the easiest. This time it was an easy one. 🙂
Until next time…
Mommy
You know, I really love this picture and I don't really want to talk about it at the moment. So I'm just going to say we had a fabulous time at Disney World last weekend and discuss something different yet vaguely related because hey, it's my webspace right?
When we bought our new minivan before Molly arrived I was in complete denial over the fact that we did really need a minivan. I didn't want one though, I didn't want to be a minivan mom. I didn't want to be the stereotype. I fought against it. And yet the days ticked closer towards my due date and the inevitable happened and we got the new car and I couldn't possibly be happier. At the time of purchase there was also one other point of contention and that was whether or not to get the rear entertainment system. Oooooooh am I glad I did.
First off I have to say we have a very strict rule in place with watching movies: no DVD watching unless we are leaving the county (it's a big county). Trips to the store, ride home from school, basic running around town– you get to talk to Mommy and Daddy or each other but if we go on a longer trip you can watch a movie. Our trip to Disney was only the third time the kids have gotten to watch a movie in the car we have now owned for 6 months.
Now all this made me think of how when I was little we used to drive to New Orleans each summer and how it was really extra cool when we got to listen to a cassette tape on the way there and how my mom used to get use those little travel games that somehow lost their entertainment value about 10 minutes into the 11 hour trip.
A few weeks ago the following conversation took place:
Andrew "Mommy, what was your favorite game when you were little?"
Me: "Um, I'm not sure, maybe Hide and Seek?"
Andrew: "No your favorite game to play on your phone."
Me: "Andrew I didn't have a cell phone until college."
Andrew: "Oh. What games did it have?"
Me: "Well, it didn't have games."
Andrew: "Then what did it do?"
Me: "It made phone calls."
Andrew: "That's IT???!?!"
Me: "Yup!"
<Shocked Silence>
I went on to explain how back in the day my cell phone was basically used for emergencies, to call home, or to call the important guy who would one day become his father. I explained how my phone made only phone calls and even then it only made them in a small geographical area before it started charging me a whole bunch of money. Oh how times have changed.
And while people lament the changes technology brought to the 21st century, my lesson to you kiddos today is this: EMBRACE THE CHANGE.
That's right, life around you will always be moving forward (at least we hope) and you can look at this in a positive way or a negative one but I suggest you choose the positive because of its inevitability and also the fact that really great things often come out of growth.
I also have to say I can't fathom what you will be shocking your kids with a few decades from now when you tell them about the giant brick type devices your parents carried around with them that played antique games like Candy Crush and Angry Birds Star Wars and didn't do amazing things like drive you places or diagnose illness or whatever the heck phone type devices will do in the future. And I hope some day when you are teleporting to your family's vacation destination you will make sure to share with your own kids the ridiculous and unthinkable experience your own parents once had when it took hours and hours to go places and they were forced to be entertained by nothing but a cassette tape and games made entirely out of plastic. You will undoubtedly enjoy the moment where you blow their minds and make them say as you did yourselves "I'm sure glad I didn't grow up when you were little, it must have been so boring!"
Until next time,
Mommy <3