I've written this post about twenty or so times in my head and what you are seeing now is a very abridged version of it because I decided most of this is better left in my head. There are some who would say even writing this is too much, too personal, too much information but I'm not writing this for most people, I'm writing this for the people who are experiencing what I did and who are right now turning to Google looking for positive and hopeful stories. Because that's what this is—a story of hope.
Around this time last year I started having dreams about twins. Twins don't run in my family despite what I may have told a few people. They don't. Plain and simple.
Around the middle January I felt sure I would get pregnant that month and that it would be twins. On the 31st of January I found out I was pregnant and even though I tested early the line was really really dark making me even more suspicious it would be twins.
In the middle of February I was shocked to learn, not that it was twins—It was, that just wasn't the shocking part—it was a shock to learn I was right.
On April 16th, after seeing two beating hearts 4 separate times, we saw only one beating heart.
I don't want to go into a replay of that day or how I felt because even now it still sometimes feels completely raw and I still see all the events unfold as they happened moment by moment, a nightmare. Plus, I know that I'm in no way unique in what I experienced. Sadly, most people I know have been there even if not for a loss of a twin. Mostly I saw that image I had of my family, the one that started forming months before I was even pregnant, change from 4 children to three.
Except that image, even as it was forced to evolve in those weeks and months following that awful April day, there was still the unknown of what would happen next. Would I ever meet my remaining twin? I turned to Google. Bad idea.
There should be some sort of app that blocks all pregnancy related searches during pregnancy. It would be somehow connected to the pee stick—two lines appear and you get a congratulations message that also says "Sorry, you're banned from Google for the next 9 months". But you know I didn't stay away. What I read didn't make me feel any better either.
The question that plagued me was how the loss would affect Molly in the long term. I read about something called Womb Twin Survivor Syndrome. A lovely list of problems that Molly might face ran constantly through my mind—not easily fixed problems, problems that are ingrained and permanent. I had already lost one baby but would the remaining one live a life of constant sadness as she felt the sense of loss to the person she was most connected to? I kept wondering, what was it like to be there and know the moment the heartbeat next to you stopped? There had to be something that she noticed inside her, even as a tiny tiny fetus, she had to have felt something. Science says she knew something happened and changed in that moment. And she was all alone.
So I waited. I tried to push those thoughts out of my mind. I know a couple people who have lost a twin and I looked for clues- their children seemed fine, seemed happy and well adjusted. Would I be lucky enough to experience the same? I waited the remaining 6 months for her birth and then I waited some more.
And then one quiet afternoon on the day Molly turned 3 weeks old something incredible happened. She smiled.
I know what you're thinking; she's three weeks, that's too young for a real smile. It must have been gas or something. But I assure you I know the difference now between a real smile and gas. I also know it was real because I have gotten to see it almost every single day since then. It took my other kids much longer to show their first real smiles but not Molly, not my precious gift who knew more than anything her mama needed to see that she was happy. And she is happy. She's calm and content and filled with this vibrant spirit and I know that she's going to be okay. And I'm writing this for anyone else who is Googling and wants to know that there are stories of hope out there. There are. Molly is one of them.
I'm definitely no expert on womb twin survivors. I just did some basic reading on the web. But we decided to make sure, when the time is right, that Molly knows her story. Hopefully this will help her in the long run.
"Are we going to be late?"
"No"
Shit, yes, of course we're going to be late. Because your school is on the other side of the world and we had 20 minutes to get everyone out of the house and fight rush hour traffic.
"Are we going to be late?"
"Yes, yes, I'm so sorry"
"Am I still going to be on the morning show!?"
"I hope so"
We pulled into the parking lot and I jumped out with him. He's the youngest Kindergartener in the school but not even remotely shy. I didn't go with him because he needed me there, I think I went more because I needed him with me—to help me find the right place on the huge campus. We raced up the stairs to the Media Center and once someone spotted him they pushed him through the crowd of people and other students—one student per class for each of the 9 grades.
We barely made it but he got his shining moment, saying his name loudly and clearly into the microphone and smiling handsomely as the administrator read why he exhibited the attributes of Enthusiasm and Curiosity in the classroom. It was in that moment as I watched him, fighting back the tears of stress and lingering baby hormones, that I thought to myself, who is this child? How is he mine? How did I get so lucky to be his mom?
He's everything I never was as a child.
I would have been terrified to stand up on camera in front of the entire school. I would have been paralyzed with anxiety over being late. I would have died before walking in last and having everyone stare at me. But even before that, I wouldn't have even wanted to go to a school as big as his. In fact, I didn't attend a school that size until High School. He has more confidence packed into his small, five year old body than I've ever had in mine. Ever.
"Did you SEE me on TV?! I was on the MORNING SHOW!"
Forget Disney world, soccer goals, or new siblings. That moment right there, was the greatest.moment.ever.
After the awards were given out, the kids got a pencil and a rubber bracelet as well as juice and a donut before they posed for pictures. As he was eating, his class walked in for their library time. That's when the donut and photo op were no longer important.
"I've gotta go, Mom! (mom?!) That's my class."
As the kids walked past I kept hearing, "Hey, there's Andrew" "Hi Andrew!" "We saw you on TV!" They waved, the smiled, the wanted him to come join them.
More realization. Not only is my kid confident, he's popular. Geeze, would he have even noticed I existed if he met 5 year old Emily? The kid who was probably crying in the corner? But I already know the answer to that- it's yes. Yes he would have noticed because he notices everyone. He's that kid who doesn't want anyone to get left out.
I look at my child in awe. I look at him with pride. I look at him with the tiniest bit of envy. He's smart and handsome and kind and sensitive and confident and popular and it's easy for him. It's all just natural.  He has no idea how lucky he is, how blessed he is.
We walked out of the school that morning and I breathed a small sigh of relief. It probably won't always be easy for him (actually, I hope it isn't). But I'm glad he didn't inherit all of the parts of me that I didn't like about myself. I'm glad he's not those things I never really wanted to be in the first place and I find myself learning from him more than I ever dreamed a parent would learn from a child.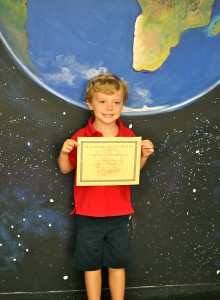 I was reminded today that I haven't updated in quite a long time. It's always surprising when I talk to someone who reads because in my own mind, no one reads. But I figured, June 1st, might as well
I often think I do my best thinking in the shower. And this evening a thought came to me. May/June 2010. The benefit of hindsight. I'll explain.
You see, there were a lot of things happening 3 years ago now, but three big things happened that I felt, at one point or another (or many points) would never happen. May 2010 I graduated with my Master's degree. After 3 years of working mornings, nights, and any time in between, I completed UF's web-based degree program in Educational Technology. A program that I somehow accomplished despite being pregnant for 5 classes, having a baby for 6 classes and working full time through the whole thing. I remember thinking when I started that I would never actually finish. Yet somehow I did. And my son was there to see it which was my proudest moment of all.
Three years ago, May 2010, we decided to get serious about baby #2 and I started taking meds thinking it would be a one shot thing like it was with Andrew. But no. It wasn't. Meds, shots, procedures, prayers, and a lot of times when I felt Andrew would surely be an only child. And yet I have my sweet baby girl. I remember holding her for the first time when she was seconds old thinking I was living in a dream.
Three years ago, June 2010, we took the biggest plunge of our lives. We met with our homebuilder and commissioned the first of what would be 8 rounds of blueprints. The land we wanted initially fell through. The mortgage we initially tried to get fell through. And the entire process was so riddled with issues I thought time and again that we would never actually live in the house where I am now typing this blog posting.
You could just say I'm a negative person. You could just say I needed to have some faith. But in the end, none of these were simple things to accomplish and goodness knows the odds were stacked against us for at least the last two things. It made me wonder, what in my life right now am I doubting? And what can I do to see it through to the end? I think we can be our own worst enemy sometimes. We hold ourselves back. How are you holding yourself back right this very moment? What will you be thinking about three years from now? Food for thought.
In the mean time we reach a half way of sorts. It's June 1st so I figured it's time to update my resolutions list. I'm also 21 weeks pregnant which is sort of half way (I do pray it's half way and nothing too dramatically more). I suppose at some point I might consider writing about my pregnancy and experience with losing one of our twins but now is not the day. I think I will at some point if for no other reason than to memorialize a child who did exist, whose heart beat next to mine and whose sister, God willing, will one day know she had a twin, a twin sister, who will always be a part of her.
*sigh*
Onwards! The resolution list is…. going. I haven't done much sewing (although I have a project in mind for Allison's big girl room!) and have yet to find a good location or night to photograph lightning but I'm hopeful sometime this summer I can make it work. I have however, done GREAT on my reading goal of 40 books. I'm also really thrilled to say that in my classroom, 7 out of 9 kids achieved the goal of 100 points which is COMPLETELY awesome! The kids only need 40 points a year so this is huge!!
Here's my book update: I'm just going to list everything from January 1st on. I am absolutely loving the YA Dystopian/Post-Apocalyptic fiction genre. Last night my friends and I were discussing how we are totally over the typical adult romantic boy meets girl type books as well as the completely smut filled 50 shades-ish books. They are fine now and then but I love the escape into these completely different, yet often familiar worlds filled with strong young characters who are more focused on saving humanity than getting in bed with the cute guy. So that's the trend you'll see on this list. I also read Cloud Atlas (before even knowing it was a movie) which is on the BBC List of 100 books to read before you die. Challenging read but ultimately I enjoyed it a lot.
1. Sarah's Key- Tatiana de Rosnay 2. Something Blue- Emily Giffin 3. Under the Never Sky- Veronica Rossi 4. Through the Ever Night- Veronica Rossi 5. You are Not so Smart- David McRaney 6. Across the Universe- Beth Revis 7. A Million Suns- Beth Revis 8. Shades of Earth- Beth Revis 9. Matched- Ally Condie 10. Crossed- Ally Condie 11. Reached- Ally Condie 12. Cloud Atlas- David Mitchell 13. Partials- Dan Wells 14. Fragments- Dan Wells 15. Proof of Heaven- Eben Alexander 16. Legend- Marie Lu 17. Progidy- Marie Lu 18. The Unbecoming of Mara Dyer- Michelle Hodkin 19. The Evolution of Mara Dyer- Michelle Hodkin
So there we go, almost half way to 40 right at the half way mark but I did this while I was working, now that it's almost summer I should have no problem getting a lot more reading done
If you are not already, follow me on Goodreads
And some pictures, which hopefully make up for the lack of 12 in 12 photos.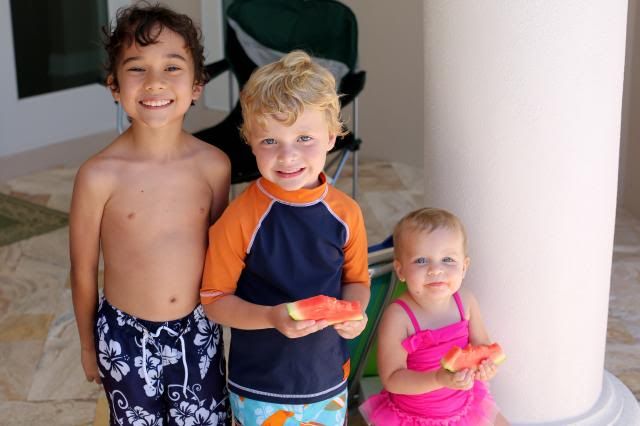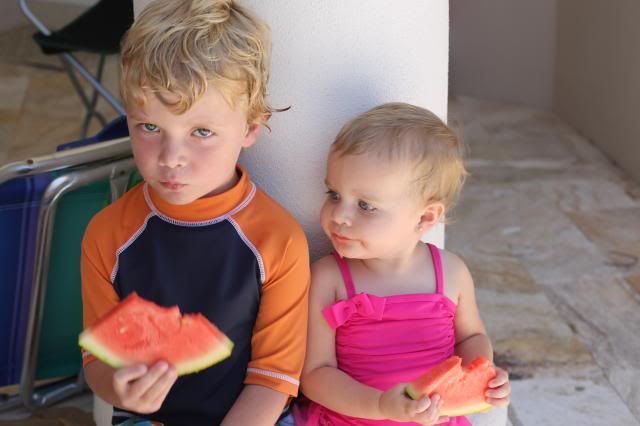 Enjoying cousins and watermelon on Memorial Day!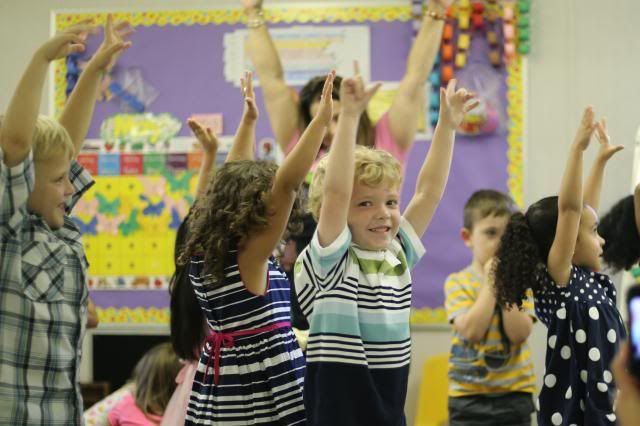 Andrew dancing on his last day of school.
Cheese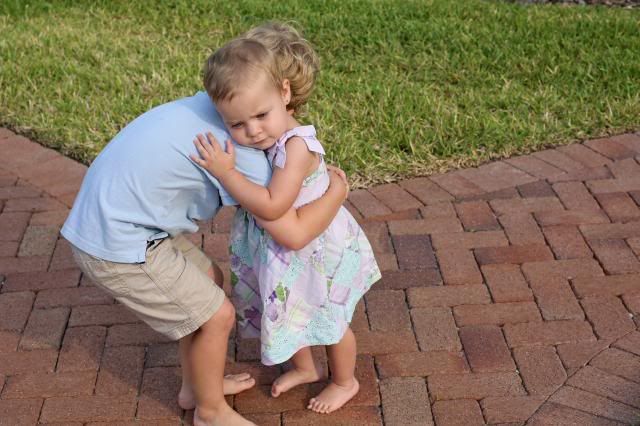 True Love
"No Ah-doo!!" (It's actually hard to get pictures of these expressions because usually she sees the camera and immediately hams it up.)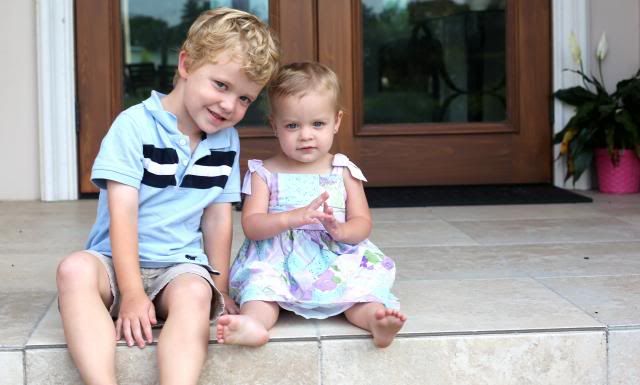 So a lot of thoughts crossed my mind when I sat down to do this. They were as follows: Woohoo only one day late! Crap, I haven't taken many pictures this month. What was my theme again? Ick I don't like my template anymore at all. What was I thinking doing this project again? Ooh Cake!
That last one was my early Valentine's present
(I also discovered my site was hacked which annoys the crap out of me.)
Yeah it's been a busy month and I'm ashamed that these were taken a couple weeks ago for family Valentine's cards and that was the last time I picked up my camera. Oh well, sometimes life happens. I do so love this picture though. I love the innocence of children before they become jaded and convinced of all the ways life will slow them down or stop them. Right now Andrew believes the sky is the limit and Allison believes that her big brother is the greatest person on the planet. Perhaps they're not far off but it's nice to know that their dreams are still pure and untarnished.
Now next month I will do better about the pictures and maybe even tweak the template a little. In the meantime I'm updating my New Year's resolution goals which I'm quite proud to say, are going extremely well. There is a LOT to be said for making yourself accountable to internet-land even if I do only have a few readers.
So my goals were to sew some things and read a bunch of books– 40 to be exact.
Since last update, I (with a little help) made two pillows for the playroom out of fabric that coordinates with the curtains. We're going to get a little rug and a few more pillows and I ordered a bookshelf where the books face out. We have over 600 children's books in our house so it is unreasonable to think I could display them all this way but I'll rotate them out so the kids, especially Allison, will be able to enjoy them more easily. So that little project is going well! I also have more ideas on how to finish the playroom and master bedroom. Once we moved in and the "job situation" hit, we stopped buying anything and everything for the house. What you see in our house now are things we purchased before we moved (and largely paid off in full, thank God!) but after being on hold for 7 months I finally get to start decorating again!!
As for books, I've been reading a whole lot! I find it's easy to get really addicted to reading and I can't think of a better thing to be addicted to. I also noticed that Andrew's doing a lot better with his reading and wants to sit and read with me in the evenings– not me read to him, him reading to me! I'm not sure if it just clicked or his teacher is working magic but he's really made major progress as of late. Anyway…
I realized I finished one book on January 1st and didn't count it last time so here's my old list Books Read in 2013 Something Blue by Emily Giffin You are Not So Smart by David McRaney Sarah's Key by Tatiana de Rosnay Under the Never Sky by Veronica Rossi Through the Ever Night by Veronica Rossi Across the Universe by Beth Revis A Million Suns by Beth Revis Shades of Earth by Beth Revis Matched by Ally Condie Crossed by Ally Condie
10 books in a month and 12 days! I should easily break my goal. A few thoughts about these books.
Sarah's Key is really sad but also pretty predictable. Probably the first and only time I've ever liked the movie better than the book. (Warning, the movie is in subtitles). I LOVED Veronica Rossi's books. I devoured them. I cannot wait for the next one later this year. I am stuck on young adult dystopian fiction at the moment. I'm tired of the same old sex filled boy meets girl fluff which seems to be in so many adult books. The YA Genre is very popular among my friends right now too. I was shocked to like the Across the Universe series. It's very Sci-Fi. Think, girl gets frozen and put on a space ship and spends a few centuries in space waiting to wake up on another planet. Yea. My thoughts too. But I REALLY liked these books. I am not a huge fan of the Matched Trilogy but I'm going to finish them because I'm anal like that.
Ok off to read! See you next month!
What do you think of the new look?
After I had finished tinkering around on Photoshop, it occurred to me that this new template that I made for this year's photo project is pretty much a digital representation of my office. I'll post a picture below so you can see if you agree.
So it took me a long time to figure out what I was going to do. Apparently 12 days of the new year weren't enough so I started off a day late but I guess that's par for the course. Last year I focused on life through the eyes of my children. This year my focus is going to be on what we teach each other as a family. It's a pretty simple topic yes, but when it came to me it had that feeling of being *perfect*. Last year I was mostly a mom and only a mom, this year I am once again a mom and a teacher. And there is oh so much we all learn from each other.
This picture was taken on New Year's Day. A decided to make my favorite breakfast– crepes– and Andrew decided he wanted to help. Sometimes kids help in a way that is not at all helpful and had he asked me to help I probably would have told him no but that's the lesson I learned here. It's okay to make a mess! And for that matter, he did a fantastic job and hardly made any mess at all.
They both inspire me every day. That's the purpose of making resolutions isn't it? To try to make yourself into a better person or, as I like to think of it, to bring out the positive qualities from within yourself and work on the negatives. They inspire me to be more patient and more focused on the present. The experiences we have now, small though they may be, are the fuel for our lives. They are what keep us going day after day.
As promised (more to myself than anyone else) I want to do an accountability update. It has only been 13 days into the new year but I'm proud to report I've already read 2 books towards my goal of 40!! I also told my students about my goal and they were pretty shocked at my number. My students are really enthusiastic readers and for that I am grateful. We use a reading incentive program called Scholastic Reading Counts (SRC– which is like AR) the students have a goal of 10 points per quarter but I upped the ante almost to a ridiculous extreme. I told them that I would work on reading 40 books and I wanted THEM in return, to raise their goal for the year from 40 points to 100 points!! I wasn't sure how they would react but they were actually really excited! I also told them I'd throw them a massive party at the end of the year with whatever food and activities they wanted (within reason) and they were thrilled about that too! So we are a bunch of book worms these days! I also decided my last sewing project will be throw pillows for the playroom. I have the fabric but no idea where to start on even something as simple as a pillow. I'll get to that sooner than later though.
Books Read in 2013 Something Blue by Emily Giffin
You are Not So Smart by David McRaney
A Picture of my Office– kinda similar no?
New Year.
New hair color.
Fresh outlook.
Better attitude.
Renewed faith.
Resolutions. Lots of things to think about. I normally don't resolve to do things in a quantitative way and as such this feels a little bit like I'm writing benchmarks or IEP goals. But I've been thinking. I've covered many goals over the last several years which usually revolve around the idea of being a better person. And while I'm far far far from perfect I'm in need of some more measurable goals. So for 2013 here they are in random order.
1) Read 40 adult length books (ie: kids' bedtime stories don't count)
2) Of the 40 books, fill in my "gap" by reading at least 5 classic novels. You know, those books I should have read in high school but got by on the Cliffs Notes or just never read at all.
3) Learn to sew by taking on 3 projects- a dress for Allison, a blanket, and whatever else I decide when the time comes.
4) Photograph night lightning.
I have actually attempted this several times and the closest I ever got was one night at the beach during turtle season. And then the weather got so bad I couldn't risk my camera outside anymore. I think I found a good lake near my house so now I'm just waiting for the right night.
5) Re-engage in some sort of physical activity. I'm thinking bike riding since A got my bike fixed for me for Christmas.
Also I'm going to continue working on the other stuff and keep better track of the positive things that happen to me. I tried starting a gratitude journal and it lasted 2 days. I'm going to try again. I am going to work on letting things go when other people say and do things that bother me. My good friend, when things don't quite go well or as expected she says she's "offering it up to God" I really really like that concept. By the same token, I have come to solidify a lot of my beliefs over the last few years and I'm not going to compromise those values just to go along with a crowd. I know where I stand. I will keep learning. I will keep thinking. One of my favorite expressions "When you know better, do better". I'm going to keep working on doing better.
FINALLY (As if this wasn't long enough already). I'm not doing Project 52 again. At least not this year. It was insane that I actually completed that goal. It was kinda like grad school where I started never seeing myself actually finishing but then boom, graduation day. But no, not doing that again in 2013. Instead I'm going to do 12 on 12 so look for something for me the 12th of every month along with a Resolution Accountability Report.
I hearby raise my glass to you! Happy 2013!
Just before Thanksgiving is when I start getting my shopping list in order for Christmas. I asked Andrew on the way home from school one day what he wanted Santa to bring him. He pondered thoughtfully for a few minutes and decided he didn't know. I was a little surprised by this but asked him to think about it.
A few days later it was clear to me that he was indeed thinking about it. "Mommy," he started, "I think I know what I want Santa to bring me. An easel like for painting."
I reminded him that we have an easel (a very used condition $3 yard sale find).
"No mommy, a REAL one."
So I told him I thought that was a good choice and later that night started doing my research. I ended up getting him a Melissa and Doug brand one on Black Friday at Kohls which, after coupons, came to $22! Score! But I foolishly thought his mind wouldn't change. Not a week before Christmas he jumps in the car after school and excitedly informs me that they wrote letters to Santa in class. I got that nervous feeling in the pit of my stomach. "Yeah, what did you ask Santa for?" (please say an easel, please say an easel)
"I told him I want a Sandbox"
Crud.
Teachers, can we please do letters to Santa before Thanksgiving? That was my first thought. My second thought was I hate freakin' sandboxes and I'm not getting one for him regardless. Ugg!
I debated for days on what to do. I finally told him that even though Santa brings gifts, he has to clear it with Mommy and Daddy first and that I told Santa no sandbox. He was disappointed but seemed relatively okay with it. I decided that in life we don't always get what we want. Besides I had a nice easel waiting for him.
Cut to Christmas morning when all thoughts of the Sandbox were completely out of his mind. He was THRILLED with his new easel and so am I. A couple days after Christmas, once things had settled down a bit, Daddy put it together for him and Picasso got started. Out of the context of his classroom in which he always paints "Rollercoasters" (ie: a bunch of paint scribble) he actually impressed me with his painting and as I was snapping away pictures it occurred to me what a perfect metaphor the whole situation is for life, especially in the new year.
We spent the last year with a lot of hopes and prayers, the same way we will start this new year. And as this year draws to a close in a few hours we can reflect and see that we didn't always get everything we had hoped for but we do get SOME of the things that we hope for and I don't just mean in the physical sense. We don't know what the new year has in store for us but we have a blank canvas just waiting to be painted and explored. We have so many new opportunities to do good things with our lives, no matter what life may bring.
So here's to the end of a project, the end of another year, and the start of another. Our canvas is blank. What will you paint?
What a year. Seriously. What a year.
This time last year I was preparing to embark on a journey with my church choir to Italy. A trip I was both thrilled and terrified to take. It ended up being one of the most amazing experiences of my life.
The year continued, full speed ahead, with a rapidly developing little girl and little boy- Andrew learning things in school I never imagined him knowing at 3 and Allison going from rolling one day to getting into a sitting position and to a crawling position and crawling the next. I watched it happen before my eyes. So lucky are the times as parents we get to see things happen for the first time. I got to see a lot of firsts.
Before Easter, I got to be in a musical that my church presented. I had a small part, not that I minded, I was happy to be a part of it. Some day I'm convinced that at least one (maybe more) of the people I got to sing with will be famous and I'll get to say I was once a part of a musical with them.
We enjoyed a wonderful trip to Disney World and then, a month later, an incredible trip to Sanibel Island. Andrew finished his first year of preschool having only missed 3 days (and only one for being sick!) Which I think has got to be some sort of record!
This year also brought a lot of frustration with the construction of our new house. Delay after delay after delay. A near knock down drag out war between us and the home owner's association over our solar panels (which by the way, we totally have the law on our side). I had planned Allison's baptism for July 14th thinking I'd have several weeks of time to get the new house ready. Instead I got 7 days that passed in a blur of aches and adrenaline. We participated in a documentary about living in a zero energy home and I decided that while I'm comfortable singing on stage or at church in front of hundreds and hundreds of people, or playing an instrument with a marching band in front of tens of thousands of people, when two guys and a camera come to my house I start blabbering like a fool. Yes, I am not interested in even 15 seconds of fame, that's for sure!
We did eventually get the house together though and we couldn't be happier. Despite all the headache it was completely worth it to realize a dream that we started talking about only a few months after we got married. To see hard work actually pay off is a tremendous thing and I know how lucky we are to experience it.
Then A lost his job. And our health insurance.
There were 3 months where we had 2 mortgages, zero income and zero insurance as well as the most credit card debt we had ever had in our lives. Not our brightest hour. Thank the Lord that A's aptitude and intelligence landed him not one but 3 more jobs pretty quickly and thank the Lord that our bills are mostly paid off once again. I have always felt like I was sensitive to those who were unemployed but once you live it and you see how fast things can go from incredible to awful, you just never lose that. If we hadn't had savings we would have been moving into a parent's house, simple as that. We are lucky. I can see how it happens so quickly to some and I wish there was more I could do to fix it.
Off to the races come August– back to work after 14 months off, birthday, birthday party, and another birthday and birthday party all within 8 days of each other. Followed by the first day of school and with it the major stress that comes from major transitions. I had a rough class that left me wondering why on earth I decided to leave my kids each day. By early December I started feeling like things were getting better under control in the classroom.
The last half of the year has been a blur. I am in awe of families that have two working parents and school aged children. I simply cannot comprehend how things get done. I guess my time will come sooner rather than later, to figure out just how it all works. We started looking at schools for Andrew for next year and it's overwhelming to think about juggling everything. It's also overwhelming to think that my first baby is starting Kindergarten.
I feel like the year started off so well and on paper it is ending well too despite the difficulties of the summer but the thing is, I feel like so much has changed. My church, especially the choir, has turned upsidedown and I can hardly believe that we lost so much so quickly. My time has been chopped and divided and squeezed as well, especially compared to where the year started. The world has changed not in small subtle ways but in big, drastic, far-reaching ways. The election brought out the worst in a lot of people. The debates of social issues have left me breathlessly angry more than once. I have questioned so many things and I have solidified my ideas on many others. I have tried to remain a good friend to others despite our different views but it is challenging. Challenging but hopefully worth it in the long run.
I guess the bottom line is that you never know what the year will bring. People wish you happiness in the new year as though the whole year will hold one emotion but really it's such a day at a time thing. We don't know what the new year will bring, we just hope for more moments of happiness than anything less.
I've done this for many years now, in fact this is the 8th anniversary of Something-Insightful (I go way back to the day when not everyone in the world was a blogger) but this feels the most private to me, the most like a diary entry or a recap for my own personal viewing. I've decided to share it anyway because it is what it is. I do know that this will not be my last Project 52 post. I will do one more, a bonus week 53, because it seems wrong to end on such two low notes for the year. So I'll end this week with this thought:
Life is about reflection but it's also about what lies ahead. Let's make it good.
I had it all planned out for the week by the Monday before and yes sometimes (most of the time) I do have to plan these now because the whole working full time and raising two kids has left me with quite a bit less free time for my favorite hobby. We had been invited to one of many Christmas parties of the season but this one was unusual. First, it was at the Tampa Club which is the swanky restaurant on top of the Bank of America building which is the tallest building in downtown Tampa. A has been there a few times before but I had never been. Here's the unusual part– the kids were invited, not as some sort of polite gesture but as a truly genuine invitation. In fact the owner of this particular company asked A which specific gifts our kids wanted from Santa so when "Santa" arrived at the party he would have something for every child. Wow! Okay that's a pretty sweet deal.
We realized that their Christmas outfits, while perfect for church, were not quite nice enough for such a glamorous affair. So off to Target we found then appropriate attire (on sale!) and I thought how excited I was to get some photos of them going to their first really fancy Christmas party and then write a post talking about Christmas.
Except on the day of the party something else happened.
December 14th, 2012 goes down in my mind as a day equal to 9/11 in that it will forever change the way I look at the world and most importantly, my children.
So I couldn't post. I couldn't. Parents mourning the loss of their children and my kids glammed up for a party? It didn't feel right. To be honest Christmas doesn't feel right either but that's another story.
We went anyway because not going would have been rude but I'll be honest, I'm not sure I spent one spare moment thinking about anything else besides those babies who had their whole lives ahead of them and the teachers who died protecting them.
I made a decision that night. I decided that continuing to teach, to walk through my classroom door the following Monday morning, meant that I was willing to take a bullet for my students and I had to really search myself– was I? What about my own kids, my family, my life? And then I decided that I am. I am willing to die for my kids the same way A was willing to die for his country. The way my best friend is willing to die to protect the people in our city. The way people rush into burning buildings and chase criminals and deal with infectious diseases for the good of others. I can and I will do the same.
There are no easy answers and I find myself at a loss for understanding of God's plan though I do not presume to be a zillionth of a percent as wise as He. So I do not try to understand the horrors. Instead of grieve for those parents, friends, neighbors, and the people of Newtown for strength and guidance in the days, weeks, months and years that follow.
I can only decide what I believe myself. I can only search for my own truths and my own understanding. I will not own a gun but I also will not hide. I will not send my child to school in an armored vest. I will not homeschool (unless a different situation warrants that specific attention). I will continue to live my life in the best way I can. I will hold my children longer and tighter and I will look past the little things. I will shield them from the darkness in the world for as long as humanly possible. I will do my best to make sure they know joy and gladness, health and safety, contentment and love. It's all I can offer my kids. I will continue to walk through my classroom door each morning with my faith in the Lord's plan and offer my prayers for His protection over us. I will do these things because there is darkness in the world. I think we should ALL do these things because there is darkness in the world. When there is darkness there is only one simple answer:
Be the light.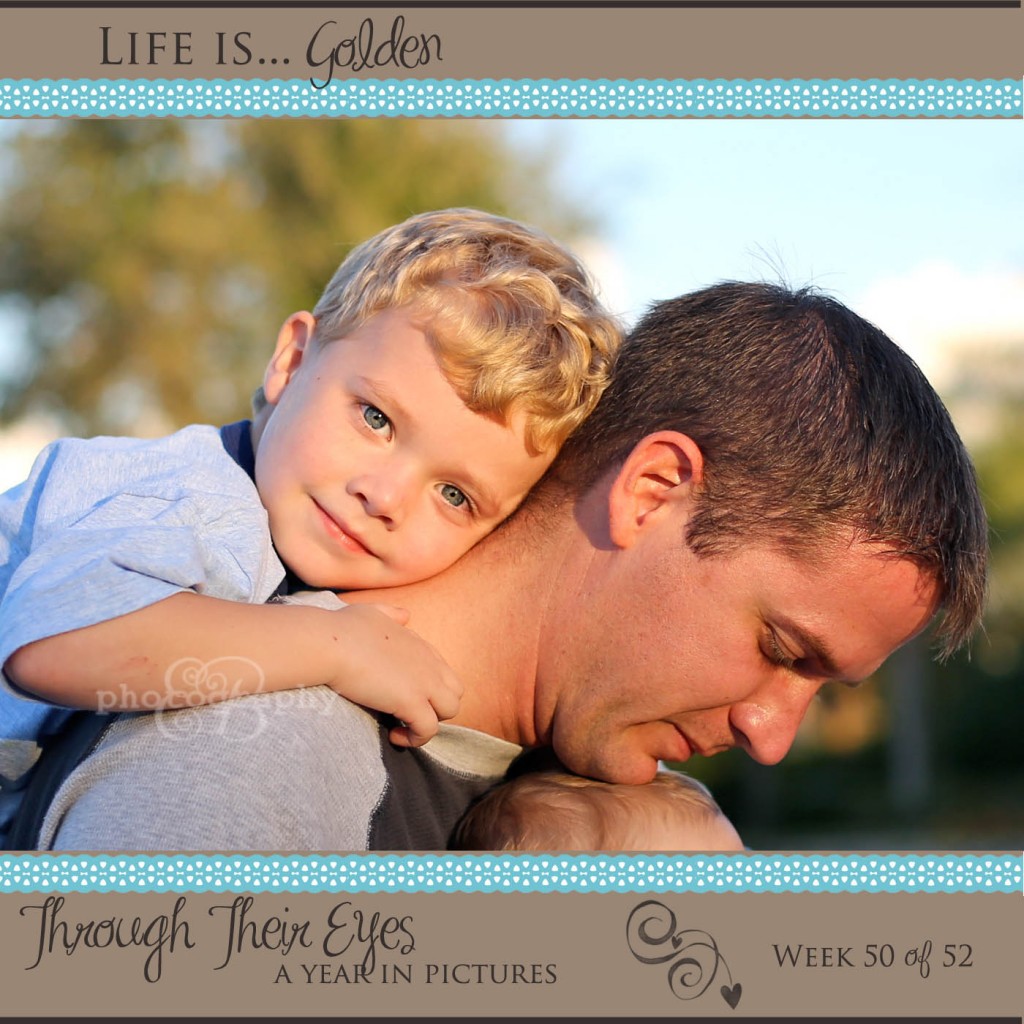 Here we are 50 weeks done out of 52. I almost can't believe I got this far! I have a post brewing in my mind for what's becoming my annual reflection on the year. I look at this and I think my photography has grown over the last year and it's certainly come a long way from where it was a few years ago. I like to follow photo blogs and one of my favorite bloggers is at Paint the Moon. The author of the blog, Annie Manning, wrote this amazing post a while back (linked above- I know it doesn't look like a link but click on Paint the Moon and one of these days I'll get around to fixing that). Anyway, the post was about finding the right light and that's where I discovered the concept of the "golden hour".
So there we were, the end of the first week of December. Florida. Wearing shorts and t-shirts while Daddy hung Christmas lights on our new house. The weather is so mild lately we find ourselves drawn to being outside almost every afternoon. Andrew was riding his bike and I was sitting in the driveway while Allison was playing. She bent down to pick up a rock and then glanced up at me and I thought, "Oh my gosh! This is it! THIS is the perfect light Annie was talking about. THIS is the golden hour!" I ran inside to get my camera, almost afraid the light would be gone by the time I got back out there, you know, 20 seconds later. But it wasn't. So I sat snapping away and loving almost every shot, which is completely unheard of for me because I usually only like one or two of a bunch.
So here's my golden boy, my pride and joy (they both are, truthfully). With his perfect smile and his sea green eyes. I look at him and see boundless opportunities. The world awaits my dear Andrew. Go and take it by storm!
Here's a few more too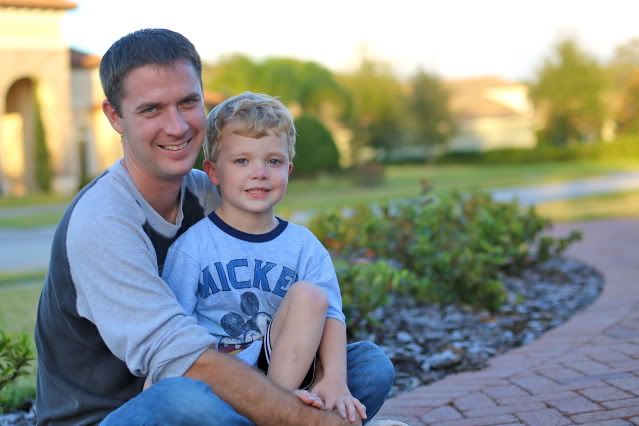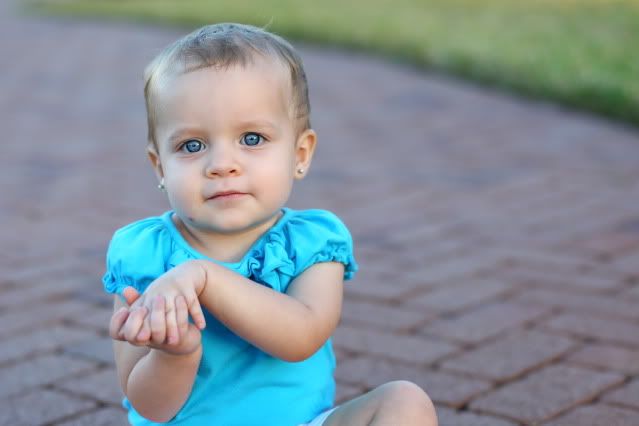 I'm bringing home a baby bumblebee… won't my Mommy be so proud of me…