New Year.
New hair color.
Fresh outlook.
Better attitude.
Renewed faith.
Resolutions. Lots of things to think about. I normally don't resolve to do things in a quantitative way and as such this feels a little bit like I'm writing benchmarks or IEP goals. But I've been thinking. I've covered many goals over the last several years which usually revolve around the idea of being a better person. And while I'm far far far from perfect I'm in need of some more measurable goals. So for 2013 here they are in random order.
1) Read 40 adult length books (ie: kids' bedtime stories don't count)
2) Of the 40 books, fill in my "gap" by reading at least 5 classic novels. You know, those books I should have read in high school but got by on the Cliffs Notes or just never read at all.
3) Learn to sew by taking on 3 projects- a dress for Allison, a blanket, and whatever else I decide when the time comes.
4) Photograph night lightning.
I have actually attempted this several times and the closest I ever got was one night at the beach during turtle season. And then the weather got so bad I couldn't risk my camera outside anymore. I think I found a good lake near my house so now I'm just waiting for the right night.
5) Re-engage in some sort of physical activity. I'm thinking bike riding since A got my bike fixed for me for Christmas.
Also I'm going to continue working on the other stuff and keep better track of the positive things that happen to me. I tried starting a gratitude journal and it lasted 2 days. I'm going to try again. I am going to work on letting things go when other people say and do things that bother me. My good friend, when things don't quite go well or as expected she says she's "offering it up to God" I really really like that concept. By the same token, I have come to solidify a lot of my beliefs over the last few years and I'm not going to compromise those values just to go along with a crowd. I know where I stand. I will keep learning. I will keep thinking. One of my favorite expressions "When you know better, do better". I'm going to keep working on doing better.
FINALLY (As if this wasn't long enough already). I'm not doing Project 52 again. At least not this year. It was insane that I actually completed that goal. It was kinda like grad school where I started never seeing myself actually finishing but then boom, graduation day. But no, not doing that again in 2013. Instead I'm going to do 12 on 12 so look for something for me the 12th of every month along with a Resolution Accountability Report.
I hearby raise my glass to you! Happy 2013!
I'm one of those people who keeps the receipt for most everything I buy. I store them in a box and then when the box starts overflowing I go through and trash the ones that I don't need to keep anymore. This amounts to almost all of them. After all, there's no reason to keep a receipt for food long since eaten, gasoline long since driven off, and clothes that are already outgrown. Yet each time I find myself saving a few of those little scraps of paper for no reason other than the memory it contains. Silly? Probably. But receipts are like time stamped trips down memory lane. Perhaps nothing jogs a memory for me quite like the numbers and abbreviated descriptions along with the date, time and location. It really doesn't matter what it was for or how much was spent but most of the time I can remember where I was and who I was with at the time. Sometimes it cracks wide open a whole day or event that I would have otherwise forgotten.
As I sorted through the stack I found myself drawn to the ones from around the time Allison was born. There it is in black and white 11:48am on August 24th. Sweetbay Supermarket. Purchases– crackers, apple juice, bread. This was my "Oh my gosh the baby is coming and Andrew is going to starve to death if I don't go out and get these things rightthissecond!" I picture myself carrying two gallons of juice as I waddled through the parking lot dripping with sweat with Andrew by my side. That was the last place we went together just the two of us before Allison was born. Suddenly that little slip of paper isn't a little scrap anymore.
Then there are the receipts from our first trip out as a family of 4. Pandora store– baby bootie with pink rhinestone. Baby girl outfit from Gymboree– denim skirt with buttons, sweater, tights (tights that actually STILL don't fit!) Dress size newborn for Allison's first trip to church. I remember that trip so well. We had a 5 day old baby and we were moving awfully slowly but there we were, together as a family of 4, out for the first time together. Such joy!
It's not just Allison though I did get teary finding the receipt for the ultrasound that I had done where I learned we would be adding a baby girl to our family. But things like birthday and Christmas gifts, wedding gifts, restaurants in other towns that we visited on vacation. Receipts from the pediatrician when I took my kids in for their shots or a cold. A violin rental– Suzuki brand, size 1/16th. One jumbo Elmo balloon for Andrew's 2nd birthday. The kid proof digital camera that Allison "gave" Andrew when she was born. The admission to the zoo, to Disney, to see the Space Shuttle launch, to climb the steps of a lighthouse, to see the dinosaur exhibit. All things I hadn't thought of today, or yesterday, or last week. But things I remember now because of those tiny bits of paper. At the time received, they meant practically nothing but separated by a few months, even a few years they become reminders of the past and of things that are worth remembering. Things that make us– us. Things that all added up together don't equal a dollar amount but they equal the events of life. They help you fill in the in-between– the gaps between the extraordinary and the mundane where we simply just live and where we exist.
I have just enough knowledge to be ridiculously overconfident in my gardening abilities.
A year and a half ago my school was the first garden planted as part of Miracle Grow's Gro100
I watched pretty carefully to see everything the experts did to help us get our garden started and I remember thinking at the time, please God just let something grow here. I was skeptical. I had never successfully grown anything from seeds. Lo and behold about 6 weeks later we had corn stalks taller than most of the students, sun flowers close to 13 feet tall and okra, radishes, peppers, tomates and beans. It was nothing short of amazing to watch everything grow. I think that's when I decided I had to do this too but we needed to wait until we moved since it would be silly to put that much work into something that couldn't come with us.
So this was the weekend. Labor day. Very appropriate.
We decided to build a raised bed because of what I've learned about how this can keep pests away. We decided to grow an organic garden using organic soil and organic seeds. We are also using Marigolds to help keep pests away. It seems silly to do all this only to douse it with bug spray.
Somewhere in this process we went to Lowes and got 8 bags of organic soil for our planter which is 3 feet by 6 feet by 1 foot. It was just the right amount of soil. We also picked up carrot seeds, bean seeds, tomato plants, sunflower seeds, and marigolds. Oh and a hose and nozzle because the hose we have in the front doesn't reach all the way to the back.
Then we called it a day because it was bed time and still insanely hot out.
Planting the carrot seeds!
We added "Water the garden" to Andrew's chore chart so it will be his job to remember. I think this is a good job for him because he is more likely to get the job done than we are if we didn't have someone to remind us. I think we should see sprouts in a week or two. I can't wait to see his expression when he sees that things are starting to grow! We still haven't planted the sunflowers yet and we are planning to put in 2-3 blueberry plants as well. We have a blueberry farm about 1/2 a mile up the road and they grow really well around here so hopefully we will have some yummy fresh fruits and veggies very soon!
The last time I worked outside the home, other than a couple days of subbing, was early June 2011. Fourteen months ago. Back then August 2012 seemed really far away but as time often proves to fly or stall—doing the opposite of whatever we prefer, August 2012 is here. I have one week left before I return to work. I am both giddy and devastated. I am so confused as to how I should feel that I have taken to walking around just a confused and stressed out mess.
Fourteen months ago feels, in some ways, like a different lifetime. I was walking around 7 months pregnant and wondering what on earth I had chosen to do in deciding to take off an entire school year. I asked both myself and blogland exactly who I would be if I was "just a mom". I feared the loss of my teacher title. I worried about my sanity. I worried about a lot of things. Funny how today I am still worried about many things however none of the worries are even remotely the same. Today I worry whether Allison will find it in her heart to forgive me for leaving her during the day, and if I will be able to get all the places I need to be during my days without losing my mind. And how the basic things like laundry and dishes and bill paying will get done AND I will still sleep at night. I'm wondering who I can get to tell me the working mom of 2 or more children secret that some how gets you through. Though I think it's probably something I have to discover for myself.
I said at some point, and got a lot of crap for it, that being a stay at home mom feels like a vacation and honestly, I don't feel any differently now than I did before. I stand by that statement. This has been in many ways the best time of my life! My biggest fear about returning to work is the number of hours in the day and not having enough of them. The freedom to be home, to grocery shop during the week, to have folded clothes and not merely pull clean stuff out of the heap, to be with my children when they are freshly awake and happy not already exhausted and grumpy from a long day, to drop Andrew off and pick him up from school. To go on play dates and meet other moms and know Andrew's friends. To volunteer in his classroom. To make him lunch AND eat it with him. Those are things I won't get to do anymore. Those are the luxuries afforded to stay at home moms. Those are the things working moms miss out on daily.
These last 14 months haven't always been easy. I don't want anyone to get me wrong here. Definitely they have been easier than working AND raising 2 kids and keeping a house but there were times I was lonely, or felt I just wanted to have a moment to myself in a quiet room without children in it (though lets face it, that's never going to happen especially now). There were times when I wondered if I was doing a good enough job. There were times when I wished I was doing more or I worried that I was wasting my opportunity by not getting out there and planning more things, organizing more things while I had the chance, volunteering for more things, just plain doing MORE you know, all that mom guilt. There were a lot of times that I was just plain bored. Maybe when you are used to working outside the home you get to be extra efficient at completing tasks because I found myself many many times sitting around with nothing in particular to do that hadn't already been done. And while it was fun the first couple times, it got boring after a while. I like excitement. I like to be busy. I like to use my brain and solve problems and meet challenges and while being a stay at home mom is rewarding, it is also tedious and not very challenging. Well, unless you count being forced to partake in Allison's favorite sport— Diapering. I thought I might learn why people consider being a mom to be "the hardest job in the world". I didn't.
I have learned a lot though. I think the biggest thing is that the teacher title never really goes away. I never stopped associating myself with being a teacher and I never stopped teaching or learning or investing myself in my children's education. I don't know why I was so concerned I would lose that. Maybe it's that concern that helped me hold on to it. You identify yourself however you choose to whether as a mom, a teacher, a CEO, whatever it happens to be no one can take that away from you.
Fourteen months gave me a lot of opportunities to know my children in ways I couldn't have if I were working. I feel as though the amount of time I have spent with them as helped us develop a collective brain wavelength that permits communication without words, a knowing and understanding among the three of us that can only come from spending every waking second with each other. I love that we have that. I love that this time has allowed me to listen to my instincts and grow as a parent. I love those shared moments when A would be free for a couple hours and the 4 of us would randomly go have lunch somewhere in the middle of the day. I always wondered what people would think when they saw us. Did they think we were tourists on vacation? I enjoyed that extra time I got to spend with my family. I know that's what I appreciate most and miss the most when school starts again.
So after 1000 words I sit back and wonder if I've made a point at all or if perhaps I've just rambled aimlessly. It just seemed fitting to revisit those old concerns and reflect on what I have learned. If I had to make the choice all over again I'd do so in a heartbeat. I am deeply thankful for the opportunity I had and the moments I will cherish to my dying day. In my mind's eye I see myself closing this chapter of my life, the ending chapter of that particular segment. I see myself closing this volume and placing a leather bound book up on a shelf for safe keeping. I see myself reaching up to find the book next to it and opening that smooth, soft cover and turning to the blank opening page. I'm filled with excitement at the newness of the book. I wonder how it will be written. I wonder what stories wait. I'm nervous to touch pen to the perfect whiteness of the pages but I do because there are stories left to tell and more life to live. A new book, a new chapter. It's amazing what 14 months can do. I wonder what the next 14 hold.
I can't even believe how many times recently I have been asked for advice and tips on visiting Florida. I thought, heck, why not write it all down so I can refer people here. I've decided to divide this into two parts—Visiting the Beach and Visiting Disney.
First up— A Trip to the Beach
We go to the beach just about every year. We were both born and raised here in Florida and grew up only a few miles from major beaches. That's the perspective I use when writing this post. By no means is this a complete guide, but more simply a picture of what we do when we travel and what works for us. Tweak it to work for your own family.
First things first—Location!
What you need to know is that not all beaches are created equally. I didn't realize this until I visited Cape May in New Jersey and saw just how different it is from the beaches back home. In Florida you have a choice between visiting the Atlantic, the Gulf of Mexico on the West Coast or the Gulf of Mexico on the Panhandle. Atlantic beaches tend to be slightly less hot because the water is typically several degrees cooler than the Gulf even in the middle of the summer. The Atlantic coast also has much more intense, powerful, surfable waves. Don't expect to do much (any) surfing in the Gulf. There are certainly waves on Gulf beaches but not the huge crashing kind that you can hear through your window at night. If you are looking for that beautiful turquoise Caribbean-like water, visit the Gulf. If you like that deep grayish blue, head East.
Where to stay
I can't possibly tell you where to stay by specific name. I've stayed in far too many different places and I can't think of any that I didn't like enough to mention it here but when I go to the beach I stay ON the beach. If I wanted to get in my car and drive to the beach I may as well just stay at home. If a beach front hotel, condo, beachouse isn't in your budget, at least find some place within walking distance. There is nothing worse than loading into a broiling hot car covered in sand and salt water and driving miles and miles. Trust me. I prefer smaller hotels or condos because smaller= fewer people to contend with on the beach. There is nothing worse than a beach so crowded that you are packed like sardines onto the sand. It takes the relaxation out of it when you can hear the conversations and music of 20 different families around you. It's easier with kids also, if you have a little room to spread out.
Also, for the love of all things, don't stop at those itty bitty strips of sand along bridges and causeways. I will never understand why people pull over to these icky little beaches when nicer beaches are only a few miles away. Even if it's the choice between free and paid parking—pay the extra money to park and visit somewhere nice!!
Know your dates
Once you've picked a place, double check the event calendar to see what is going on in the local area during that time period. If you are a biker, great. You'll probably love Daytona during bike week. If you're not into that sort of thing you may want to pick a different time or a different beach. Last summer it took me over 2 hours calling every hotel I could find to get a vacancy on the East Coast during the shuttle launch. Sporting events, conventions, and other special events will raise the prices and increase the crowds so planning ahead is definitely important!
The GEAR!
When we travel to the beach whether we drive across the state or just go to one a few minutes from home, we usually bring the following items:
Radio/Phone that plays music
Everything is loaded into the sand cart. Without fail, we ALWAYS receive comments about our gear and how we carry it. People stop us and ask where we got certain things or say "Wow that's a great idea!" I honestly didn't think what we did was special but apparently it's special enough to draw a lot of positive attention whenever we take a beach vacation.
The thing is, tens of thousands of people travel to Florida (or some other beach location) every year and after paying for plane tickets or spending hours in the car driving down here and paying for a few days or a week in a hotel this is inevitably what happens: You slather on sunscreen, put on a bathing suit, get a towel, beach chair, magazine and an ice cold beer. You walk down to the beach, spread out your towel or chair, then sit down, huffing and puffing after carrying your stuff down to the water. Five minutes later, with sweat dripping down into your eyes you think "Damn, it's hot!" So you go get in the water to cool off (keeping in mind that the Gulf water is often in the mid to upper 80s and even 90s in the late summer. In other words, it feels like bath water). Then you return to your chair and another five minutes later you find that you are hot once again. After a grand total of 18 ½ minutes on the beach, your beer is hot, your sunscreen needs to be reapplied (since you went in the water) and you're ready to head back up to your hotel room. You just paid about $50 a minute to sit on the beach! If you're going to spend all that money anyway, invest in a few things that will make it worthwhile.
Beach Tent/Gazebo
Whatever you do, however you arrive here, you NEED a beach tent. I'm talking about one of those fold up gazebo type things that you can also use for tailgating or outdoor parties. We have this one First Up 10 x 10 Canopy. There are alternatives of varying costs. They provide around 100 square feet of sun protected space while letting you enjoy a nice breeze, the sand, and the water. We purchased ours at Walmart for under $100. It has already lasted us for 4 years and shows no signs of giving out any time soon. I believe ours came with metal stakes. If you are headed to the Atlantic coast these stakes are necessary. On the Gulf? Not so much. Whatever you pick, also make sure that it's vented at the top, which will prevent it from blowing away. The only downside is that it's heavy and takes up a fair amount of space in the car. For those traveling by air you would need to consider buying one here and then shipping it back or paying to check it on your way home. I realize that aspect is less than inviting. However, renting a beach umbrella requires that you are on a beach where rentals are available, hoping it doesn't blow away, arguing over who gets to sit under it and the most obnoxious part—paying $10-$20 a day for it. Even if you buy the tent here for $100 and pay to ship it back, you are still going to either break even or pay less than the cost of a rental umbrella—and have a lot more shaded space. If you're thinking, "oh but I want a tan, I don't need a cover" Try it your way for a day and then let me know how that goes. You will want something. This, to us, is the KEY to enjoying our beach time, especially with children. While we always coat Allison and Andrew with sunscreen ( California Baby brand is my preference right now) it washes off in the water and anything that says it doesn't is either exaggerating the waterproof properties or is not considered safe by the Environmental Working Group I know a lot of people come down here and they want a tan and I don't know that it's my place to tell you what a bad idea that is but please take it from me, nothing will ruin your vacation faster than sun poisoning. The beach tent lets you actually enjoy what you came here for in the first place.
As a side note, this particular tent can be put up by one person. It's easier with two but usually, A puts up the tent while I watch the kids. I've put up the tent by myself before. Once you have done it the first time it's very easy. Set up takes about 5 minutes.
Cooler
I think many people truly underestimate the heat here. I say that from observing how many people go lay out in the sun with no drinkable water nearby. I don't know how or why these people do it but anyone who spends a few hours on the beach without something to drink is going to be seriously paying for it later. Bring a small cooler (a hard side one or one of those hot/cold insulated bags will work) with cold water for everyone including the kids. Alcoholic beverages—eh, probably not going to help you prevent dehydration. I typically save them for the evening after the beach day is through.
Chairs/ Towels/ Toys/ Radio/ Camera
Obviously you'll want somewhere to sit and chairs are more comfortable but not a must have if the beach has soft sand. You're going to want towels no matter what.
If you have kids then sand toys are must have. If you're a kid at heart, sand toys will definitely add to your enjoyment! A radio is also a nice to have thing but not essential. The sounds of the beach are more than enough. A camera is also a non-essential item (Well, not for me but probably most people don't care that much). I was too nervous to bring my new camera out to the beach but in the past I have brought cameras out making sure to keep them in a ziplock bag when not in use. Also, you really really have to be cautious about having sand on your hands when using your camera out on the beach. Recently I bought a waterproof camera that lets me take pictures and video under the water. It's rugged and durable. It's a great gadget and it's nice to be able to get pictures without having to worry about killing my equipment!
Sand Cart
Finally, a sand cart. If you don't know what I'm talking about, we have this one Wonder Wheels Plus It has a weight capacity of 75 pounds and we've definitely tested it. We put the beach tent, cooler, chairs, literally everything we bring, in this cart and roll it down to the beach. It's heavy, yes, but the wheels are designed to roll over sand and they do, in fact do just as advertised (plus it's a heck of a lot better than carrying all that stuff). If you are going alone or with one other adult you can probably get away with carrying stuff yourself but if you have kids with you, you MUST have this. Two adults could not feasibly carry all the things you need plus small children without taking several trips. Beach cart= one trip and done. We've got it down to where we can unload the cart and set up the tent, chairs, towels, etc in less than 10 minutes. Ten minutes and you're relaxing and enjoying what you paid good money to experience.
Finally, don't forget the little things. No I don't mean you need any more gear. I mean don't forget what you came for. Florida isn't considered a paradise by accident. Yes, we have our share of crazies here, we are notorious for making the news for all manner of weird and bizarre things, we have only two seasons—late spring and summer and every now and then a hurricane threatens to come blow us off the map but there's a reason that the people who live here endure all that. It's beautiful. Sure, take in the bars, the shops, the theme parks, the tacky beach stores, but then take a walk on the beach and a moment to absorb the amazing wonders around you. I promise, you'll go home happy.
I probably come across 4-5 new articles on breastfeeding each day and they are pretty much all the same– Breastmilk is best… yadda yadda… You should do it until your child is 8… yadda… if you do your child will be Prom King…blah blah… you should feel free to whip out your boob wherever you want and blog about anyone who has a problem with it…
I'm honestly not trying to make light of it. I'm just trying to make a point– they're all the same and they mostly all in one way or another make any mom who is unable to breastfeed feel guilty and that's exactly what new moms need: a healthy dose of guilt. Woah sarcasm!
The truth is, breastfeeding is important to me and I think in all seriousness that it's important to just about all moms, even those that choose not to do it. It's just that in all the articles I've read I've never come across one like the one I'm about to write which is exactly why I'm putting myself out there and sharing something that is pretty personal.
I have a 7 month old daughter and from the start I was bound and determined come hell or high water that I was going to breastfeed her. I set my bar high– a year. That's a high goal coming from someone who nursed for a month with my first. And truth be told nursing her has been a dream. I could not have asked for a better experience. My milk came in right away and there have been few supply issues. I experienced zero pain even from the very start which was astonishing to me. I made it to the one month mark with ease and just kept going. We were able to go exclusively for 6 months with the exception of one taste of pureed sweet potatoes and 2 days of formula. I had pumped 170 oz for her for when I went on a trip to Italy and it lasted all but those last two days I was gone. I'm pretty darn proud of that. I'm certain we'll make it to the year mark and maybe beyond that as well.
You're saying, "I hate you! I hate you! I hate you!"
Yeah I would have hated me too because the experience I had with my first, my son, was the polar opposite of everything I just described. Everything that could go wrong went wrong with that experience. It started with my milk not arriving until the 5th day and in my horror and fear of starving him to death I started supplementing. My supply was never sufficient no matter how much nursing and pumping I did. Then it turned out he had a milk protein intolerance that caused him to scream like he was dying every time I fed him. I know now I could have given up dairy and that it takes up to 3 weeks for all the dairy in your system to get out of your body but I didn't know that at the time. I don't remember the first month of his life other than to know I thought on more than one occasion "What on earth was I thinking?" In a nutshell it was a horrible experience but if you think all those reasons were bad enough let me tell you the thing that happened to me that no one EVER talks about and that took me hours of web digging to discover for myself.
You see if the exhaustion and blur of being a new mom wasn't bad enough, the pain of cracked and bleeding nipples wasn't bad enough, and the screaming child who was allergic to my milk wasn't bad enough, I experienced something that I now know has a name. D-MER which stands for Dysphoric Milk Ejection Reflex and if you're thinking, "Woah what the hell is that?" Then you are right there with me.
I'm guessing most women don't experience this. Or maybe they do but don't talk about it. Because I really did have a hard time finding information about it. But it goes something like this– you know the Dementors that live in Harry Potter's world? The creatures that suck all the happiness out of you just before sucking out your soul through your mouth? Yeah, that's what D-MER is. It's a great big breastfeeding Dementor sucking the life out of you every single time your milk lets down.
So there I was, a new mom, my sweet perfect little boy in my arms. I was sleep deprived yes, but I still felt joy at the life in my arms. And then he would latch on. And within a minute my mood would do a complete 180. I started to feel drained of all joy and happiness. Dark thoughts filled my mind. I felt pure hopelessness and utter despair. It didn't matter what I was doing or who I was with. I could have had someone walk in and tell me I'd just won the lottery while at the same time achieving world peace but if I was nursing while that happened I would have felt nothing. I thought to myself, "Oh this is what Post Partum Depression feels like". But I was wrong, it's not the same as PPD. In fact I did not have PPD. I  had D-MER. But it took me some time to associate the two things (nursing and despair) together and by the time I did I had already given up. After all aside from all the other battles to fight, who wants to feel like they want to jump off a bridge 10 times a day? Not me, that's for sure.
Fast forward 3 years to the nights before Allison was born. I had heard good things about using a breast pump to stimulate labor (which it did!) But I was shocked the moment that feeling returned to me. How could this be PPD? I haven't even given birth yet?! So I started googling and that's what I found. Now since I'm no where close to qualified to explain the problem medically, and it is a medical problem, I encourage you to go to the website and read about it because it will probably make more sense that way. I'm happy to say that just knowing about it and anticipating it helped me ward off those awful negative feelings and they haven't been a problem at all this time around but at least if they happen again in the future I'll know what it is and I can send my patronus (Harry Potter speak for the thing that rids you of Dementors) after the D-MER and not let it steal my happiness away from me.
Is this something that has happened to you? I'd love to hear from other people who have experienced this. Please share this article with anyone you think might need or want to see it.
I used to think about how lucky stay at home moms were to be able to take naps during the day. Now that I'm home with kids and not working, I've gotta tell you it's not quite that simple but in a few easy steps you too, can master the art of napping while your children are awake. I can tell you I did this just the other day and I thoroughly enjoyed all 18 minutes of it.
Step 1, and this is the most important one: change your definition of a nap. Do you think of a nap as a restful, rejuvenating sleep? Well then it's time to lower your expectations. A nap with children is defined as
Nap (verb) a period of time where one has their eyes closed in proximity of a bed or other soft flat surface.
There are we clear on that now? Okay on to the next step.
Step 2: find a childproofed room. Enclose self and children in said room.
Step 3: instruct older child not to leave room. Explain that doing so will result in the demise of Mickey Mouse.
Step 4: cover floor area with toys.
Step 5: if the room contains a bed, use this as your napping location. Be sure to check for Hotwheels cars under the covers.
Step 6: assist older child in using the bathroom.
Step 7: return to napping location.
Step 8: find missing part to the must have toy of the moment.
Step 9: return to napping location
Step 10: change poopy diaper
Step 11: return to napping location
Step 12: tune brain to emergency frequency. This is the essential step which allows you to safely ignore vague giggles, general toy noise and casual conversation. It allows you to become alert upon hearing things like, "Hey Allison,wanna fly?"
Step 13: close eyes
Step 14: nap (see definition above)
Step 15: warn older child that he is not to make his sister fly, jump off furniture, or play with drum set.
Step 16: give up
Step 17: convince yourself that your 18 minutes of "rest" were relaxing and rejuvenating.
Step 18: drink coffee and carry on with your day.
See, it's easy!! I know right now you're thanking me. You're so welcome
Happy napping!
(No children were harmed in the writing of this post. It's supposed to be funny so laugh. And leave comments cause that makes me happy. Don't go calling child protective services on me now.)
I'm addicted to Pinterest but it irks me that I never think of any of the cool ideas first. Well I don't know if this is original or not but I was pretty pleased with myself for thinking it up and figured hey, might as well share.
So you want to transport cupcakes for a bake sale and you don't want them to get smushed but you also don't want to use your nice cupcake carrier because you are afraid you'll never get it back.
1.Get a large cereal box and take the bag of cereal out.
2. Tape up the opening.
3. Lay the box flat and then cut off one of the large sides.
4. Line with foil.
5. Insert cupcakes.
Voila!
(I know they're not pretty, but that's what happens when you are icing cupcakes at 10pm.)
The height of the box allows you to stack them without crushing or even damaging the icing. The boxes can also be thrown away after and I don't have to worry about someone walking off with my $30 cupcake carrier.
You like? Well then, pin this!
I'm not sure how to describe the events of the last few weeks. I continue trying to describe my trip to Italy but I am running out of superlatives and "amazing" and "incredible" seem to fall short. It was a spiritual journey, one where I feel a deeper connection to the roots of my faith. I can't fathom ever taking another trip that compares to the emotion and excitement of this one.
I missed my kids. I missed my husband. The trip itself was physically and mentally exhausting but the thought that kept running through my head was, "My family did this for me. They made sacrifices for me to be here and I'll be damned if I don't extract every possible opportunity out of the deal." I kept telling my friend/trip roommate "I'll sleep when I get home!" Enjoy every second of it we did! So without further ado…
Oh wait you were expecting a post? Well I couldn't do it in a post. I had to literally make a book.
Forgive me but I spent way more time on this than one would consider reasonable for a person with two small children and jet-lag. So if you want to know about my trip have a glance through the photobook that I made. I bought a couple small things for myself while I was there but this is my real treat– a way to remember our trip forever.
Thanks for looking!
Click here to view this photo book larger
The new way to make a
photo album
: photo books by Shutterfly.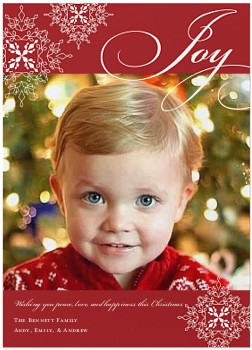 Elegant Lace Snowflakes Christmas Card
Make a statement with Shutterfly Christmas photo cards.
View the entire collection of cards.