I love the Time Hop app. If you don't have it, you should get it. It's like a little trip down memory lane every day. Today when I checked mine, I was reminded that now's the time to make my annual end of the year post to my blog which, I was also reminded, was born 10 years ago this month. That's really a long time when you think about it especially because back in 2004, blogging wasn't a *thing* yet. WordPress wasn't nearly as user-friendly as it is now either and I taught myself from the ground up while sitting in A's tiny (gross) New Jersey apartment. At that point in time we were married but I lived and worked in Florida and he was still stationed in NJ. I spent the week after Christmas with him that year and while he worked, I learned the art of HTML. Ah those were the days.
In any case it's time for reflection.
…
…
There, done.
I guess this isn't really a year I want to rehash. Some great things happened this year. Some truly awful things happened and that's just personally. Every time I watched the news it seemed like another tragedy, another disaster. So dismal. I hope 2015 has better news in store for us. I hope humanity will have a collective change of heart to try to do better and be better and put positive influence over the things we can control so we can more easily come together when we are struck by the things we cannot. But I can't control humanity (nor would I want that task) so I can only change myself. Resolutions/goals to follow.
But first, let's look at last year's goals:
Read 40 books– same as 2013
Run a 5K– running the entire time, no stopping and dying on the side of the road or anything
Going along with number 2, get my body back in shape by eating better and more natural foods. We will be replanting our vegetable garden in the spring and that will help but we are also going to switch to organic meats and continue to cut back on processed foods (which we are already doing pretty well with).
Finish the darn baby blanket I started making 6 months ago!
Take on and complete a new photo project.
And on a scale of 1-10, 10 being 100% completion of everything, I'd give myself a 7.5. Not too shabby.
Books: I read 36 (after finishing the one I'm reading– plan to finish it today). I'm so frustrated by this. I had 40 well within my grasp but I got stuck in a rut. After finishing book #35, I literally started 8 different books and could not get into any of them. That was 5 weeks ago. I would have broken past 40 but alas, I'm still short. You can see my completed list here https://www.goodreads.com/review/list/3296989 (I am not sure, you may need to follow me to be able to see the list). Several of the books were re-reads in preparation for the final book in the series but I still counted them. I don't want to go through all of them right here but I do want to discuss a few that really stuck with me.
The Night Circus by Erin Morgenstern. My friend kept telling me how great this book was and she was absolutely right! This book captivating and totally different in concept than anything I've ever read before. I highly recommend it.
The Last Survivors series by Susan Beth Pfeffer. This is a YA series that scared the crap out of me. I still think about it sometimes. The premise is that an asteroid hits the moon and knocks it closer to earth and the change in the gravitational pull sets off a chain of apocalyptic events that basically destroys the earth and reduces the world population by billions. But instead of the story taking place long after the apocalypse like some stories, it's page by page the story of this one family's survival as they slowly starve to death. It's brutal and sad but also a page turner and a story of how family is what holds you together. It's also a little eye opening and it made me evaluate how quickly we'd die in this sort of event (quickly) and if I'd even want to survive (no). I recommend the series except the 4th book which was awful. Just read the first 3 and pretend it ends there. I promise the 4th book doesn't add anything.
Under the Never Sky series by Veronica Rossi. I re-read the first two before Into the Still Blue came out in January. This series had such a great and satisfying ending unlike the Divergent series which I know really angered a lot of people. This series is also YA dystopian/post apocalyptic.
Big Little Lies by Liane Moriarty. Ah yes, see I do read books intended for adults 🙂 I discovered a great author and also read her book Three Wishes. Both were wonderfully written, crisp, and true to life. Both dealt with some heavy subject matter but were a nice change from the apocalypse.
The book I'm about to finish is called What If: Serious Scientific Answers to Absurd Hypothetical Questions by Randall Munroe. It was a Christmas gift and it's awesome and also very nerdy (which I love!) Want to know what would happen if you drained the world's oceans or threw a baseball at 90% the speed of light? These questions, among others, are answered.
Moving on… #2 Run a 5K *check* Completed this back in March. I didn't die.
#3 We did REALLY well on this. I know this probably sounds nuts to many people but we had never been meal planners. For years we have done the haphazard "What should we have for dinner?" thing at 4pm which ended up with us getting take out or eating cereal. Awful. I can't believe we did that for so long. I plan our meals now using Plan to Eat and I've also started really cooking, not just heating something frozen. We eat so much healthier now and no longer eat out 4-5 times a week. This has been life changing for us.
#4 I finished the baby blanket. It came out beautifully! I followed this tutorial http://moderngracedesign.blogspot.ca/2012/09/baby-blanket-free-pattern.html and it looks pretty much exactly as pictured.
#5 I started but didn't finish. I'm over the photo projects. I like to take pictures, no I love to take pictures. I had a blast photographing the beauty of Ireland. I also truly love taking pictures of my kids in their everyday life but making time each week to sit down and post something felt like an unnecessary stress. From now on I'll just post pictures as I feel like it. No need to make something that's fun into a chore. On a side note, I did finally photograph lightning which was absolutely incredible and a huge goal of mine so let's count that.
Phew this is getting long.
So what should I do in 2015. Here's my list
1. Read 40 books. Yes I mean it. I WILL accomplish this goal!
2. Increase my step count. I got a Fitbit back in January and I average on a good week, around 45,000 steps but I can do better. I don't want to put forth a specific number except to shoot for more than that.
3. Stop reading the comments on internet articles. I know that probably sounds silly but I have to stop this. I get irrationally angry by the comment section. I'm losing my faith in humanity and I shouldn't allow people like that to get to me. So no more reading the comments sections.
4. Make more things. I know this is kind of vague (ok very vague) but I like creating and I seeing a project through from start to finish. I'm not sure what I will make but I'm going to leave it open to whatever inspires me.
5. Be less connected and by that I mean, put my phone away. I'm not going to do cold turkey thing. I don't think that's necessary but I also know that I don't need to have it in my pocket all hours of the day. I'm going to start putting it away for a couple hours a day. If you try to reach me and you can't now you'll know why.
6. I don't usually do 6 but I'm going to set a goal for myself to become an educational consultant with Usborne and grow my personal business. I've had several moms buy books from me and then come back to tell me how much their children love them and how it has changed how their kids feel about reading. Music to my ears! Being an educational consultant would allow me to sell to schools and I think that would be a great personal experience in addition to being a good business goal.
Now that you've gotten through my list, what are your goals for 2015?
I was reminded today that I haven't updated in quite a long time. It's always surprising when I talk to someone who reads because in my own mind, no one reads. But I figured, June 1st, might as well 🙂
I often think I do my best thinking in the shower. And this evening a thought came to me. May/June 2010. The benefit of hindsight. I'll explain.
You see, there were a lot of things happening 3 years ago now, but three big things happened that I felt, at one point or another (or many points) would never happen. May 2010 I graduated with my Master's degree. After 3 years of working mornings, nights, and any time in between, I completed UF's web-based degree program in Educational Technology. A program that I somehow accomplished despite being pregnant for 5 classes, having a baby for 6 classes and working full time through the whole thing. I remember thinking when I started that I would never actually finish. Yet somehow I did. And my son was there to see it which was my proudest moment of all.
Three years ago, May 2010, we decided to get serious about baby #2 and I started taking meds thinking it would be a one shot thing like it was with Andrew. But no. It wasn't. Meds, shots, procedures, prayers, and a lot of times when I felt Andrew would surely be an only child. And yet I have my sweet baby girl. I remember holding her for the first time when she was seconds old thinking I was living in a dream.
Three years ago, June 2010, we took the biggest plunge of our lives. We met with our homebuilder and commissioned the first of what would be 8 rounds of blueprints. The land we wanted initially fell through. The mortgage we initially tried to get fell through. And the entire process was so riddled with issues I thought time and again that we would never actually live in the house where I am now typing this blog posting.
You could just say I'm a negative person. You could just say I needed to have some faith. But in the end, none of these were simple things to accomplish and goodness knows the odds were stacked against us for at least the last two things. It made me wonder, what in my life right now am I doubting? And what can I do to see it through to the end? I think we can be our own worst enemy sometimes. We hold ourselves back. How are you holding yourself back right this very moment? What will you be thinking about three years from now? Food for thought.
In the mean time we reach a half way of sorts. It's June 1st so I figured it's time to update my resolutions list. I'm also 21 weeks pregnant which is sort of half way (I do pray it's half way and nothing too dramatically more). I suppose at some point I might consider writing about my pregnancy and experience with losing one of our twins but now is not the day. I think I will at some point if for no other reason than to memorialize a child who did exist, whose heart beat next to mine and whose sister, God willing, will one day know she had a twin, a twin sister, who will always be a part of her.
*sigh*
Onwards! The resolution list is…. going. I haven't done much sewing (although I have a project in mind for Allison's big girl room!) and have yet to find a good location or night to photograph lightning but I'm hopeful sometime this summer I can make it work. I have however, done GREAT on my reading goal of 40 books. I'm also really thrilled to say that in my classroom, 7 out of 9 kids achieved the goal of 100 points which is COMPLETELY awesome! The kids only need 40 points a year so this is huge!!
Here's my book update: I'm just going to list everything from January 1st on. I am absolutely loving the YA Dystopian/Post-Apocalyptic fiction genre. Last night my friends and I were discussing how we are totally over the typical adult romantic boy meets girl type books as well as the completely smut filled 50 shades-ish books. They are fine now and then but I love the escape into these completely different, yet often familiar worlds filled with strong young characters who are more focused on saving humanity than getting in bed with the cute guy. So that's the trend you'll see on this list. I also read Cloud Atlas (before even knowing it was a movie) which is on the BBC List of 100 books to read before you die. Challenging read but ultimately I enjoyed it a lot.
1. Sarah's Key- Tatiana de Rosnay 2. Something Blue- Emily Giffin 3. Under the Never Sky- Veronica Rossi 4. Through the Ever Night- Veronica Rossi 5. You are Not so Smart- David McRaney 6. Across the Universe- Beth Revis 7. A Million Suns- Beth Revis 8. Shades of Earth- Beth Revis 9. Matched- Ally Condie 10. Crossed- Ally Condie 11. Reached- Ally Condie 12. Cloud Atlas- David Mitchell 13. Partials- Dan Wells 14. Fragments- Dan Wells 15. Proof of Heaven- Eben Alexander 16. Legend- Marie Lu 17. Progidy- Marie Lu 18. The Unbecoming of Mara Dyer- Michelle Hodkin 19. The Evolution of Mara Dyer- Michelle Hodkin
So there we go, almost half way to 40 right at the half way mark but I did this while I was working, now that it's almost summer I should have no problem getting a lot more reading done 🙂
If you are not already, follow me on Goodreads
And some pictures, which hopefully make up for the lack of 12 in 12 photos.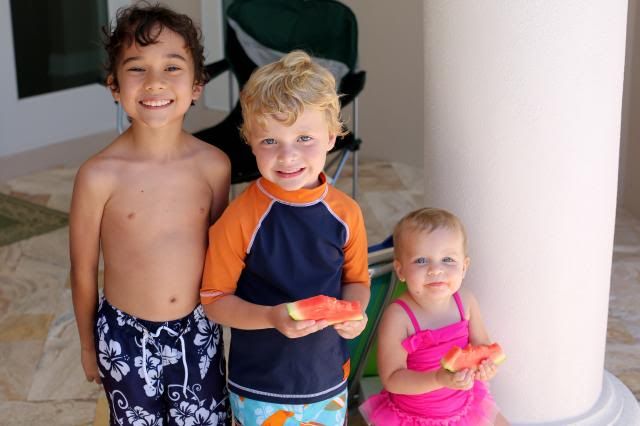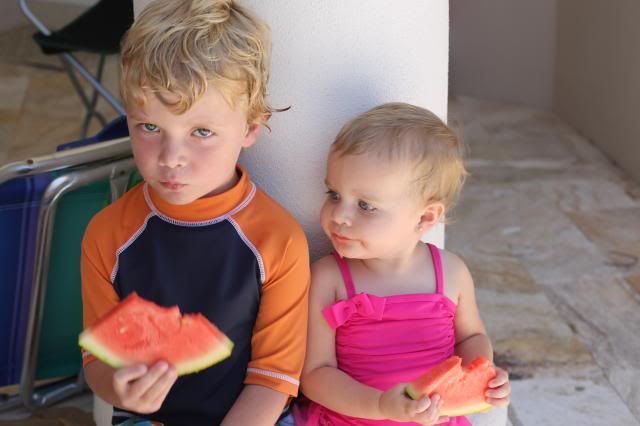 Enjoying cousins and watermelon on Memorial Day!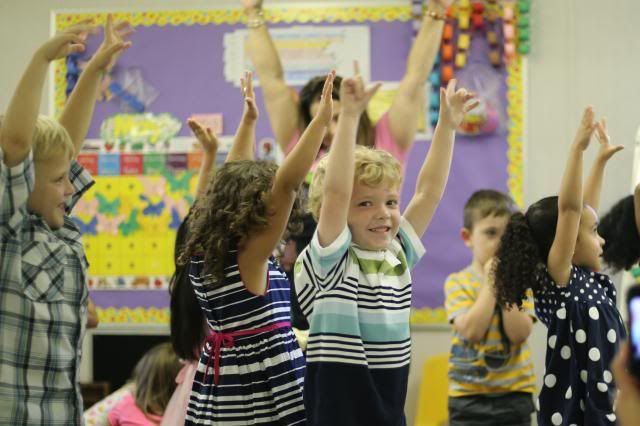 Andrew dancing on his last day of school.
Cheese 🙂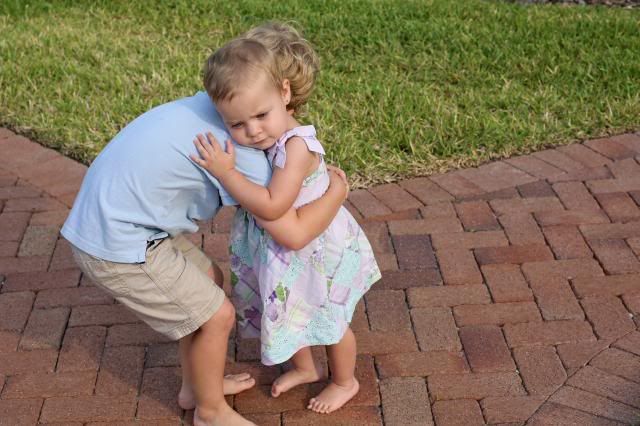 True Love
"No Ah-doo!!" (It's actually hard to get pictures of these expressions because usually she sees the camera and immediately hams it up.)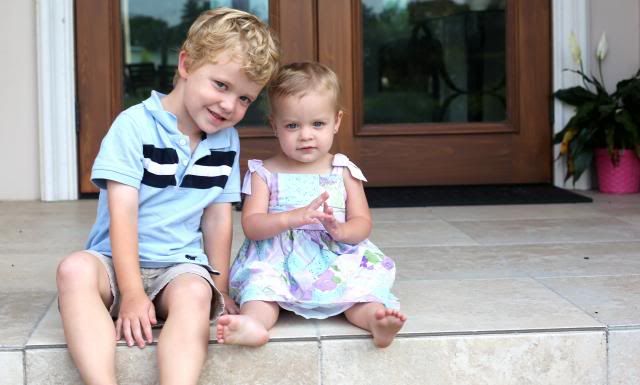 In December of 2004 this blog was born in a small, dingy apartment just off a state road in Bordentown, New Jersey. Snow covered the ground while two young twenty-something Florida kids, because yes we still saw ourselves as kids, sat inside pathetically bundled in winter coats and gloves because the heating system was poor and it was simply too cold outside to do anything else. It was almost 2005, almost time for me to fly back home because even though we were married, we lived in different states. It was time for me to go back to start the second half of my first year of teaching. Time for A to continue his world travels with the Air Force. Our new Florida home would be done in March but it would be years before we lived there together.
Funny how everything about that story is true, except the part about how we spent years living apart. We had no idea at the time that a mere 6 months from that cold evening we would be living under one roof again, in our new home, in Florida.
Funny how seven years later things are so different and yet so very much the same. Once again we are waiting to move but we wait together under one roof and instead of feeling like kids we wait with our two young children.
If there is anything I've learned over the last seven years it's not to put much stock in the status quo. It will change for better or for worse and where you are at the end of one year is likely to be light years from where you are at the end of the next.
A year ago today, having just discovered 5 days prior that I was finally, mercifully, joyously expecting my second child, I spent the eve of 2011 fearing the worst– that I was losing her, a thought not at all lost on me tonight as I nursed my precious 4 month old baby girl to sleep.
A year and a week ago I had lost all hope of ever even having a second child. Amazing how life changes.
Seven years ago when we were pondering the snowfall and planning our future we could never have imagined where we would be today, never imagined the people we would meet, the experiences we would have, the places we would go, the jobs we would hold, the things we would learn, the parents we would become, the life we would live. I can only hope the next seven years treat us as well. At least this time we know we'd better hang on tight for it's an unpredictable and wild ride. At least this time we know we're not really in the driver's seat. At least this time we are mature enough to accept the change that our parents told us was an inevitable part of life.
I have not been very good about updating this blog and as I know I've said before it's not for lack of wanting to. The ideas are there swimming around in my head often times fighting hard to get out. I have a plan for that and I'll post about it in the coming days. But tonight is for reflection. Tonight is my chance to release this year for what it was and what it wasn't and leave my mind and soul ready to welcome 2012. Release is a nice word quite frankly. Shove unceremoniously out the door is more what I have in mind. But as crummy as this year was, I can't deny that it had its magical moments or that it led us to where we are now today and where we will be tomorrow. And I can't deny that the lesson I take most to heart is probably one I've needed to learn for a long time– Have FAITH. It's all there really is. It's all you really can count on. I don't know what 2012 holds but I have faith that we'll get through it and that somehow, some way we will look back and know it was an important part of life's fleeting and ever changing path. From the bottom of my heart, I wish you Joy, Faith, Wisdom, and Hope for the coming year. Good-bye 2011 and Welcome 2012.
When you take on big projects, you learn a little bit more about yourself. Like, for example, when I started my Master's program, I questioned my strength to finish. When I decided to bake an Elmo cake for Andrew's 2nd Birthday party, I questioned my patience, and when I decided to delete my entire old website and build a new one, I questioned my sanity. An in that very basic sense I guess you could say I now know I'm not a quiter, I have pretty decent patience and well, nope that doesn't work. I'm still probably quite a lot crazy.
I'm a list maker. At any given time I have 5 or 6 greatly detailed and painstakingly organized lists that I'm working on. Before I got my new computer I used Outlook for Windows. I used to get annoyed by the red dates on the todo list. They were reminders of what I had not completed. And since I am T-1 Week until school starts again, I decided it's fine time to start cracking those things off my list.
Not like I haven't been busy this summer… what with tutoring, swimming lessons, trips to the zoo, traveling, play dates, keeping the house organized and chasing a toddler around… but I was going to be pretty upset if I got through the whole summer without crossing off at least one MAJOR thing. So here it is! My new site. Easier to update, more features, less crap that no one reads. I found a pretty neat program called Artisteer which allows you full control over the whole layout without having to mess with code. I figured, there's no award for doing it fully by yourself and I would rather that it look nice.
And since I have this tendency to not sleep when I am working on a project, Me and my two hours of sleep last night are going to take a nap!
Deleted everything, downloaded the latest version, uploaded, reinstalled database with all my old posts, and voila! It's all here. Now I have to make it look like ME 🙂
I'm tired of my current blog. I feel like my life has changed so much since I started it and while I'm very proud of it, it represents an old me. Here's a crack at a new me in the form of a new web presence.
This will be random, I assure you.
So I got the RSS feed working again. I posted about it on Facebook so probably that is not news to any of my readers. I hate the fact that I get so completely obsessed with getting things right to the point where I am all consumed with it until it's done. I have grand plans for redoing the layout of this site, not really because oh so many people see it but because I want to do it. But then I think about what will happen when I can't figure something out and how stressful that will be. So for now it's staying the way it is cause I don't really want to pester Dottie when I know she is so busy with her dissertation.
I am also kinda at odds with myself over the fact I have made this blog public through Facebook. On the one hand, people can find it and read it. On the other hand, people can find it and read it and know it's ME talking. The anonymity I had before was pretty helpful with getting my thoughts out. One of the things I'm struggling with lately is not something I really want my coworkers to know about but a few of them can read this through the link on FB and I'm not sure how I feel about that.
But I've decided I'm going to talk about it anyway because really, the chances are probably slim they will read this and my overall dilemma already HAS an answer but it's just something I need to talk through anyway.
See the thing is that I really want to have another baby. I think most of my readers already know this about me. I REALLY want to be pregnant again. Pregnancy amnesia is honest to goodness a real thing and I have easily forgotten that lot of being pregnant sucked. I remember the amazing sense of knowing that a child was growing inside of me and I want that again. This revelation is not really so much a big deal, it's just that I keep wondering if what I'm doing is the right thing? Letting someone else care for my child while I work is just something I'm having a hard time dealing with lately. I think the summer proved to me that I'm actually pretty good at being a SAHM (Stay at home mom for those of you not up on your mommy lingo). My initial horror at being "stuck" at home all day diminished quickly and now I'm thinking about all the fun things I could be doing with Andrew if I were still at home. I keep thinking about this time last year when I wasn't working and how wonderful it was to wake up and know I had the whole day to spend with him. Why didn't I appreciate it then? Why was I in such a hurry to go back to work?
And then there is that feeling that overwhelmingly wins out which is that I can't possibly leave my job. My identity isn't just mother, it's teacher too. (A. would ask where the heck wife comes in here?) I have no real complaints about my job and I love what I do. I kinda just wish I could do both. I wonder if having a second child will overpower this feeling. If I'm being honest, I don't want it to. But then again it's not something I really think you can mentally control. As cheesy as it sounds, it's really your heart that decides these things. All I know is that right now my family feels incomplete. That feeling in and of itself creates a lot of guilt. I would never want Andrew to think that he isn't enough for me. I just want him to have brothers and sisters. I see myself with not just one child but several. The job thing, the graduate school thing, the not even being sure I can get pregnant again thing all adds up to a lot of mental controversy.
And speaking of graduate school… I'm 2 classes from being done. These two classes might kill me though. First of all, this class I've got coming up starts in a week. From the sound of the initial letter I got, it's going to be a real doozy. I have no control over whether or not I take it, it's a requirement. It's now or never. Then, I thought I'd have the first part of the spring off from school but they changed my final class to being a 16 week course instead of an 8 week course. I'm sure in the long run that's a good thing but it kinda feels like adding an extra class. Blah!
When I first started preparing to go back to school, I was so consumed with taking the GRE and getting into the program that I never actually gave much thought to finishing it and that's kinda strange for me because I've never really quit at anything. I'm not even sure at this point why I decided to get started with it except that I wanted to prove to myself that I could. I'm pretty competitive that way ("Really? YOU? Competitive?" you ask). So anyway, here I am nearing the end and the thought of going through 2 more semesters actually makes me want to gouge my eyeballs out with a rusty spoon. (How's that for a mental image?) But alas, I WILL finish this program. I WILL graduate next May. I WILL NOT quit!
So there's your dose of random for the evening. I can't imagine that many of you got all the way to the end of this post but if you did thanks 🙂
I hate when I get started on stuff for this blog. It's too late for me to fix it right now. It will probably need to be entirely revamped. Keep checking back. I like to torture myself. It will be fixed eventually.
I consider myself a liberal person. Being liberal to me means, among other things, acceptance of people regardless what they believe or stand for. So I have to wonder why anyone would waste more than 3 seconds of their life on something like this Did you read? Yes, there are people out there who want to ban a font. Comic Sans to be specific. Have you ever actually given thought to hating something so much that you want to ban it for everyone? Forgive me for not saying this in a more eloquent way but people who want to ban a font: Get a Life!
To my regular readers (or reader as the case may be) I am using my webspace to Introduce myself to my classmates for my graduate class. Please see the slideshow I made of Andrew pictures below.
To my EME5207 Classmates, I hope you enjoy the video and slideshow! [youtube=http://www.youtube.com/watch?v=pLNj9Qd3QTw&hl=en&fs=1&rel=0&color1=0x2b405b&color2=0x6b8ab6&border=1]
And now Andrew's Slideshow created with Animoto
[youtube=http://www.youtube.com/watch?v=m7BnxfVgXkw&hl=en&fs=1]
And now back to your regularly (or not so regularly) schedule programing.