I've never experienced a year with such a singular focus as this one. I started the year not pregnant and I'm ending the year not pregnant but I spent most of the moments in between consumed entirely by the babies inside me. Pretty much every single major decision made this year revolved around my pregnancy, the biggest of which, was the decision to leave teaching after 8 years in the classroom. It wasn't an easy choice but it was the right choice.
Some thoughts on the year:
I find myself more and more distanced from the pop culture world. I don't know the big movies or popular TV shows and I find that I don't care or miss them. This morning I was watching one of the morning shows as it did a rundown of the biggest pop culture news stories from this year and some I didn't remember and others felt as though they happened in a different lifetime.
Actually the me that started this year feels like a "me" from a different lifetime as well. Maybe that's from experience or maybe that's just a part of getting older.
I made a commitment to have more faith this year and I failed at that miserably. I spent it worrying instead. I think I aged about a decade from worry this year. However, in a practical way we have settled into a different church and found renewed faith in that change.
At the end of last year we visited a school fair for the county where we were able to view the different school choice options. There we fell in love with one of the choices and we prayed very hard that if it was indeed the right place for Andrew, he would be offered a spot at the school. We were thrilled to receive his acceptance letter in March (It was a lottery system so all you could really do was hope and pray.) It turns out it was a fantastic choice and we are so SO happy that all our kids will get to attend this school. No more school choices until High School!!
Other random things that happened include planting our butterfly garden, Andrew starting soccer and scoring his first of several goals, Allison starting preschool and loving it as well as her decision to completely potty train 100% on Thanksgiving Day. I got what will likely be "the first" minivan which it turns out I like very much and in the first 4 months of owning it I put over 7000 miles on it. I will be interested to see what the total mileage is at the year mark. I live in my car.
Of course the most monumental event this year was adding another member to our family. Molly's birth was both beautiful and awful but the one thing that went right was that we got to bring home a healthy baby and in the end that was all I ever wanted anyway.
The few high points were very high and the low point extremely low but the rest in the middle was pretty decent and makes me excited to see what the next year holds.
Finally, on to resolutions and a look at how I did on the 2013 ones.
These were my resolutions last year:
1) Read 40 adult length books (ie: kids' bedtime stories don't count)
Verict- Not quite. Here were the books I read
1) Sarah's Key by Tatiana de Rosnay 2) Something Blue by Emily Giffin 3) Under the Never Sky by Veronica Rossi 4)Through the Ever Night by Veronica Rossi 5) You are Not So Smart by David McRaney 6) Across the Universe by Beth Revis 7) A Million Suns by Beth Revis 8) Shades of Earth by Beth Revis 9) Matched by Ally Condie 10) Crossed by Ally Condie 11) Reached by Ally Condie 12) Cloud Atlas by David Mitchell 13) Partials by Dan Wells 14) Fragments by Dan Wells 15) Proof of Heaven by Eben Alexander 16) Legend by Marie Lu 17) Prodigy by Marie Lu 18) The Unbecoming of Mara Dyer by Michelle Hodkin 19) The evolution of Mara Dyer by Michelle Hodkin 20) Sisterland by Curtis Sittenfeld 21) Inferno by Dan Brown 22) The Girl Who Fell from the Sky by Heidi Durrow 23) To Kill a Mockingbird by Harper Lee 24) The Language of Flowers by Vanessa Diffenbaugh 25) Colony East by Scott Cramer 26) The Light Between Oceans by M.L. Stedman 27) Divergent by Veronica Roth (a re-read) 28) Insurgent by Veronica Roth (another re-read) 29) Allegiant by Veronica Roth 30) The Dovekeepers by Alice Hoffman
2) Of the 40 books, fill in my "gap" by reading at least 5 classic novels. You know, those books I should have read in high school but got by on the Cliffs Notes or just never read at all.
Phew. So, not a bad list and not bad considering I spent a good chunk of time mindlessly absorbed in Candy Crush which I've now given up completely. I will make it to 40 next year. I also only hit on one of those more classic stories that I should have read before which is of course To Kill a Mockingbird. I read another of the books on the list of 100 books to read before you die which was Cloud Atlas (very good but also a very challenging read). And finally, I broke out of my box and read in a totally different genre than I'm used to. Across the Universe and it's sequels were very much Sci-Fi and I'm happy to say I really enjoyed them even though I've always turned my nose up at that sort of thing. Finally, I've got about 80 pages left in The Dovekeepers which I hope to finish today. It's an incredible book but also very long and not a quick read but definitely worth reading!
3) Learn to sew by taking on 3 projects- a dress for Allison, a blanket, and whatever else I decide when the time comes.
Verict: Mostly
I didn't make the dress but I did make blankets for Allison and Andrew, had assistance but made pillows for the playroom and again had assistance but also heavily embellished curtains for Allison's big girl bedroom. Three projects- check, the dress? Nope, and now I have to make two!
4) Photograph night lightning.
Verict: Not even close
I will blame pregnancy for this one. It just didn't seem like a very responsible thing to stand out in a lightning storm. Plus I still haven't found a dark enough location. The beach during turtle season is my best bet but when we went this past summer there weren't any storms.
5) Re-engage in some sort of physical activity. I'm thinking bike riding since A got my bike fixed for me for Christmas.
We did go out bike riding. Then I got pregnant. Then we got a new car that no longer holds the bike rack on the back of it. But I joined a gym and started C25K.
So here are the new ones for 2014
Read 40 books– same as before
Run a 5K– running the entire time, no stopping and dying on the side of the road or anything
Going along with number 2, get my body back in shape by eating better and more natural foods. We will be replanting our vegetable garden in the spring and that will help but we are also going to switch to organic meats and continue to cut back on processed foods (which we are already doing pretty well with).
Finish the darn baby blanket I started making 6 months ago!
Take on and complete a new photo project.
Oh and you know, keep everyone happy and fed and entertained (and dressed most of the time). 🙂
Happy New Year!
I was reminded today that I haven't updated in quite a long time. It's always surprising when I talk to someone who reads because in my own mind, no one reads. But I figured, June 1st, might as well 🙂
I often think I do my best thinking in the shower. And this evening a thought came to me. May/June 2010. The benefit of hindsight. I'll explain.
You see, there were a lot of things happening 3 years ago now, but three big things happened that I felt, at one point or another (or many points) would never happen. May 2010 I graduated with my Master's degree. After 3 years of working mornings, nights, and any time in between, I completed UF's web-based degree program in Educational Technology. A program that I somehow accomplished despite being pregnant for 5 classes, having a baby for 6 classes and working full time through the whole thing. I remember thinking when I started that I would never actually finish. Yet somehow I did. And my son was there to see it which was my proudest moment of all.
Three years ago, May 2010, we decided to get serious about baby #2 and I started taking meds thinking it would be a one shot thing like it was with Andrew. But no. It wasn't. Meds, shots, procedures, prayers, and a lot of times when I felt Andrew would surely be an only child. And yet I have my sweet baby girl. I remember holding her for the first time when she was seconds old thinking I was living in a dream.
Three years ago, June 2010, we took the biggest plunge of our lives. We met with our homebuilder and commissioned the first of what would be 8 rounds of blueprints. The land we wanted initially fell through. The mortgage we initially tried to get fell through. And the entire process was so riddled with issues I thought time and again that we would never actually live in the house where I am now typing this blog posting.
You could just say I'm a negative person. You could just say I needed to have some faith. But in the end, none of these were simple things to accomplish and goodness knows the odds were stacked against us for at least the last two things. It made me wonder, what in my life right now am I doubting? And what can I do to see it through to the end? I think we can be our own worst enemy sometimes. We hold ourselves back. How are you holding yourself back right this very moment? What will you be thinking about three years from now? Food for thought.
In the mean time we reach a half way of sorts. It's June 1st so I figured it's time to update my resolutions list. I'm also 21 weeks pregnant which is sort of half way (I do pray it's half way and nothing too dramatically more). I suppose at some point I might consider writing about my pregnancy and experience with losing one of our twins but now is not the day. I think I will at some point if for no other reason than to memorialize a child who did exist, whose heart beat next to mine and whose sister, God willing, will one day know she had a twin, a twin sister, who will always be a part of her.
*sigh*
Onwards! The resolution list is…. going. I haven't done much sewing (although I have a project in mind for Allison's big girl room!) and have yet to find a good location or night to photograph lightning but I'm hopeful sometime this summer I can make it work. I have however, done GREAT on my reading goal of 40 books. I'm also really thrilled to say that in my classroom, 7 out of 9 kids achieved the goal of 100 points which is COMPLETELY awesome! The kids only need 40 points a year so this is huge!!
Here's my book update: I'm just going to list everything from January 1st on. I am absolutely loving the YA Dystopian/Post-Apocalyptic fiction genre. Last night my friends and I were discussing how we are totally over the typical adult romantic boy meets girl type books as well as the completely smut filled 50 shades-ish books. They are fine now and then but I love the escape into these completely different, yet often familiar worlds filled with strong young characters who are more focused on saving humanity than getting in bed with the cute guy. So that's the trend you'll see on this list. I also read Cloud Atlas (before even knowing it was a movie) which is on the BBC List of 100 books to read before you die. Challenging read but ultimately I enjoyed it a lot.
1. Sarah's Key- Tatiana de Rosnay 2. Something Blue- Emily Giffin 3. Under the Never Sky- Veronica Rossi 4. Through the Ever Night- Veronica Rossi 5. You are Not so Smart- David McRaney 6. Across the Universe- Beth Revis 7. A Million Suns- Beth Revis 8. Shades of Earth- Beth Revis 9. Matched- Ally Condie 10. Crossed- Ally Condie 11. Reached- Ally Condie 12. Cloud Atlas- David Mitchell 13. Partials- Dan Wells 14. Fragments- Dan Wells 15. Proof of Heaven- Eben Alexander 16. Legend- Marie Lu 17. Progidy- Marie Lu 18. The Unbecoming of Mara Dyer- Michelle Hodkin 19. The Evolution of Mara Dyer- Michelle Hodkin
So there we go, almost half way to 40 right at the half way mark but I did this while I was working, now that it's almost summer I should have no problem getting a lot more reading done 🙂
If you are not already, follow me on Goodreads
And some pictures, which hopefully make up for the lack of 12 in 12 photos.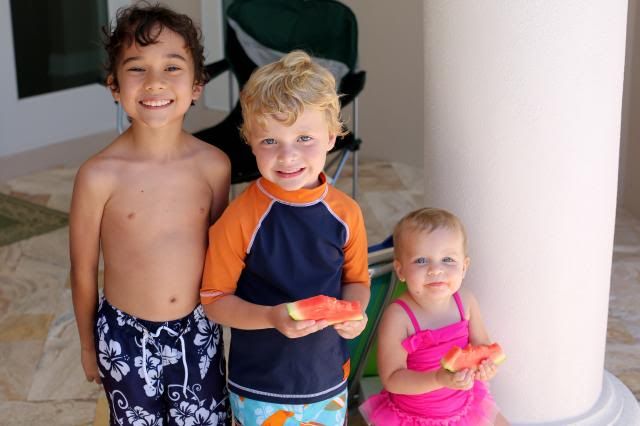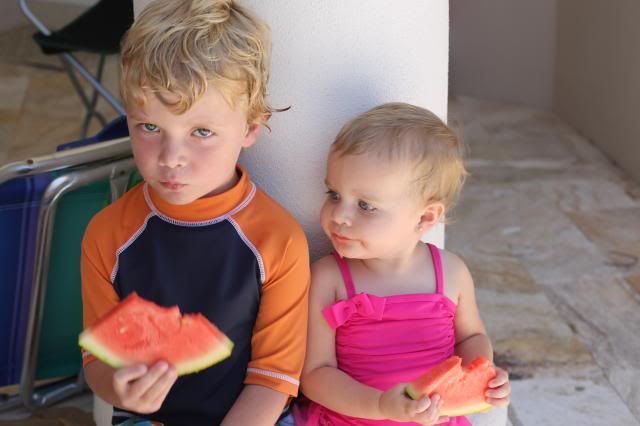 Enjoying cousins and watermelon on Memorial Day!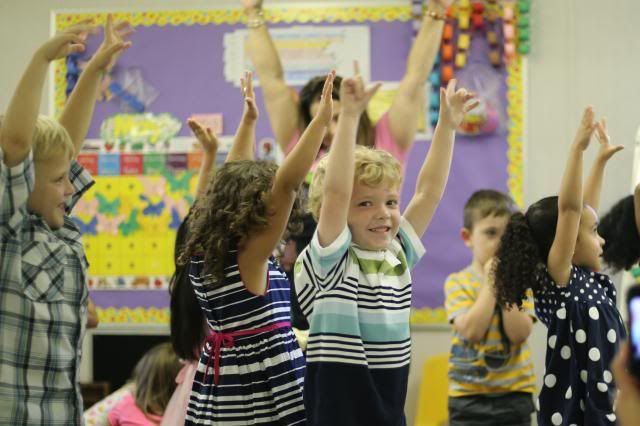 Andrew dancing on his last day of school.
Cheese 🙂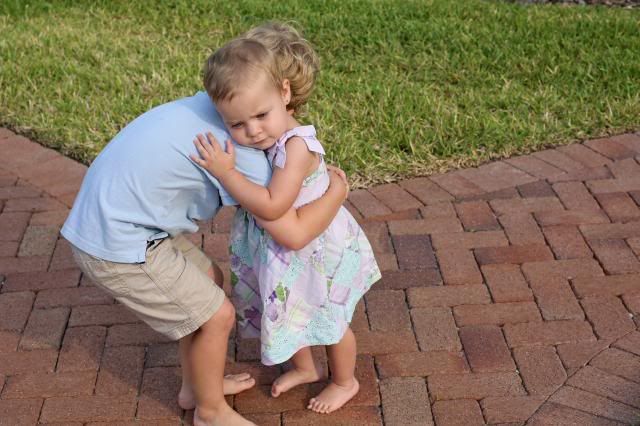 True Love
"No Ah-doo!!" (It's actually hard to get pictures of these expressions because usually she sees the camera and immediately hams it up.)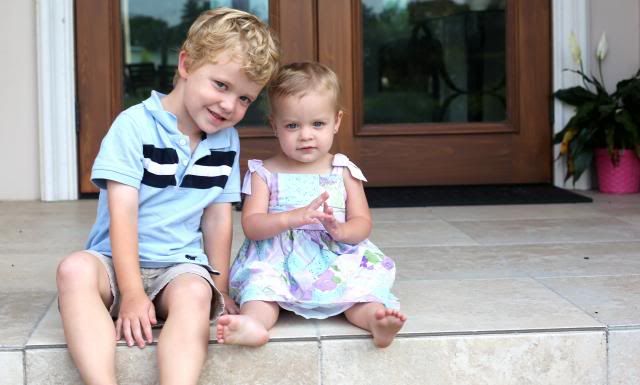 New Year.
New hair color.
Fresh outlook.
Better attitude.
Renewed faith.
Resolutions. Lots of things to think about. I normally don't resolve to do things in a quantitative way and as such this feels a little bit like I'm writing benchmarks or IEP goals. But I've been thinking. I've covered many goals over the last several years which usually revolve around the idea of being a better person. And while I'm far far far from perfect I'm in need of some more measurable goals. So for 2013 here they are in random order.
1) Read 40 adult length books (ie: kids' bedtime stories don't count)
2) Of the 40 books, fill in my "gap" by reading at least 5 classic novels. You know, those books I should have read in high school but got by on the Cliffs Notes or just never read at all.
3) Learn to sew by taking on 3 projects- a dress for Allison, a blanket, and whatever else I decide when the time comes.
4) Photograph night lightning.
I have actually attempted this several times and the closest I ever got was one night at the beach during turtle season. And then the weather got so bad I couldn't risk my camera outside anymore. I think I found a good lake near my house so now I'm just waiting for the right night.
5) Re-engage in some sort of physical activity. I'm thinking bike riding since A got my bike fixed for me for Christmas.
Also I'm going to continue working on the other stuff and keep better track of the positive things that happen to me. I tried starting a gratitude journal and it lasted 2 days. I'm going to try again. I am going to work on letting things go when other people say and do things that bother me. My good friend, when things don't quite go well or as expected she says she's "offering it up to God" I really really like that concept. By the same token, I have come to solidify a lot of my beliefs over the last few years and I'm not going to compromise those values just to go along with a crowd. I know where I stand. I will keep learning. I will keep thinking. One of my favorite expressions "When you know better, do better". I'm going to keep working on doing better.
FINALLY (As if this wasn't long enough already). I'm not doing Project 52 again. At least not this year. It was insane that I actually completed that goal. It was kinda like grad school where I started never seeing myself actually finishing but then boom, graduation day. But no, not doing that again in 2013. Instead I'm going to do 12 on 12 so look for something for me the 12th of every month along with a Resolution Accountability Report.
I hearby raise my glass to you! Happy 2013!
I'm one of those people who keeps the receipt for most everything I buy. I store them in a box and then when the box starts overflowing I go through and trash the ones that I don't need to keep anymore. This amounts to almost all of them. After all, there's no reason to keep a receipt for food long since eaten, gasoline long since driven off, and clothes that are already outgrown. Yet each time I find myself saving a few of those little scraps of paper for no reason other than the memory it contains. Silly? Probably. But receipts are like time stamped trips down memory lane. Perhaps nothing jogs a memory for me quite like the numbers and abbreviated descriptions along with the date, time and location. It really doesn't matter what it was for or how much was spent but most of the time I can remember where I was and who I was with at the time. Sometimes it cracks wide open a whole day or event that I would have otherwise forgotten.
As I sorted through the stack I found myself drawn to the ones from around the time Allison was born. There it is in black and white 11:48am on August 24th. Sweetbay Supermarket. Purchases– crackers, apple juice, bread. This was my "Oh my gosh the baby is coming and Andrew is going to starve to death if I don't go out and get these things rightthissecond!" I picture myself carrying two gallons of juice as I waddled through the parking lot dripping with sweat with Andrew by my side. That was the last place we went together just the two of us before Allison was born. Suddenly that little slip of paper isn't a little scrap anymore.
Then there are the receipts from our first trip out as a family of 4. Pandora store– baby bootie with pink rhinestone. Baby girl outfit from Gymboree– denim skirt with buttons, sweater, tights (tights that actually STILL don't fit!) Dress size newborn for Allison's first trip to church. I remember that trip so well. We had a 5 day old baby and we were moving awfully slowly but there we were, together as a family of 4, out for the first time together. Such joy!
It's not just Allison though I did get teary finding the receipt for the ultrasound that I had done where I learned we would be adding a baby girl to our family. But things like birthday and Christmas gifts, wedding gifts, restaurants in other towns that we visited on vacation. Receipts from the pediatrician when I took my kids in for their shots or a cold. A violin rental– Suzuki brand, size 1/16th. One jumbo Elmo balloon for Andrew's 2nd birthday. The kid proof digital camera that Allison "gave" Andrew when she was born. The admission to the zoo, to Disney, to see the Space Shuttle launch, to climb the steps of a lighthouse, to see the dinosaur exhibit. All things I hadn't thought of today, or yesterday, or last week. But things I remember now because of those tiny bits of paper. At the time received, they meant practically nothing but separated by a few months, even a few years they become reminders of the past and of things that are worth remembering. Things that make us– us. Things that all added up together don't equal a dollar amount but they equal the events of life. They help you fill in the in-between– the gaps between the extraordinary and the mundane where we simply just live and where we exist.
Sometimes you just need a little pity party.
Women are notorious for feeling like they always have to hold everything together. And I count myself among that breed of women. So yesterday, when the construction superintendent told us our house was delayed yet another month (totaling 7 months of delay and counting) I just about lost it. I excused myself and walked out of the meeting. I wanted to shed my tears in peace. I stormed out of the unfinished kitchen and out into the yard which is currently made up of sandy dirt, and started preparing mental lists of what needed to happen now.
Push back the closet install, reschedule the guy who is doing the finish work on our bathroom, reschedule the delivery of Andrew's furniture and our sofa, postpone the installation of the blinds on the windows, pay for another month of storage, and possibly delay our renters. My thoughts then turned to the piles of boxes in our closets and garage that have been packed, some of them, for almost a year. Because at the time we thought we only had a few months left here and knew we'd have a newborn to deal with. So away the things went. Furniture was sold, pictures removed from the walls, books and toys put away. "We won't need this before we move." I said to things like our baby push walker, play table, and a host of other 6-12 month toys. Things that we shoved in the back of the storage unit thinking they would see the light of day long before we had a baby old enough to use them. Ha!
Inconvenience.
That's what this boils down to. A great big, giant, headache of inconvenience.
Lack of control.
That's what makes this just about one of the most frustrating experiences I've ever had. If you know me you know I like control and being at the mercy of someone else makes me insane.
So I had my pity party. A completely immature mental implosion complete with some mental foot stomping, anger and frustration that I expressed in the form being generally worthless for about 24 hours. I didn't sleep well and I woke up grumpy.
And then the sea of guilt flooded in, the guilt that threatened to drown me from within. A voice of anger- not at the situation, but at myself. "You've had your pity party now it's time to suck it up, buttercup." That's what my inner voice said to me.
So you can't move for another month. So what? At least you have a place to live and it's true. I do. At least you have food on your table. True as well. You have clothes to wear and healthy children and a good education, and a job, and a loving husband, and on and on and on thoughts flooded my mind. How dare I be so selfish, so thankless?
But two things choked off my anger faster than anything else. I thought of two married friends who said good-bye to each other yesterday as one went off to war. I thought of another friend who will spend her first mother's day tomorrow without her precious baby in her arms. And I felt small and insignificant for complaining when I have nothing at all to complain about.
So my house is taking longer. It sucks but I'll live. I'm back on track. I'm strong. I can do this. Everyone needs a little pity party now and then and that's fine, just as long as when the time comes you know how to get up, brush yourself off and count the blessings you do have because life could be far worse and it is far worse when you're not thankful for what you do have.
In December of 2004 this blog was born in a small, dingy apartment just off a state road in Bordentown, New Jersey. Snow covered the ground while two young twenty-something Florida kids, because yes we still saw ourselves as kids, sat inside pathetically bundled in winter coats and gloves because the heating system was poor and it was simply too cold outside to do anything else. It was almost 2005, almost time for me to fly back home because even though we were married, we lived in different states. It was time for me to go back to start the second half of my first year of teaching. Time for A to continue his world travels with the Air Force. Our new Florida home would be done in March but it would be years before we lived there together.
Funny how everything about that story is true, except the part about how we spent years living apart. We had no idea at the time that a mere 6 months from that cold evening we would be living under one roof again, in our new home, in Florida.
Funny how seven years later things are so different and yet so very much the same. Once again we are waiting to move but we wait together under one roof and instead of feeling like kids we wait with our two young children.
If there is anything I've learned over the last seven years it's not to put much stock in the status quo. It will change for better or for worse and where you are at the end of one year is likely to be light years from where you are at the end of the next.
A year ago today, having just discovered 5 days prior that I was finally, mercifully, joyously expecting my second child, I spent the eve of 2011 fearing the worst– that I was losing her, a thought not at all lost on me tonight as I nursed my precious 4 month old baby girl to sleep.
A year and a week ago I had lost all hope of ever even having a second child. Amazing how life changes.
Seven years ago when we were pondering the snowfall and planning our future we could never have imagined where we would be today, never imagined the people we would meet, the experiences we would have, the places we would go, the jobs we would hold, the things we would learn, the parents we would become, the life we would live. I can only hope the next seven years treat us as well. At least this time we know we'd better hang on tight for it's an unpredictable and wild ride. At least this time we know we're not really in the driver's seat. At least this time we are mature enough to accept the change that our parents told us was an inevitable part of life.
I have not been very good about updating this blog and as I know I've said before it's not for lack of wanting to. The ideas are there swimming around in my head often times fighting hard to get out. I have a plan for that and I'll post about it in the coming days. But tonight is for reflection. Tonight is my chance to release this year for what it was and what it wasn't and leave my mind and soul ready to welcome 2012. Release is a nice word quite frankly. Shove unceremoniously out the door is more what I have in mind. But as crummy as this year was, I can't deny that it had its magical moments or that it led us to where we are now today and where we will be tomorrow. And I can't deny that the lesson I take most to heart is probably one I've needed to learn for a long time– Have FAITH. It's all there really is. It's all you really can count on. I don't know what 2012 holds but I have faith that we'll get through it and that somehow, some way we will look back and know it was an important part of life's fleeting and ever changing path. From the bottom of my heart, I wish you Joy, Faith, Wisdom, and Hope for the coming year. Good-bye 2011 and Welcome 2012.
So this is the continuation of my graduation story which begins in the post below. Even if you don't feel like reading all of it there are some cute pictures– scroll down.
Before I start on the next part of the story, I saved one other picture because I didn't want it to get buried down at the bottom. Every now and then I get a picture of him (in this case, A took the picture) that I just adore beyond measure. This is one of them
Okay is that not too cute for words? I'm going to get this blown up big and hang it on his wall, lest he ever start to think about attending another University.
And on with the story…
Well it's now nearly 11pm May 1st and I haven't really slept since, oh, I guess it was Thursday night. Yeah, I didn't sleep. I couldn't sleep. I remember listening to Andrew breathe in the pack n play a few feet away. And I watched the clock as it turned 1am, 2am, 3am, 4am… well you get the picture. I may have dozed off slightly between 5 and 6 but then it was time to get up, dress, repack the room and reload the car. We did in fact manage to get 4 people, one of whom being a 20 month old, completed dressed in nice clothes, with everything loaded by 7:08 am which I think is pretty damn impressive. A even got pulled over on the way back north but managed to squeak by with a warning. I had just finished getting my cap situated on my head and my hair looking okay when the FHP guy stops us. He takes a look at us and goes, "Y'all headin' to a weddin'?" Umm… it's the new look. Mortarboards instead of veils. It's all the rage. Eh, I guess that's being pretty rich of me to joke considering he let us go without writing what would have undoubtedly been a very hefty ticket.
We made it there in time and then began the nerve wracking "radio silence". Okay so not really but in the instructions for graduates which I read no less than 10 times, it said not to bring anything and not wanting to lose my phone I figured it was safer in the car. So we picked a meeting place (the giant oak tree outside the O Dome) and I hopped out of the car. Now here's the insanely stupid part, one I'm almost afraid to admit. I go to pull on the gown and didn't realize it had these funky sleeves with deep pointy pockets (like, picture Death minus the hood and the scythe). I went to stick my hands in and realized it was stitched and thought, "Oh crap, they forgot to put holes in mine!" (Yeah remember how I hadn't had any sleep 🙂 ) I quickly realized of course it had holes and THEN what a perfect place those sleeves would have been to put my phone! Sheesh!
Well I wandered around for a while and then it hit me that I didn't know a damn person in the place. Wow talk about lonely– sit through God knows how many hours without talking to anyone? I started looking around for someone who looked friendly, determined not to be completely boring the whole time. But everyone seemed to be in a huddle with their friends. I wandered over to the basketball practice courts and found my spot next to the other light blue hooded people with the College of Education. I was standing near a woman, someone who looked outside the traditional college age range. She was alone, too. Then she offered to fix my hood for me. I told her I was so thankful because I didn't know anyone. She said she didn't either, that she'd done her whole degree online. Well long story short (ha who am I kidding?) She was not only my classmate from my final course but also my PARTNER in the final section. Talk about small world and random chances!
The ceremony started and we processed out. The pictures aren't much to see… I'm just a little dot. They did all the Doctorate degrees first (which took forever) and then started on the Master's degree candidates. Here's me walking across the stage followed by a zoomed in version of the same picture.
Have you ever tried so hard to remember something that it made the memory slip out of your mind even faster? That was kinda how it was for me. It felt a little like slow motion walking across the stage. Now I realize at this point I've been typing these posts for nearly an hour and you're like, geeze lady all you did was get a Master's degree. But it was kinda more than that. And this is where I'll tell the other part of the story in the most cryptic way possible.
See, I'll get back to the graduation stuff (there's not much more to tell really) but first I want to head down a different path for a minute. See back in 2004, I found out that there was a job available at my school but I lived in NJ. I had been married just around a year and things were going well in that aspect of my life but I was lonely and depressed about not having a real job or purpose in life and A was TDY almost constantly so I was completely by myself most of the time in a strange state with nothing to do besides work at Pottery Barn. So when the job opened I knew in my heart that I had to have it and A was nothing but 100% supportive, willing to live away from me to make it work. So from the very first moment I started at my school I took a leap of faith to get there.
And in many ways every single aspect of my career and this path that I've been on with getting my degree has all been about faith. And those times that I wasn't sure I could do it, it was all about faith. So this past week, when my boss approached me with, I don't even know what to call it– a proposal of sorts, I felt again that I was being led by the Holy Spirit. Now those of you who know me, even those who know me really really well, know that I don't get outwardly religious often. It's a very private thing for me. But this particular moment felt so strong that I'm certain my prayers for guidance were being answered on the spot. You see, not knowing who exactly reads this and having promised secrecy I will not go into the details of this proposal but suffice to say it requires yet another leap of faith.
So as I turn back to my graduation story, understand that this isn't about graduation much at all as it is about the closure of one life chapter, the transition to the next chapter and the faith involved in the whole process. Because as I look back on every major life milestone I'm finally starting to see how everything pieces together and that may very well be a miracle in and of itself.
So I walked across the stage and believe me when I say I'm not exaggerating this or trying to be dramatic but I felt like everything slowed down and got quiet.
I had told myself, "listen to where the shouts are coming from, then you'll know where they're sitting" but I didn't hear anything at all. I shook hands 4 times and said thank you to each person. I was smiling. I didn't trip and fall. The rest is a haze. I do know that I felt what I did not feel the other 2 times I have taken part in the grand tradition of graduation. I know that THIS time was different because the chapter really did end and I really do feel done and truthfully that is the most I could have possibly asked for.
The rest of the ceremony felt long. It was terribly hot under the gown and I was tired, no, exhausted, but happy. After I found everyone and we walked back to the car. While they were waiting, A took a few more pictures of Andrew in front of the Bull Gator. He had been so excited last night when I told him that today we'd see more Gators. In fact he woke up asking about them.
"Touchdown!"
And of course more Chomp (Can't wait to bring him to his first game!)
Then we went and took a few more pictures after. This was a neat drive by photo. I jumped out of the car and A took the picture from the window as he was driving. Impressive! And here's where I've gotta say he did everything in his power to make today absolutely the best! He definitely succeeded beyond my wildest expectations!
I also have a picture here after my undergrad graduation. I need to find it at some point.
Sign on campus
And one last one of me 🙂
This evening, A surprised me. We went out to dinner and instead of it just being us I showed up to find my whole family was there– EVERYONE! This is what I never got the first two times around. I got everyone together all in one place plus two very dear friends. I couldn't ask for more than this.
They say nothing's perfect. But today was. And I can only hope and continue to pray that the start of this next story, this next journey of faith, will be as wonderful and as filled with hope and promise as today.
Well it has been the type of day you never forget and I mean that in a really good way.
This promises to be a long entry, mostly because this is for me and I don't want to forget it.
I guess you could say it kinda all started back in 1999. It was the day before my high school graduation and though it was not altogether unexpected, I received the news that my grandmother had passed away. She had been sick and it was not so much a terrible shock as it was a sense of emptiness of losing someone close to me. We went to her funeral 2 days after I graduated. By that point I had decided I was done with everything related to high school and I didn't want to think about them anymore. I didn't even bring my yearbook to get signed– not a single signature in my senior year yearbook. I thought about my grandmother and her funeral and heading off to college and graduation itself was a blur.
Fast forward 3 1/2 years. After what remains to be 3 1/2 of the most amazing years of my life spent in Gainesville I graduated on December 21, 2002 in what proved to be a bittersweet (mostly bitter) cold and windy but crystal clear winter day. I recall the exact outfit I was wearing, and the friends I was sitting next to. I remember the stress of moving my remaining possessions home with me after the ceremony ended and I remember many family arguments. I don't even remember at this point, what they were about. All I know was that after 3 of the happiest years of my life living in a place where I finally felt like I discovered the who I really was, I just remember the stress and the arguing and the going home and feeling completely empty. It felt like I'd just spent all this time finding the true me and then losing it all over again. Every time I went home during college for Christmas or the summer it was always a transition period, a limbo between happiness for being home and longing desperately to go back. It's not so much that I was a different person in each city. I certainly was not. But just that there is an irreplaceable feeling of pulling off I-75 on Archer Road and driving into town and feeling like anything is possible. That's the magic, the pull, the addiction of being a college student.
And when I left I knew I wasn't done. I knew one day I'd go back and that it would undoubtedly be at Florida because even though I nearly went to U of Maryland, somehow I always knew I could only be a Gator. And I knew I needed another shot at graduation and having real closure on that chapter of my life. So when I applied for my Master's degree program, in the back of my mind I knew from the split second I got my acceptance letter that I would attend the final ceremony. I would understand it more fully and appreciate it more deeply.
So when the time finally came to graduate I knew this was my last shot at getting it right.
And I've gotta say that's a lot of pressure to put on one single event but it was perfect in every way.
Yesterday we left on our drive to Gainesville. This was to be Andrew's first visit. I knew when I had him that one day he'd get to visit my former home and I knew that graduation would be the perfect first time. We started at the bookstore. Oh how I wish the new bookstore had been around when I was there on campus. There is an undeniable feeling of academia everywhere on campus but nowhere else do you feel it as much as when you're surrounded by BOOKS.
I had had these anxiety ridden dreams that I would get there and they would have no record of me. I guess that's part of doing an online degree program. I knew the people really did exist somewhere and it certainly helped that I could recall the buildings and places as well as the basic policies and procedures but the fact remains, until yesterday I never once spoke to a person face to face and so I was a little worried I had somehow made a mistake. There was even a dream once where I imagined it all. It's not like there is more proof when you physically attend class. No actually I've left a digital trail 10 miles long from this program. But sometimes when you don't deal with people in person you start to disassociate yourself from the whole process. I guess I'm not really explaining this too well. It's pretty hard to describe. I wonder if any one else who has done this felt this way. I tend to think they have.
But worries were needless (as they often are for me). And my cap and gown (and hood!) were ready and waiting. I got my portrait taken and I also had one taken with Andrew and A. Afterall, they were such a huge part of this whole thing. I know all my children will be special and God willing that I have more, I know that Andrew, aside from being my first precious child, will always hold the unique place of being my graduate school baby. He went through this whole thing with me. And in some ways, suffered my stress, my anxiety, my workload right along with me by missing time he could have spent with me had I not been preoccupied with finishing. Today was every bit as much about him as it was me, at least in my mind. So anyway, I got the pictures done and picked up a cap and gown and off we went to visit Century Tower, for those who didn't know me then, A proposed under Century Tower, on a cold rainy Saturday in February in front of all my friends. It was and remains to be the most amazing surprise, no, the most amazing ANYTHING anyone has ever done for me.
So naturally, we had to go there! Here's A showing Andrew where it happened:
Then taking a seat on the bench along the side.
Then we walked through UMA to the area where the band used to warm up on Game Day before the march to the stadium. We had to wait for 3 girls to get done with their "photo shoot". I definitely felt a little self-conscious when we were standing there waiting for them because I don't really look older to most people without any points of comparison but I felt 29 when I'm standing there next to these 22 year olds in cocktail dresses who were most definitely without children. Actually, I guess self-conscious is the wrong word because I felt more proud than anything.
Finally it was our turn to take pictures. At first Andrew was very tentative around the ah-gee-ya (alligator). It had not occurred to me that he would not understand it was fake. He didn't cry or fuss like he was scared but he was not in a hurry to touch it either.
"Mommy! Ah-gee-ya!"
"Are you sure about this?"
Finally, I convinced him it was okay to touch it and we sat on the Gator which is a pretty generic picture but hey, we needed to have one.
So then I wanted to get a picture of him hugging the gator. Now I can't really explain why I thought this would be so cute but I wanted the picture. So A decided to show him it was okay to hug the gator.
STILL not convinced he gives it a shot…
The hilarious part (at least for me) was when he finally stood up, satisfied that it was indeed safe to hug (and on his own accord, kiss) the gator, and he turns to me and say, "ok Mommy, Ah-gee-ya sleeping"
OOooooohhhh my dear child!! He now thinks the gator was safe to touch because it was sleeping. My dear God in heaven, please do not let my child ever come across a living Gator. He will undoubtedly rush up to give it a kiss on the snout!
Of course he did some Chomp too…
We finished with the pictures, walked back to the car and then went out to dinner. I have got to say, Gainesville has so many more restaurants than it did when I was there. I don't think I would have been able to survive with that many good places to eat. I was so dirt poor as it was the first time around. We ate at Fridays or Chili's a lot because that was pretty much all there was. Now there is every restaurant I've ever heard of and plenty I haven't. We picked Carrabba's for pre-Graduation dinner. Andrew was getting very tired though so we ate fairly quickly and headed back south to Ocala because I waited too long to get a hotel room and they were completely booked solid anywhere near the city.
Just as we arrived at the hotel it started to POUR down rain and I do mean pour. We got soaked carrying everything up to the room but when all was said and done the 4 of us (my mom was with us too) got in bed for the evening and I had the sense that I was mere inches away, after having come miles, for this final event.
To Be Continued….
When I started this process over 3 years ago there was a big part of me that never saw myself actually finishing. I remember sitting there with a stack of GRE words in my lap night after night thinking, well I'll just keep at this but I won't get into the program. And then I did, I got in.
And then I started my first class. I'll never forget that day, September 24, 2007, because we were in Washington DC where A. was receiving an award. But all I could think about was my class starts today! And I poured everything I had into it. It was HARD and time consuming but I loved it. And I kept thinking, well this is great but how long will I be able to keep this up? Surely I'll never actually finish. And that was a little scary to think about considering I've never quit anything in my life.
But I just kept on trucking… through a struggle with infertility, then getting pregnant and working late at night until I was practically passed out in front of my computer. Then there was the summer before Andrew was born where I did nothing but tutor and study, tutor and study, sometimes up to 14 hours a day with my big swollen feet propped up on pillows and a certain person in my giant belly kicking my books off my lap. Then having a child and reading chapters in textbooks while I pumped or nursing while I typed. He was 5 weeks old when that particular course started. I don't even remember what it was called much less what I learned in that one.
Then I went back to working full time, doing after school tutoring and singing in the church choir. Oh there was dance in there too (something that finally had to give). I started getting up early and going into work by 7:30 so I could work for 25 minutes in the morning. Then I'd stay an extra 15 minutes in the afternoon which gave me 30 minutes to work if I had all my other stuff in order. I have become exceptionally good at squeezing every second out of a break and reading textbooks at stoplights (don't worry Oprah, I've stopped).
I've helped raise a family (and received a lot of help too) while having a husband who travels a large percentage of each month. I have had to step away from synchronous sessions to go assure my toddler that yes Elmo, AND Mickey Mouse, AND Blankie are all safely in bed with him. I have been asked dozens and dozens of times, "what time did you come to bed last night?" with a tone that suggests I might have lost my mind to stay up past midnight working on an assignment.
I trucked on through classes I loved and a class or two I hated. I have relished the insight, the ideas, the knowledge (as cheesy as that sounds) that I have gained from every single class I have taken.
I did not ever think this day would come but tonight, I submitted my final assignment. I have completed my 12th and final course to complete a Masters of Education Degree in Curriculum and Instruction with a focus on Educational Technology. I have received a perfect score in 11 out of 12 classes and a 98% in the other course (yes, that pisses me off tremendously but hey, I had a 5 week old!) In two weeks I get to go back to Gainesville and walk across the stage one more time, one last time. And then this chapter of my life closes.
I'm finished!
What's next?
It's 11 days into the new year and you know what? My house is still clean and relatively organized. I am still on top of my todo list and despite the fact that I'm enrolled in my last and supposedly hardest course of my graduate degree, I am right on top of things.
Wow! Now that I said that a million things are going to fall on top of me to get done in the next week.
The thing is, I AM busy. I just can't tell if maybe I'm finally getting the hang of all this. That's a little scary in a way but wonderful nonetheless.
I won't bore you with my actual routine. It's fit for the elderly but oh how I love it! After being busy busy and on the go for so many years I can't tell you how amazing it feels to get in bed before 9:00. I only hope I can keep it up.
And moving on to another order of business, this blog.
I have a long list of blogs I follow on Bloglines (If you don't have it, get it. It's wonderful!) And I'm starting to notice a trend among my mommy friends. All their blogs are about their babies. I'm starting to feel like Andrew is getting the short end of the stick on this one because this blog is and never has been all about him, especially since I started it long before I was even pregnant.
So what do you think? More Andrew stories? Let me know.
In the mean time, I will share just one (or two) things about my favorite little munchkin. I am ever amazed at how quickly he is growing up. I have this milestone chart from Babycenter.com and I look at it every now and then just to make sure he isn't falling behind in any areas. I was shocked to find that he is performing skills that would be considered advanced for a 21 month old (He is 17 months this weekend). He is also doing some things at the level of a 24 month old. I about fell over when I saw that one! He's a talker and would be perfectly happy to spend the entire afternoon looking through his books and identifying the things in the pictures. One of his latest words is "yellow" which comes out sounding ever so cute as "yeh-woah" complete with adorable high pitched little boy voice. He likes this color so much that he will identify everything as yellow.
"Andrew, what color is Elmo?" "yeh-woah" "Andrew, Elmo is red." "yeh-woah" "Can you say red?" "yeh-woah"
The whole exchange is quite adorable so I find myself asking him the color of things all the time just to hear him say the word.
Another thing he likes to do lately is have phone conversations with or without another person on the line. The conversation is short and consists of "Hi, hello. Bye-bye" If you happen to get a random call from me now you'll understand.