Let's Do 52! Smashing
Posted On August 26, 2012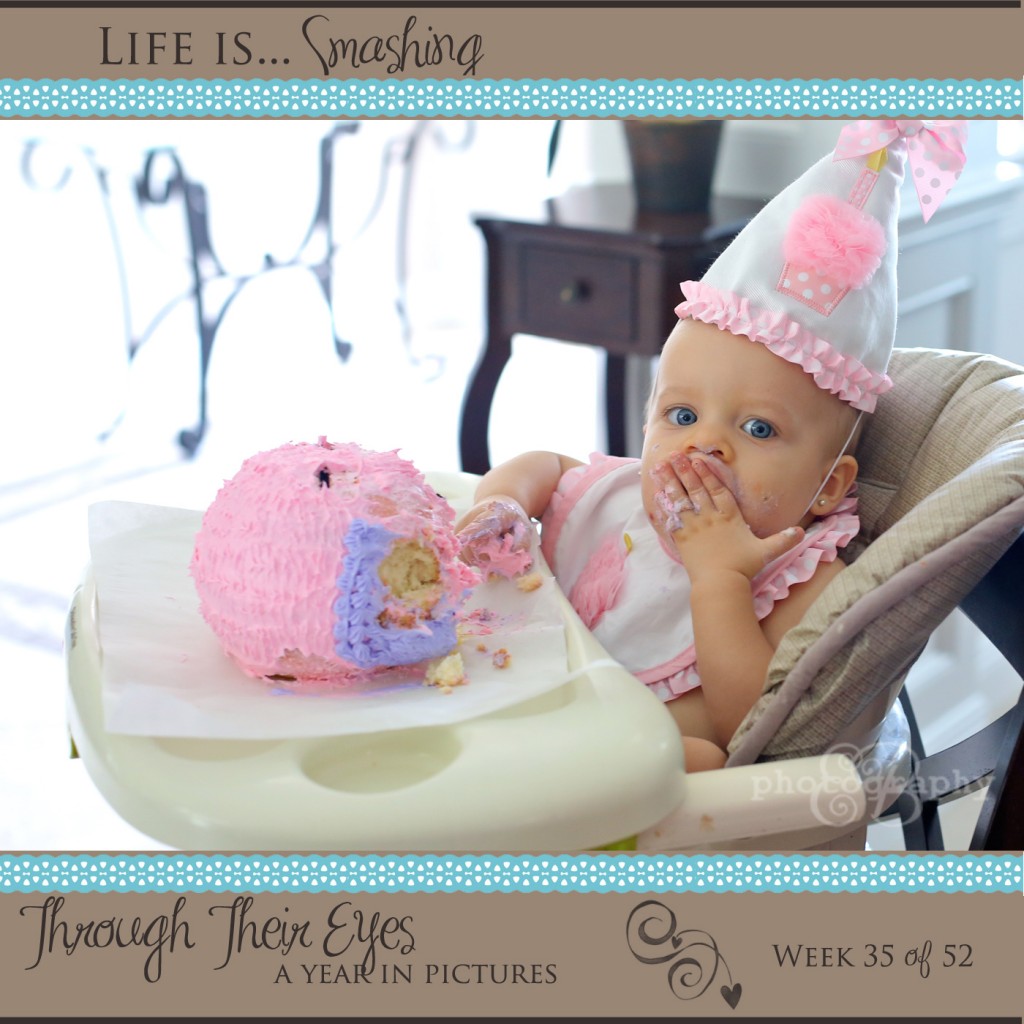 It's the milestones that make me think about what wasn't supposed to happen. Or at least, was very unlikely to. As I've mentioned in the past, Allison is a perfect example that ordinary miracles (or extraordinary in our hearts and minds) happen every day. Allison, the baby doctors said had only a 5% chance of being conceived in the first place. On the night I discovered I was pregnant with Allison, something I still feel is one of the biggest shocks of my life, I wrote down a few things. I wrote down that it would be a girl, that she would have brown hair and blue eyes, that she would be 7 pounds and 4 ounces and 20 inches long. I predicted the delivery doctor and the date– August 24th. As it turns out the doctor I wrote down left the practice. Allison was delivered by her replacement. I was off by 3 ounces. She was 7 pounds 7 ounces. I was off by 6 hours and 17 minutes. She came on the 25th. Everything else was exactly as I had imagined that night. My perfect little miracle!
And here we are a year later celebrating her first birthday! I can't say it has been an easy year but it has been a wonderful one! Your second "first year" is, I think, much easier than your first– at least it was for us! We celebrated in grand style! Surrounded by family and friends we consider family, we ate, opened gifts and of course, let her smash her cute owl cake that A and I spent about 2 hours making the night before. We have celebrated a year of milestones and we know that the best is yet to come!
For now we've survived birthday season in our house which now makes me think extra hard about how my mom felt as she has 3 children who share birthdays within 9 days of each other. Thankfully, I only have 2 birthdays to contend with. Part of me hopes we could have another baby in August and the rest of me thinks I would probably lose my mind but we'll wait and see if another child is even in our future, another ordinary miracle with extraordinary power to brighten our lives and make our hearts burst with joy!