*Sigh* Late again. And I was doing so well. Until I got caught up in other things and forgot to take my camera out for an entire week. Yes, I didn't post last week because I literally didn't have a single photograph from the whole week. Sad.
I could probably do a "Thankful" post every day of every week of the year. I thought about doing the month of thanks posts on Facebook but got so caught up in what I would say I just decided not to. Silly, I guess. The thing is, I'm so immensely thankful for so many things and my kids and my family are #1. By now most people know the story, or at least know something of how getting pregnant isn't easy for us. I look at them and I'm still haunted by the fear that they would never exist. I am thankful for them every day.
I am thankful for my friends who make life more enjoyable. I'm grateful to be a part of your lives, through everything– the good and the bad. I'm thankful for this new home that we waited so long for. I'm especially thankful for both the opportunity and the resources to make our home zero energy. I feel like now, when we talk about being environmental conscious, we're not just paying lip service. We're actually able to do something good. I'm thankful for having employment which for a period of time this year neither of us had. I'm thankful for our health because while colds and coughs and bugs suck, we are blessed with modern medicine and adequate resources to become healthy again. I'm thankful for my faith from the journey we took to Italy at the beginning of the year, to the tests of faith we have experienced recently because I know even in those tests we are on a path created for us by God and if we accept His will and pray for guidance we will be just fine.
But, you ask, Emily you've gotten so off topic, what does this have to do with your children and life through their eyes? Well I'm glad you asked that. It's just that I felt it would be wrong to jump into this photograph without explaining all the other important things I mentioned.
You see lately one of the things that I have been most grateful for, is Andrew's school. I cannot even find the words to express how wonderful his school is and any of you local readers, I recommend it above all other schools especially in the city. I hope that endorsement, coming from an educator, speaks as highly of the program as I hope it does. In any case, his teachers are absolutely amazing. I know without a doubt that he will be so ready for school next year. His foundation is rock solid and he loves going to school every day. In fact earlier in the week when we decided his cough was too bad to send him to school he cried. Not a tantrum type of cry, but that mournful, deep, aching sadness that he would miss his teachers and his friends.
On Friday the kids performed a Thanksgiving program. Andrew's class along with another class of the 4s, sang four songs with a bit of choreography/sign language mixed in. It was adorable. Then they feasted back in the classroom. It is a massive privilege for me to see him in his classroom since I am always at work when he's in school. But it is a thrill to see how he loves the place, how he feels so at home there and how he loves his friends and how they love him in return (except the kiss good-bye from one of the girls was a bit much for this Mama!). You think about school and all the years he will hopefully spend enjoying his time in the classroom learning. There are so many who think preschool is a waste of time but I disagree. I think of all the years spent in school preschool and kindergarten are quite possibly the most important ones. Because without a good solid foundation there is no where to grow. I am thankful his foundation is rock solid and that as each day passes he comes to love learning just a little bit more. As a mom, what more could I ask for?
Well here we are. Back to back posts on two completely different topics despite the similarity in style. Life is Fleeting.
Isn't it though?
Have you ever in your life laid eyes on such a beautiful little butterfly?
Me neither
For Allison's second Halloween she dressed as essentially the same creature as her first Halloween only there is a profound difference between a 2 month old and a 14 month old. I couldn't resist the costume. The butterfly is a symbol of life and as we approach the end of the year (the, ah hem, time of year 9 months prior to both my kids' birthdays) it calls to mind how desperately they were both wanted. Our two precious children. Two lives we thank God for every single day.
And time is fleeting indeed. Fourteen months has flown by like no other time period in my whole life. I am in awe of both my children but especially right now, Allison is growing leaps and bounds. I wish I had kept better track of Andrew's vocabulary milestones by time frame. I did keep a list (for a little while) of words that he said. It was around 200 by the time he was 18-20 months and I stopped. I feel like Allison is ahead of where he was at this stage and that is truly saying something. My kids are not perfect. My kids are not the pinnacle of brilliance. But holy cow my kids have some mean language skills. I often wonder what will happen when they are both talking full out. I might never get to have a conversation with my husband ever again. Ha! I'll take it though
So here we are, Week 45 (a day early) and mere weeks left in the year. It has been truly something chronicling our year so far, a real gift in a sense. I have been forced to reflect and examine, to observe and explore, to test myself and my technical skills and essentially force personal growth. I haven't decided yet if I'll continue this project next year but in this fleeting time in our existence at least I'll know I have one year, 52 snapshots… of us.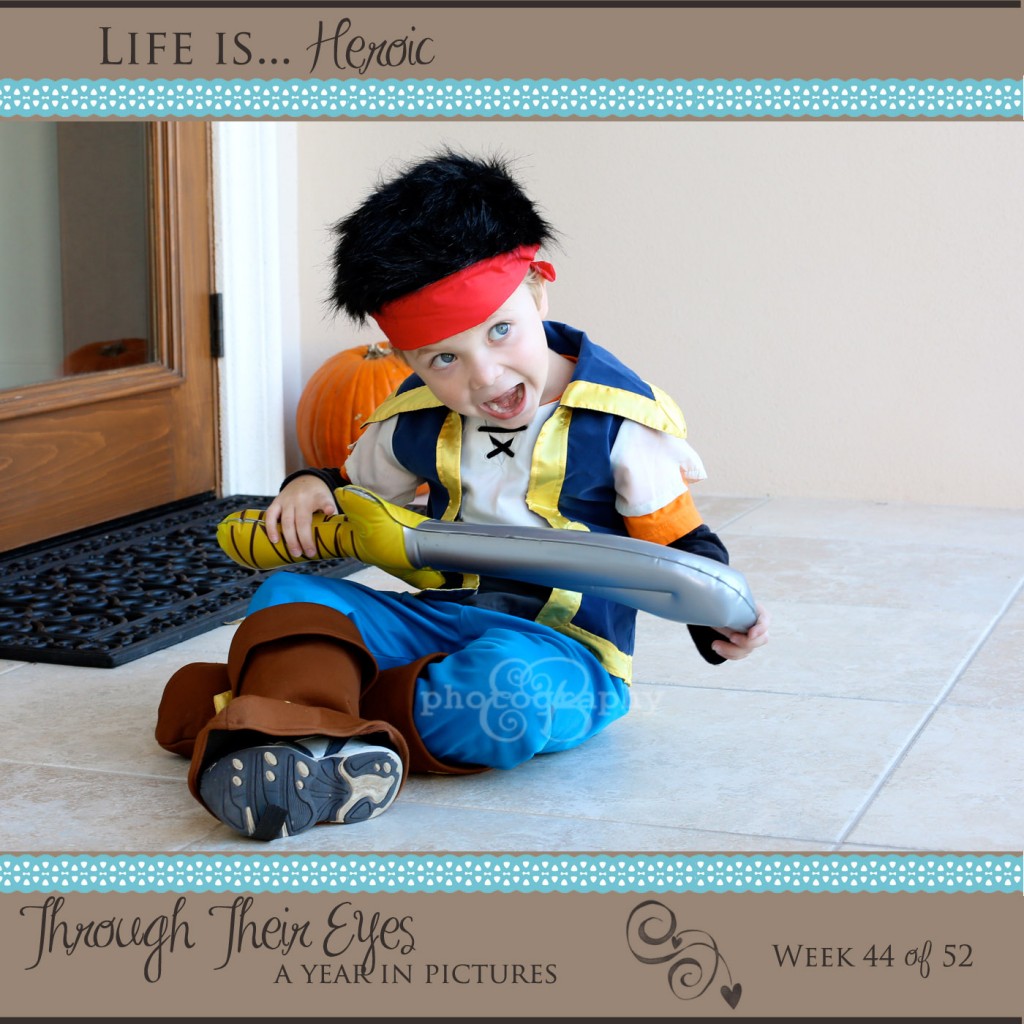 Well it took me 44 weeks to miss a week for no obvious reason like being in another country. But the week we had two weeks ago was downright horrendous and I wasn't happy with any of the pictures I took. One might suggest just posting something anyway but the problem with having a zillion photographer friends (seriously, I am facebook friends with at least 40 professional photographers– all people that I know or at least "know" no random people) is that I feel really self conscious about posting pictures that are crappy because I feel judged.
Anyway, I decided to devote week 44 and 45 to each child in their Halloween costume. Andrew dressed as Jake from Jake and the Neverland Pirates this year. This probably comes as no surprise to anyone who knows us since my son is obsessed with the show (much to my dismay). It doesn't matter because to him Jake is the pirate who always saves the day and I can't complain about having a kid who wants to imitate a positive (albeit obnoxious) character. I know we are mere years away from him wanting to be some sort of evil, gruesome zombie or something that forces me to be a mean mom and say "no".
On a bigger scale I have been thinking a lot over the last couple weeks about every day heroes. In the wake of Hurricane Sandy, there are those who let others in to their homes, provide hot meals or a place to charge a phone for those without power. There are those who give financially. There are those who offer their prayers and their words of support from afar. There are those who make subtle changes in the lives of others which in turn impacts them in profound and lasting ways. I've been thinking a lot about that over the last few weeks not just with regard to the hurricane but in my own life. We all have heroes don't we? People who change us for the better by their words and actions. They are heroes who don't even know it. It's unfortunate that it's such a cliched word. It calls to mind people in red tights and capes when really it should just mean a person who does more than is necessary or expected and who does not act out of a desire for anything in return. Maybe we do have words for this, we just call them "good people."
So I'm going off on a tangent here and this is really supposed to be about how Andrew sees the world but I guess at the end of the day I want him to know that he's a hero to me because his mere existence on this earth has taught me more about myself and my faith than anyone else ever has. So here's to my little "Jake", my little pirate, my hero Andrew.
I remember reading this article about a year ago when it first appeared. I saved it because I liked it that much. I knew I'd want to refer back to it someday. Well today is the day.
How to get your kid to be a fantastic reader
I remember liking two things about it in particular– first the point about how it's a parent's job to make sure kids are reading. I could write several whole posts about my annoyance over the fact that year in and year out, I always have students who never read at home despite the fact that their parents lie for them and sign off on their reading log. I think for whatever reason, the parents think I am stupid and can't tell. Then they come in for a conference with me and get heated over why their child isn't reading better. Yes, it's the job of a parent. Most parents don't like to hear that.
The second thing I really liked about the article comes towards the end where it explains that kids need to see other people reading to help them learn to develop a love for reading. And I guess that explains my kids' obsession with books– a mommy and daddy who are obsessed with books. I read every night without fail. Sometimes I read while Andrew is watching Mickey Mouse Clubhouse or while they are playing (not very often but sometimes I get to). I don't see this as ignoring them, I see this as an opportunity to let them see how much I enjoy it.
We have quite an extensive library at our house. I lost track of how many books we have but it was well over 300 before Andrew turned one. At any given time a few dozen of them are covering the floor of the play room. I put them back sometimes but then I figure, why bother, they like sitting in the middle of the pile surrounded by books. Sounds pretty appealing actually!
This wasn't intended to be a "soapbox" post but since it's turning that way here goes: Reading is essential. Make time for it. Make time to read to your children and when they are old enough make sure THEY read. Make time to read for enjoyment yourself and don't be afraid to tell your kids that you ARE reading for enjoyment. Explain to them what you like about it and why. Don't say you don't have enough time for it because they are watching and lets face it, we all have 15 minutes a day that we could gain from getting off of facebook and opening a book– trust me, if I can then you can!
Our little ones are watching. They are counting on us. We spend so much time these days worrying about what we are putting on our bodies, why not spend some time thinking about what we are putting in our mind.
Babies are amazing, aren't they?
They go from being tiny and helpless and relying on you for every single aspect of life to, within about a year, standing up and walking across the room.
I get excited over milestones and I think most if not all parents do. I remember clear as day the days my children rolled for the first time, crawled, said their first words and so on but nothing gets me like those first tentative steps.
Allison took her first steps a few days shy of her 11 month birthday but something about being an early crawler also made her a very competent and fast crawler and who wants to wobble around taking itty bitty steps when you can shoot across the room on all 4s? Well at least that was my logic. So we waited.
And then the day came. Tuesday to be exact. My sweet little tiny (still around 17 pounds) girl took a leap of faith. Carefully, arms outstretched for balance, she rose to her feet without holding on to anything at all, and she walked. But this time it wasn't as shaky or tentative. No it was confident and with pride! My baby girl is walking!
When I stop to think about what it takes, in a baby's mind, to decide "I can do this" it amazes me every time. Because here is this tiny little person who must all at once coordinate muscles, balance and sheer nerve together at once to rise up on two feet and walk alone. And as a parent, no, as a human being there's something truly beautiful about that.
Then there's Mr. Andrew who never ceases to amaze me with his speed of growth and maturity. It's a milestone when you get to the point where you don't have to get in the pool with a child because you know he can swim well enough without you. Of course I was sitting along the edge with my camera in hand testing out various settings and trying to master the art of moving target x setting sun. It was an awkward light situation but he was happy to keep jumping in over and over so I could try to get just the right shot.
These are little things in the scale of life– walking and jumping but when they happen for the first time or even one of the first times they are special. They are leaps of faith, trust, confidence, stubbornness and bravery all rolled into one.
We have entered the world of puzzles and board games. I remember back 4 years ago, while trying to entertain Andrew with rattles, balls, and stuffed toys for hours on end, thinking toys were miserably boring. Thankfully the toys have greatly improved over the last few years to the point where I actually, genuinely enjoy playing not just because I'm playing with my child but because the games are entertaining too. We've reached the stage of toys that involve strategy and thought and those are fun things to watch your child learn (and even more fun to teach but hey I'm a nerd like that!)
We were fortunate to find several puzzles at a yard sale over the weekend that were in perfect condition and Andrew gleefully plopped himself down on the floor and began to devour them. I think we just crossed into a new era of childhood and I couldn't be more excited to see what is to come!
First airplane ride, first college football game, first time seeing mountains, first time seeing snow, seeing where Daddy went to college.
This past weekend was full of firsts for my kiddos. They got to do things that I (short of the first airplane ride) didn't get to do until high school and even college. Yes, this was a big weekend for our family!
It's hard to even fathom the life that has passed in the space of time since A graduated from the United States Air Force Academy back in 2002. It's hard to fathom that we, as a couple, could ever look back on a place so filled with a roller coaster of emotions, and find peace and joy and even closure. I don't think I have it in my sleep deprived mind to come up with the words to express what 4 years of being a USAFA girlfriend/fiance was like. They don't call it the 2% club for nothin', that's for sure! But through my experience on the outside, I know it was NOTHING compared to what A experienced as a cadet at one of the most prestigious schools in the world. He did it because he is strong and determined and fiercely dedicated to his goals and serving his country. And we survived it together because of sheer stubbornness.
So to go back 10 years later and see beautiful USAFA… to go back 10 years later with our children… that meant something. It meant more than something. It was in many ways showing them the cornerstone of our family and maybe some day on some level they will understand that the foundation of our family was built in large part on that campus in the mountains. Because we used that experience to commit ourselves for the long haul and to solidify our knowledge that if we can get through that we can surely get through anything.
For Andrew and Allison it didn't mean any of that. And even for A, I'm not sure how he felt either because he couldn't quite put it to words. But that's my impression of our trip– it was necessary, it was meaningful, it was significant.
And it was pretty darn awesome (if you take out the baby vomit from altitude sickness and the nearly missed connecting flight from having to sit on the tarmac for 45 minutes waiting for an open gate, oh and dragging 2 children, 2 small suitcases, 2 backpacks, 2 carseats, and a stroller on and off 4 airplanes– there, got that out of my system)! I had forgotten how incredibly beautiful Colorado is and I was able to appreciate it even more now knowing that we all get to leave the state together– nope, no good byes this time!! We started off our trip visiting the campus and showing the kids around some of the areas that were important to A including the dorm room he lived in while he was the Squadron Commander and the place where he attended all his classes, ate, attended church, and did his physical training. Then later in the day we attempted to drive to the top of Pike's Peak (much to poor Allison's dismay). We were stopped 6 miles short of the 19 mile drive due to a snow storm but we had a snowball fight instead that Andrew believes is the greatest thing he's ever done in his life so far. The next day we saw a bit more of the Academy grounds and watched the noon meal formation which will make you think twice next time you simply stroll into a cafeteria, sit down and grab something to eat. We visited Garden of the Gods (aptly named for his incredibly gorgeous rock formations) and on our third day we went to the AFA vs CSU football game which, though I dearly love my Swamp, you can't really beat the view of the Rocky Mountains in the background of the stadium. Andrew is fast becoming a perfect little football fan and is being well trained in the art of (4 year old appropriate) trash talking! And Allison said "touchdown" right on cue! Later that day we went to the zoo and saw all sorts of animals we've never seen "in person" before– a moose, a grizzly bear, and a snow leopard just to name a few. Finally, on Sunday morning we attended Mass in the cadet chapel before boarding our flight for our endless journey home.
I won't lie. It wasn't an easy trip. It wasn't a vacation but perhaps that's a small price to pay for understanding, remembering, and making closure on such a significant part of our lives. I'm glad we went and maybe, if I can get past the horror of flying with kids, just maybe we'll do it again 10 years from now. Until then we have our stories and our pictures and hopefully we'll be able to help Andrew and Allison understand, even a little bit, just how important our journey was in making us who we are today.
I've tried to tell a story of life in our family. I tried to tell it through the eyes of my kids but it quickly evolved into my interpretation of life for all of us. This week was a pretty "blah" week in our lives. Work, school, feed people, clean up, sleep, repeat. That's life in most people's homes I think. We eased into the two working parents transition but now we are full speed ahead. Day after day and sometimes it feels like we're just keeping our heads above water to keep everyone fed, dressed and moderately happy.
I had wanted to spend today getting the house in order, cleaning, washing clothes, taking care of the pool, doing all the things that we never feel like doing during the week and little Miss Allison decided napping was not nearly as fun as watching Mommy and Daddy. I was trying to figure out a way to clean and occupy her at the same time and then it hit me– don't miss this. Put the mop down and sit on the floor and play and enjoy. Work will be there later. The house will just get messy again. But before we know it the kids will be too old to want to get down on the floor and play picnic with us and those days will be gone for good. I hate that people always tell you that it goes by too fast with this sense of regret and urgency. I have always felt like I have been able to enjoy my kids through all their stages and not miss those special moments– sure there are times I would love to have back but I don't have regrets. That was until today when I felt that cliched sense of urgency and importance. That "don't blink or you'll miss it" kind of sadness. And I grabbed my camera and I just watched her play, her bright blue eyes sparkling as she toddled around the room, exploring and discovering and displaying genuine happiness expressed through giggles and brilliant smiles. That's when I remembered that everything else can wait. I won't get these moments back. I devote myself to the here and now and sometimes grab my camera and take pictures… just because.
Once upon a time, not terribly long ago, there were two families. The families were friends who lived near one another and attended the same church. The families shared a unique connection by being God Parents to each others children. Way back when, one mom gave birth to a little girl. Three months later the other mom gave birth to a baby boy. The two children and their collective siblings grew up together even attending the same schools at times. The boy and the girl graduated high school in the same class. They grew up and moved apart but the families still remained friends and over time the two families decided they were really more like one big God Family.
Our little fairy tale happens to not be a fairy tale at all. It's better– it's true. These days it is unusual to find families that remain close over the decades. So many things pull people in so many different directions but when friends become like family those connections can't so easily be broken. The little boy is now a grown man, serving our country in the Army. The little girl, well, if it wasn't apparent– that's me. I remember finding out that D's wife was expecting a baby. It took me about 2 seconds to do the math before I realized that we were due at almost exactly the same time. Our babies were born only 3 days apart from each other!! Talk about timing!! No pressure kiddos but you're a bit destined to be friends! Allison met O for the first time today. We posed the picture to be similar in style to a picture taken long ago (which I can't find! ARGH!) I wish I'd had my regular camera but was left with only my iPhone. It doesn't matter. This picture is special. This is the start of a life long friendship. One which I hope someday they will look back on and realize just how lucky they are. Here's to a new generation of family friends.
Can you even imagine how happy this makes me? BOTH of my kids think cameras are cool! So cool in fact that in an entire bucket of dumped out toys, Allison went for Andrew's digital camera and only the camera. Imitation is the greatest form of flattery right? Well I'm in cloud nine!
May I add that it's a darn good thing this V-Tech camera is rugged? I think she dropped it a good 3-4 times before I finally decided I needed to take it away. Good stuff! I've never downloaded the pictures off this one so I can't tell you about the quality. It is a $75 camera though so probably not Canon quality!
In other news, Andrew has 5 days of PK4 under his belt and is barely recognizable. Mimi (my mom) saw him Friday and asked what had happened to him? It's not like he acted like a 4 year old before but now he's, I don't even know if I can point an age to it. Mature beyond his years without a doubt. Bittersweet but awesome at the same time. His teacher told us at open house that she doesn't really do preschool as much as just starts right in with Kindergarten. I am glad to know he will be well prepared for next year. I wouldn't mind if my little boy would stick around a little longer though.
We are working out the kinks of this 2 working parent thing. It has its challenges but in the end you do what you have to do.
Until next week!